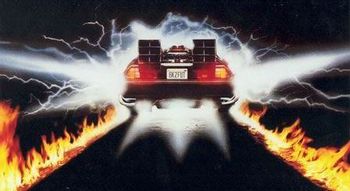 "I never ever had a love
Put the pedal to the metal and
Burn Rubber on me
On me."
— The Gap Band, "Burn Rubber"
In comics and cartoons, someone running or driving very quickly will leave a trail of fire in their wake.
Can be justified, albeit thinly, in the case of a wheeled vehicle (friction causes heat and tires are flammable — though in that case only the tires should be burning).note And even then, the turbulence from the tires spinning would put it out immediately. Can be Justified for aircraft tires, if the wheels are damaged severely enough to cause them to drag along the runway instead of spinning, but this isn't possible for anything that relies on its wheels to provide propulsion. Other times the trail of fire isn't caused by tires or indeed wheels, which may make you wonder what exactly is causing those flames. But honestly, when this trope is employed well, you won't worry about such niggling little details. It's cool.
---
Examples:
open/close all folders
Anime & Manga
In One Piece episode 606, we see Luffy while trying to catch up with Smoker, left behind a trail of fire behind him on metal flooring.

Smoker: You ready?
Luffy: Are you serious? Give me a sec. Geez, I was running so fast my feet lit the damn floor on fire. (huff huff) You think that's easy!?
Asian Animation
In the Lamput episode "Arm Wrestling", the docs' boss arrives at the site of the arm wrestling matches on his motorcycle, which he rides fast enough that it leaves a trail of flames behind it.
Oye Golu: In "Cycle Race", Golu gives Adi stronger thighs to help him win the bicycle race. His stronger thighs cause his bicycle to leave a trail of flames behind it as he rides it.
In Pleasant Goat and Big Big Wolf: Happy Formula, episodes' end cards feature Weslie driving a car and creating a trail of flames behind him.
Comic Books
Ghost Rider: More justified than some examples, as the Ghost Rider's motorcycle is made of hellfire, the tires included.
Spitfire from Marvel Comics. It's probably her most characteristic feature.
Wacky Races story "Follow Through To Too Hoo" (Gold Key #4) has Dick Dastardly in the Mean Machine doing this as he's making up for lost time. He does so with such fervor that his tires are nearly worn to the hubcaps.
Fan Works
Ace Lives: Literally. "Coffee" Luffy runs fast enough to leave a literal trail of fire from his original position all the way through the plaza and to the execution platform.
Film — Animated
Film — Live-Action
Literature
Binky in the Discworld books is described as leaving a trail like this in the form of a pair of glowing blue hoof-prints, probably as a homage to Back to the Future.
Live-Action TV
Doctor Who: In "The Waters of Mars", Gadget the robot does this after the Doctor soups it up.
Tested and busted on MythBusters. Jamie got a tremendous amount of smoke from their test car's tires note , and after an hour of smouldering the rubber powder did begin to burn. But they were unable to get actual ignition of the tires, even after adding a "gasoline leak".
Pinball
Video Games
Music
Lordi's The Riff has the narrator get into Death's Chevy van, which takes off with "tyres spinning flame"!
Webcomics
Web Original
Western Animation
Real Life
Flaming tires are not generally possible in Real Life for automobile tires, but aircraft tires can occasionally heat up enough to catch fire if they go flat during takeoff or (sometimes) landing. This caused the 1991 crash of Nigeria Airways Flight 2120, when the crew retracted their aircraft's landing gear after takeoff without realizing that the gear was on fire, allowing it to burn through various important parts of the aircraft and eventually cause the plane to break up in midair.
Okay, it's not generally possible for ordinary cars, but with the right car and tires, it is indeed glorious. It seems to be a thing in Australia, looking at Youtube for "flaming burnout" videos.
And there is certainly one place that tires are deliberately made to smoke; drag racing (sprint races over a quarter-mile from a standing start). Hot tires and a bit of melted rubber on the track maximise grip, which makes for faster take-offs, so racers deliberately spin their tires at the start line before the race, creating clouds of smoke. These days, water is used as a lubricant to facilitate this, but when the practice was first invented, racers used bleach and other chemicals, some of them flammable. These could be ignited by flames from the dragsters' overpowered engines, sometimes deliberately, mostly for show, creating an actual flaming burnout (which may have helped create the trope). This was eventually mostly banned for rather obvious safety reasons, though flaming burnouts are still sometimes performed purely for show, sometimes even competitively.
---