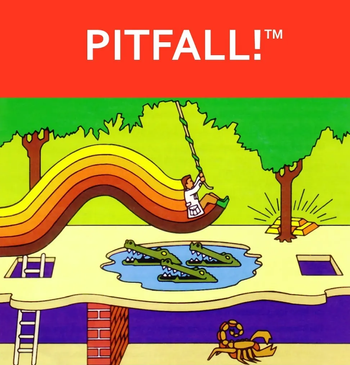 A classic
Activision
franchise created by David Crane. The original
Pitfall!
was released on the
Atari 2600
in 1982 and established the foundations of the multiscreen
Platformer
genre: running and jumping over obstacles as you travel from left to right.
The only real sequel followed in 1984, also for the 2600; Pitfall II: Lost Caverns introduced elements like exploration, true scrolling, and an interactive soundtrack that reflects how well you're doing. It also received an arcade adaptation by Sega in 1985, which was a hybrid of the first two games with two completely new areas added. Super Pitfall, a sequel/loose remake of Lost Caverns, was released in 1986 for the Nintendo Entertainment System. All that needs to be said about that game is that The Angry Video Game Nerd has reviewed it.
The series was revived on the SNES and Sega Genesis in 1994's Pitfall: The Mayan Adventure, a platformer in the same vein as Aladdin and Earthworm Jim. Two more revivals came later, this time in 3D: 1998's Pitfall 3D: Beyond the Jungle on the PlayStation, and 2004's Pitfall: The Lost Expedition on the PS2, Xbox, and Nintendo GameCube (and ported to the Wii in 2008 as Pitfall: The Big Adventure). All of these games include the original Pitfall! as an Easter Egg; Lost Expedition and Big Adventure contain Pitfall II as well.
In August 2012, the series celebrated its 30th anniversary with an iOS Game in the Endless Running Game genre, the first product by Activision's mobile studio The Blast Furnace.
Pitfall! has also left its mark on television. In its first season, the Ruby-Spears Saturday Supercade cartoon featured segments based on the game, and a 1982 commercial for Pitfall! starred a young Jack Black.
No relation of course to the Game Show of the very same name.
---
The Pitfall series features examples of:
---