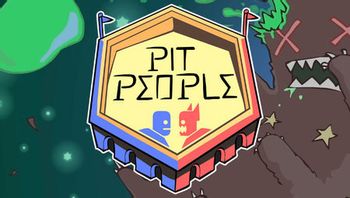 "I find myself wondering what the world must have been like... before the bear crashed into our frail planet, transforming all we once knew into a colorful kaleidoscope of delicious chaos, and I love... it. The world was more hospitable, no doubt. More orderly, more sensibly sickening because it sounded
BORING
. And I
HATE
being bored! I can't imagine a world without the bear, or the storms, yes, the storms, beautiful waves of emerald blood cry down from the heavens promising death and lawless disarray, constantly upsetting the order. I get butterflies in my tummy just thinking about it.
Yes.
YES!
Speaking of which..."
—The Narrator
Pit People (previously known as Game 4) is a Turn-Based Strategy game developed by The Behemoth (the indie game team behind Alien Hominid, Castle Crashers, and BattleBlock Theater). The game was released on Early Access for the PC and Xbox One on January 2017.
One day, a space bear gets shot down and plummets into the World, forever changing the planet. It brought about peace, harmony, carnage and mayhem throughout the land, which isn't helped by the fact that the space bear's green blood frequently brings out storms that actually kill people. Making sense of it all is a humble blueberry farmer named Horatio. During an attack that coincided with a massive bear blood storm, his house gets destroyed and his son dies (no thanks to a certain sadistic and callous narrator, who claimed to have "butterfingers"). And now, Horatio brings it upon himself to bring order to the land… somehow. But the narrator wants to see to it that the lives of Horatio and his allies will become a living hell.
A character sheet can be found HERE.
---
Pit People contains examples of these tropes:
---