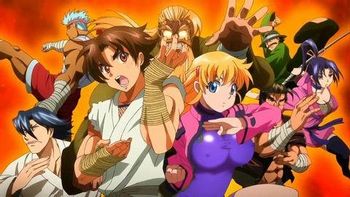 Kenichi: The Mightiest Disciple (Japanese title: Shijō Saikyō no Deshi Ken'ichi, literally "History's Strongest Disciple Kenichi") is a shonen manga by Syun Matsuena. The manga is a retool of Matsuena's previous work Tatakae! Ryouzanpaku Shijou Saikyou no Deshi ("Fight! Ryozanpaku History's Strongest Disciple"). It was serialized in Weekly Shonen Sunday from April 2002 to September 2014, with a total of sixty-one volumes.
Kenichi Shirahama is a wimp. Even the geeks pick on him. That all changes when he meets Miu Fūrinji after entering high school. Miu, eager to make friends, gladly helps Kenichi with his desire to become stronger. She introduces him to Ryōzanpaku, a dojo which houses some of the most powerful martial artists known to man. Though Kenichi only sought guidance to stop being bullied, his rapidly growing prowess attracts the attention of bigger and badder foes that he has to fight... if he doesn't get pummeled through the floor tiles during training first.
The series follows Kenichi's adventures as the Sorting Algorithm of Evil puts him up against more and more dangerous opponents. It has all the elements of Shonen action stories with a healthy dose of satire on the whole thing. The anime adaptation consists of 50 episodes and aired from 2006 to 2007; it was dubbed by Funimation, premiering on their channel on October 2009. Kenichi and friends appeared in the Massive Multiplayer Crossover game, Sunday VS Magazine: Shuuketsu! Choujou Daikessen.
In 2012, a series of OVAs began, starting from where the anime ended with Ragnarok Arc closure, and introducing Yami and Yomi.
The manga has two spin offs: a 4-koma gag manga titled Tekuni to Shijou Saikyou no Nakamatachi, or Tekuni and Her Strongest Friends in History, and a manga focusing on other characters in the universe called Shijou Saikyou no Gaiden, or History's Strongest Another Stories.
---
This series features examples of:
open/close all folders
Tropes A-C
A-Cup Angst: If you value your life, you will not bring up Kisara's lack of boobage. Keep in mind, this is only relative, as although Kisara is probably on the smaller end of average, just about every major female fighter in the series has a huge chest.
Adults Are Useless: Played with. In most of Kenichi's fights his masters stand on the sidelines, even joking and gambling on the outcomes, even if his life is in danger. This is because they believe that a good master stays out of their disciple's fights. Subverted to hell and back whenever Kenichi is attacked by a master-class; they'll step in and beat the hell out of whoever attacked their cute little disciple. However, it is played completely straight with the staff of Kenichi's high school, who seem completely unaware of the massive gang activity right under their noses, and his parents, who are oblivious that their son has a habit of getting into life-or-death battles with skilled martial artists from arround the world.
Anti Climax Cut: Akira says he won't fight the injured Apachai, or Shigure, and Kenichi thinks Akira pressed a Berserk Button. Instead they are flattered.
Anti-Villain: Most of the named adolescent antagonists have redeeming qualities or sympathetic motives, to the point where it's almost surprising when one of the teen villains gets written out of the story without a minor redemption at minimum.

Among members of Yomi, Ethan Stanley is particularly notable. He's quite polite and deferential, he tries to talk Kenichi into retiring from martial arts so he doesn't have to kill him (whereas most of the rest of Yomi would be happy to), he cares deeply about his sister... If not for Yomi's insistence on defeating Ryozanpaku, he likely wouldn't have chosen to fight.
Even some of the Nine Fists of Yami qualify. Agaard Jum Sai, Hongo Akira, and Sehrul Rahman all seem somewhat indifferent to Yami's long range plans, and downright antagonistic to some of the more sinister Fists (i.e. Silkwat Junazard). In the final story arc they, along with (unsuprisingly) Ma Sogetsu, and (somewhat more suprisingly) Alexander Gaidar and Diego Carlo, pull a Heel–Face Turn and fight alongside the Ryozanpaku masters.

Armor Is Useless: Averted. Shigure certainly would never go in a weapon fight without her trusty chain mail. And Kenichi's chain mail also proves to be very useful, even when fighting

Ethan Stanley

, who is not a weapons user (because it protects Kenichi's chest from being scraped

by Ethan's foot

). Kenichi's arm guards, of course, prove to be a good protection from bladed weapons as well.
Back-to-Back Badasses:

Kenichi and Miu do this in the D of D Arc against the Chinese team. And they attempt to do this in their next fight against Garyu X.
The Pankration team pulls this off against the Brazilian Jiu-jitsu team.
Kenichi does this with Shigure when she takes him sword-hunting: she needed him to cover her blind spot.

Badass Adorable: Miu takes this up to 11 in episode 40. Turns out she's been kicking ass since she was six years old!
Tropes D-G
Tropes H-O
Hammy Herald: Kenichi's father for his guns.

Genji: ARISE, SEBASTIAN!

Handicapped Badass:

Odin, wheelchair-bound

after fighting Kenichi. Also, Takeda before fighting Kenichi.
Handwraps of Awesome: All Muay Thai fighters wear these. Since Kenichi's custom-made training uniform (introduced in Chapter 145) is patched up from pieces of outfits for various martial arts (which reflects various fighting styles of his mentors), it also includes a pair of such bandages.
Hard Work Hardly Works: Played with. During the fight between Hermit and Berserker, Hermit even acknowledges that one part talent may overcome 100 parts hard work. He then goes on to show his hard work by beating the everloving crap out of the talented Berserker, defying him to overcome a hundred thousand parts hard work.

And of course, the entire series is basically one gigantic aversion, as everyone is in agreement that Kenichi has zero natural affinity for martial arts, but still turns out to be an incredibly good fighter because he's trained so hard.

Heel–Face Return: Loki was once a leader of Ragnarok, and an all-around unrepentant jerkass. In a later arc, he is shown spying on Yomi for Nijima.
Heel–Face Revolving Door:

Natsu Tanimoto

, apparently.
Heel–Face Turn: At least seven or eight members of Ragnarok (including

six

out of Eight Fists) and several of the D of D competitors. Some of the members of YOMI turn as well, but the Yami arc isn't so forgiving to its AntiVillains in some cases. All the

barehanded

members of Yomi make a Heel–Face Turn and defend

the Shinpaku alliance

from the weapon-wielding members of Yomi in the Eternal Sunset Arc. This makes sense with

Tanimoto and Chikage

but not the rest of them. Even their masters are confused by the switch.
He Is Not My Boyfriend: Miu tends to deflect any questions about her and Kenichi in this manner. Nobody buys it.
Hellish Pupils: Kisara has cat-like slitted pupils. Initially this depicts her as vicious, but a new light gets thrown on this with the discovery that she is actually a closet Kindhearted Cat Lover. Tanimoto has the same eyes sometimes when he's serious.
Helping Would Be Killstealing: This is one of the basic principles of teaching martial arts in Kenichi: The Mightiest Disciple: it's repeatedly said that a martial arts mentor must not interfere in his/her disciple's fight with a non-master fighter, even when the disciple's life is in danger. However, mentors sometimes break a sparring (i.e., friendly) match when a disciple is in a serious danger. (It happens once to Takeda and once to Kenichi.)

The only time they'll help appears to be fighting against master-level combatants. Kenichi's masters find it incredibly distasteful when one of his rivals' masters attack Kenichi, and they take it very personally.
The masters will also avert this trope occasionally if the situation truly warrants their intervention, such as helping Takeda to escape with a wounded Kenichi from some pursuing thugs bent on killing or at least seriously injuring him, saving Kenichi after he falls off the top of a moving bus (where he also likely could've been killed by oncoming traffic or sustained significant injuries), or attacking some sharks that are threatening both Kenichi and Honoka and are too much for him to handle alone.

Heroes Fight Barehanded: There is an example with two groups of evil martial artists: it has been implied several times that the members of the weapon division of Yami are inferior both in fighting skills and fighting ethics to the weaponless Yami fighters. Many weaponless Yami masters tend to be more Anti-Villains, whereas the weaponed Yami masters are usually presented as ruthless hoodlums.

The notion of the Yami weapons-users being weaker is proven wrong by the Hachou Executioners Blade, who are the Yami armed division equivalent of the One Shadow Nine Fists, and utterly destroy by their leader, Ganosuke Yokiou, the only one to land any decisive blows on the previously untouchable god Hayato Furinji.

Heroic Second Wind: Kenichi gets this fairly regularly, after he remembers some training he received earlier in the episode, or from a previous one. It doesn't always help him, however, such as in his first fight against Shinnosuke Tsuji in episode 13 of Season 1. Only the timely intervention of

Takeda

and later Master Kensai prevents Kenichi from getting seriously hurt by a real opponent (as opposed to his training with the masters, where his injuries are always Played for Laughs}.
Heroism Incentive: Kenichi has lost all self-confidence and just wants to run away after watching a bit of the D of D tournament. The Elder offers him the thing he always wanted: he can ask Miu out if he wins the tournament. Courage ensues. Then it all but completely vanishes when, in the next match, it's revealed that the Elder has entered the tournament under the disguise of

the 20-year old Garyu-X

.
Holding Hands:

Miu and Kenichi, for a full minute. Kenichi was excited.

Hopeless Suitor: Kenichi feels this way a lot of times towards Miu; played straight with Izumi towards Kenichi.
Hot-Blooded: Every one of Kenichi's masters. Even Shigure is easy to fire up in her own strange, subdued way.
Hot for Student:

Though nothing explicit comes of it, there's definitely inklings of this between Ono-sensei and Boris Ivanov. Just read Chapter 300.
Some readers see hints of it with Shigure and Kenichi. It's been said several times that Kenichi has caused Shigure to be more social, is the only one to make her smile or joke, and the only one Shigure has given her life's story to outside of her housemates. She's also rather uncaring if Kenichi sees her naked, even teasing him a bit. Since she was essentially raised by the most absent-minded dad ever, then moved into a house of martial artists and has presumably not had romantic contact with anyone before, that's saying a lot.

Two pages later he sees her smile for the second time so far. (First time was when she taught him to swim 248 chapters before.) D'awwww.

Hotter and Sexier: After the Ragnarok arc, the series begins to ramp up the Fanservice little by little, reaching the point in which only Barbie Doll Anatomy keeps one from immediately realizing that Miu is Going Commando when she is controlled by Junazard.
Huge Guy, Tiny Girl: A non-romantic example would be Miu traveling with her grandfather as a child.

Ukita and Chikage seem to develop into this.

Ukita and Kisara, in a romantic example. Of all the (teenage) members of Shinpaku, he's the second largest, and she's the most petite.

Also Tanimoto and Haruka.
Honoka and Apachai, in another non-romantic example.

Human Outside, Alien Inside: Parodied with Nijima.
I Am Not Left-Handed: Kei Retsumin balances a bird-cage on top of his head to keep himself from over-exerting himself, and is still even with Apachai. When the cage comes off, he can cut loose with full force. Unfortunately for him, so can Apachai.
I Am Spartacus: A variation in chapter 161. To protect Sigfried from the YOMI assassin demanding Kenichi (who isn't yet there), many members of the Shinpaku Alliance claim to be Kenichi.
I Call It "Vera":

Kenichi's father Genji calls his shotgun "Sebastian." His double barreled over-and-under shotgun, that is. He has a pump shotgun he calls "Maximillian." And a hunting rifle he calls "Rotowski."
Kagerou, the Ax-Crazy swordsman from the Yami's weapon division, calls his sword "Setsunmaru" and talks about it as if it were a person.
Shigure calls a tank she wanted to adopt Catleya.

If You're So Evil, Eat This Kitten!: Kanō Shō gets tested/educated this way by his Evil Mentors from Yami when he is still a child.
I Have You Now, My Pretty:

Jenezad manages to kidnap Miu during Hongo and Sakaki's Duel, and is taking her to an undisclosed location to teach her his martial art.

I Have Your Wife: The head of a pirate gang once tried to use Miu as a hostage to stop her grandfather when she was little, though it didn't work too well.
"I Know You're in There Somewhere" Fight:

Kenichi attempts this with Ryuto at one point.

He fails.

Kenichi is later locked in another one with Miu, brainwashed by Jenezad to teach her Silat. He attempts using the first moves Miu taught him on her, and the... unorthodox method by which he broke her out of her Unstoppable Rage before. Both fail. He finally manages to snap her out of it.

Implausible Fencing Powers:

Shigure has Ludicrous Mêlée Accuracy
When Kenichi laments his lack of experience against armed opponents and wonders whom to ask for help, Shigure overhears him and begins giving a dramatic display of her prowess with various weapons in the background in an attempt to get him to ask her. She finally gets fed up with him not noticing her and cuts apart a bead of sweat on his forehead. A few pages later, she cuts up his and Miu's clothes with a spoon. She repeats the wooden spoon incident against the Valkyries, and destroys their weapons as well.
When the masters all show Kenichi their finishing moves, Shigure cuts a leaf in half depth-wise.

Impossible Pickle Jar: Kenichi's father Mototsugu attempts to open a pickle jar when his wife Saori muses that she can do the task herself. After much straining, Kenichi nonchalantly takes the jar from his dad, instantly opens it, and leaves, much to his father's bewilderment. This is Mototsugu's first clue that his son is beginning to come out of his shell and becoming a stronger, more self-confident person, although he initially gets the wrong idea about what's going on the Ryozanpaku dojo.
Impossible Shadow Puppets: An early chapter-opening image in the manga shows Shigure doing a shadow puppet of Apachai (who will be starting his tutoring of Kenichi in said chapter) against a spotlight to scare Kenichi... And her hands look like she's just doing a dog or something.
Impossible Task: Takeda is so determined to become James Shiba's disciple that Shiba gives him two of these just to get rid of him. But Takeda, surprisingly, fulfills them all. To Shiba, this is the first sign that it's actually his destiny to take Takeda as a disciple.
Improbable Weapon User:

Shigure successfully manages to defeat several armed (female) mooks by breaking their weapons and causing clothing damage with a wooden spoon.
Later topped by Hayato Fūrinji when he uses armed soldiers as giant shuriken.
Koetsuji fights a sculpting master by resculpting an angel sculpture into a jizo in mid-air and throwing it back at him.

Indy Ploy: Every "plan" Kenichi's masters concoct.
Informed Flaw: A lot of mention is made of Kenichi's utter lack of talent. Yet, he surpasses people who also train and are supposedly more talented in incredibly short periods of time. Also invents and mixes his own styles and can copy his Masters' styles.

As noted above in Hard Work Hardly Works, it may also be that Kenichi is talentless but puts so much work and effort into his training (whether he likes it or not) that it is the primary reason he can excel as he does.
You have 6 absolute masters of their arts, all of whom co-operate so that their training feeds off each other's, schooling a Determinator in Training from Hell. They also state that the fact it takes Kenichi as long as he does to get as good as he does under such circumstances is proof of his lack of Talent.

This is backed up by other martial artists as well. Takeda started out at roughly Kenichi's strength without his good fist, started his own personal Training from Hell much, much later than Kenichi, and only had one Master. Nonetheless, he's still sitting on even ground with Kenichi, and even managed to learn Ryuusui Seikuken on his own, which is one of a hundred and eight abilities created by the Elder, who has only ever trained Kenichi. That's right, Takeda was able to learn something created by the Invincible Superman, completely on his own, even if it's unreliable for him.
The masters themselves have said that Kenichi isn't entirely talentless, he's just completely untalented in physical matters; instead his talent IS that he's the ultimate Determinator, pushing himself farther and harder against the odds than anyone else would (though it helps that they keep forcing him to go through it). As stated before, too, his Determinator qualities may also extend to his constitution, since he can seemingly take more damage than anyone in the series, going so far as to actually survive a few attacks from a Master level weapons-user.

Insult of Endearment: Takeda "The Puncher" and Kozo "The Thrower" manage to use their monikers very touchingly in the dub after both complete their Heel–Face Turn(s) (managing to save Kenichi (for both), save Takeda and Kenichi (for Kozo)), and both outright quitting Ragnarok, reaffirming their friendship and promising to help each other out. Prior to this, their monikers were being used rather beratingly by their superiors.
In the Hood: Hermit in his first appearances as a member of Ragnarok. Also, some members of YOMI are initially shown like this, including

Moon, who is a character that is later replaced by Hermit after a position challenge.

Irritation Is the Sincerest Form of Flattery: In the second-last episode of the anime, Kenichi starts imitating the fighting styles and personas of his masters to break through the "Gungnir" of Ragnarok's First Deadly Fist, Odin. Sakaki is furious at Kenichi's portrayal of him, and though Kensei Ma isn't angry, he still gets upset at Kenichi's portrayal of him.

Subverted with the other three masters, though. Kōetsuji takes his portrayal philosophically (and with a hint of pride), Apachai finds it funny, and Shigure is excited when she sees Kenichi imitating her.

I "Uh" You, Too: Sort of. In Chapter 423, Kenichi clearly indicates how he feels about Miu, but says he won't say it aloud until he's strong enough to protect her. Miu, for her part, says that she's aware, and reciprocates his feelings with a light kiss on the cheek.
Jerkass: Haruo Niijima, a.k.a. Mr. Plot Device for making sure Everyone Who Knows How To Fight is pissed off with Kenichi.
Jerk with a Heart of Gold:

Shio Sakaki, who plays this trope as straight as can be.
Tanimoto might count, too, though the jerkiness is extreme, and the gold is a tiny nugget he'd really like to get rid of.

Kick the Dog: Tirawit Kōkin's "tactics" during his fight with Kenichi. See Made of Iron below for more details.
Killed Off for Real:

Shō Kanō and Tanaka.

Killing Intent: All over the place, up to the point where sheer killing intent will knock a Muggle out.
The Kid with the Remote Control: Niijima has an almost Final Fantasy-style summoning of Siegfried whenever he is in a pinch.
Knowledge Broker: Niijima has elements of this, appearing to be omniscient with all the information he possesses, though he gathers all this info for his own selfish ends rather than turning a profit.
Kung-Shui: An epic example of this happens during the fights in the Yami base on Okinawa: a destruction of not only walls, but also floors of a luxury hotel.
Lame Pun Reaction: When Nijima dubs Kisara's cat-styled Tae Kwon Do "Nya Kwon Do" in the middle of the D & D tournament, the entire coliseum is stunned into silence.
Chapter 463: Junazard gets this expression

when Hongo breaks a piece off his mask with an attack Junazard assumed had missed

.
Tropes P-Z
---