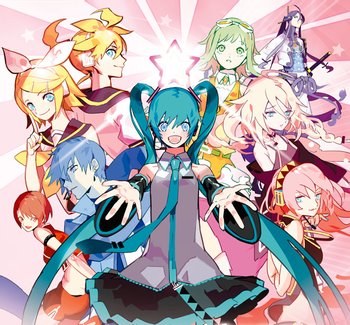 Vocaloid (portmanteau of "vocal" and "android"; stylized as VOCALOID) is a singing voice synthesizing software created by university researcher Kenmochi Hideki and the Yamaha Corporation. Originally a relatively obscure software released in 2004, Vocaloid's development of its voice banks into characters caused the software to explode in popularity on Nico Nico Douga, creating an entire scene of voice synthesizer music that has since expanded beyond Vocaloid itself.
Functionally, Vocaloid works like a combination of Synthetic Voice Actor and Auto-Tune. By loading a Vocaloid voice banknote Sold separately from the main software and produced by different companies into Vocaloid, typing in its lyrics, and tuning the generated vocals melodically, a user can easily produce a fully synthesized singing voice for use in their songs.
Spearheaded by voice bank developer Crypton Future Media's Character Vocal Series, which introduced Hatsune Miku, most of Vocaloid's voice banks (nicknamed Vocaloids) became marketed as individual characters with distinctive (and usually usually anime-styled) character designs. Thanks to a relatively loose fan work policy, these characters were able to be included into Vocaloid songs and fan works, allowing them to gather massive followings in Japan; flagship Vocaloid Hatsune Miku in particular became an outright Virtual Celebrity, regularly being rendered into 3D and projected on stages for live concert "performances".
Vocaloids are predominantly Japanese-speaking, but there are also many English, Chinese, and Korean Vocaloids. There are currently five generations of the Vocaloid software with over 70 Vocaloids across the generations.
The latest version of Vocaloid is VOCALOID6. VOCALOID6 utilizes AI technology and was released on October 13, 2022. With it, 5 voicebanks were released: 4 "standard" voicebanks HARUKA, AKITO, ALLEN, and SARAH, along with AI Megpoid, which acts as an updated AI voicebank for GUMI. The software is backward compatible with voicebanks as far back as VOCALOID3.
Vocaloid also has a text-to-speech-only sister program called VOICEROID, and features both voice banks ported from Vocaloid and its own original voice banks.note And despite being text-to-speech-only with no musical functions, some artists have managed to create songs using VOICEROID.
Vocaloid music, the majority being independently produced and released on the internet, have found a respectable amount of internet but also mainstream success in Japan, with some producers' Vocaloid music albums climbing reasonably high in the Japanese music charts. A number of Vocaloid songs have also managed to evolve into their own multimedia franchises, with examples including Black★Rock Shooter, Kagerou Project, Confession Executive Committee, and Mikagura School Suite. Even Chinese Vocaloids have managed to secure their own little space in China, and have had their own concerts.
The Vocaloid subculture is known for its close relationship with the utaite subculture, who are vocalists that produce cover songs of anime, video games, and Vocaloid songs on the internet. The independent nature of Vocaloid songs made them readily available for cover songs, while their non-human vocals created interest in Vocaloid songs with human vocals. Many Vocaloid producers are in fact also utaite themselves.
See also UTAU, CeVIO AI, and Synth V, other singing voice synthesizing programs, MikuMikuDance, a 3D animation software originally developed for Vocaloid MVs, Hatsune Mix, an unofficial Vocaloid manga by official Vocaloid character designer KEI, and Sega's Licensed Game series Hatsune Miku: Project DIVA and Project SEKAI.
Note: The following is only for tropes related to official Vocaloid material. For tropes on songs, fanon, and other fan works, go here. For those looking for more info on Hatsune Miku, go here.
---
Vocaloid producers with their own pages
Other Music Makers who have used Vocaloid
Mike Oldfield (in Light + Shade, itself the first Vocaloid album by a non-Japanese artist)
Porter Robinson (in "Sad Machine" and "Goodbye to a World")
Vocaloid works with their own pages
---
Provides examples of:
---