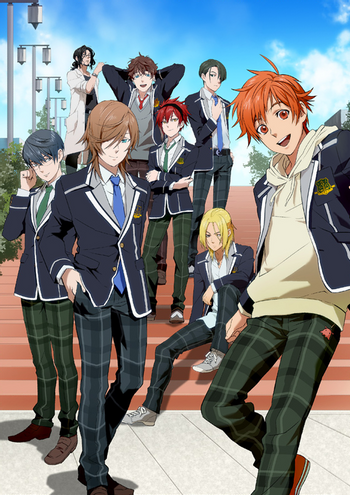 ACTORS is a mixed-media franchise originally created by EXIT MUSIC PUBLISHING, a Pony Canyon subsidiary formerly known as EXIT TUNES, spanning a series of albums including both Vocaloid covers and a series of drama tracks, as well as a companion magazine (the one-off Dengeki Girl's ACTORS, a tie-up with Dengeki Girl's Style) and a light novel. A yonkoma serialization ran in the magazine B's Log, and has been running since 2016.
The drama tracks focus on the daily lives of students and teachers from Tenshou Academy, a perfectly normal high school where school clubs are ranked by points they earn from participating in school activities (like singing). Perfectly normal...or at least that's only what it seems to be on the surface.
The series has an Official Website
.
The series was announced for an anime adaptation in late 2018, titled ACTORS: Songs Connection. The Singing and Beauty clubs get major focus, but there are a few original characters featured as well. The adaptation aired a year later, in Fall 2019.
---
This work contains examples of: