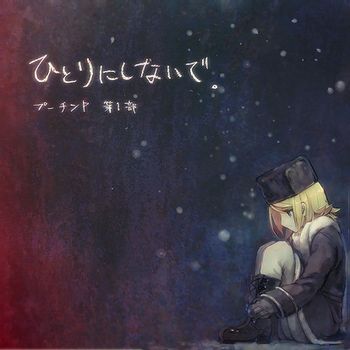 The
Putin-P
Series is a song series created by the user Numtack05, or "Putin-P," using the
VOCALOID
program. With the first song uploaded in 2008 and the final song of the series uploaded in 2012, the song grew a sizable fanbase and lengthy articles on the Vocaloid Wiki. It's arranged into four parts, with three albums released that expand on the series with exclusive songs. The majority of the PV and album illustrations are done by Shiuka.
The story centers around the main characters of the series, Kagamine Rin and her love interest Kagamine Len, two Vocaloid programs attending Junior High in Japan. Unbeknownst to the two at first, Rin and Len are reincarnations of a pair with past lives in Russia. As their old memories are accidentally returned to them, they have to deal with the consequences of this past life carrying on into the new one. Along with them is the Vocaloid Hatsune Miku, an idol who also attends Junior High for being held back, and other more malevolent figures from their past lives.
In part due to poor translations of the songs being the most popular in circulation, the series is known among it's English fanbase for being extremely confusing and zany, with some songs that seem to have been made on drugs (drugs, used recreationally and for a more heartbreaking purpose, featuring in the story adds to this claim.) It features liberal references to Japanese, Russian, and American pop culture with modern-day politics at its forefront. As an example, Ronald McDonald and Vladimir Putin both feature as prominent characters in the series.
open/close all folders
Part 1
It's the End!
Don't Leave Me Alone.
Together!
Let's Dream
I'll Give You Chocolate!
Under the Cherry Blossoms☆
I'm Happy!
Gimme the Handcuffs!
It's the Start!
Part 2
Magic is Heresy
The Day of the Decisive Battle
Not Together
If We Meet Again☆
Stealing is Wrong?
No Need to Worryy!!
The Night that Can't be Seen
The Eyes that Don't Vanish
Part 3
Assassin!
The One Who's Nothing.
So We Meet Again☆
Although I Want To Sleep!
Farewell to the Dream☆
The Other Side of the Mirror>
Let's Go on a Trip!
To You, To Me.
Who's the Liar?
Don't Interfere, okay?☆
The Voice in My Heart.
The Voice in My Heart ○
Illusion Catastrophe/A Place to Chat!
Part 4
The Broken Mirror
Goodbye to You★
With the You I Can't See.
In Your Eyes./Farewell!
Bonus Songs
With Big Wings!
Tippy-toe Type.
I Don't Wanna Hear It!
Sunny Spot!
You Wanna Eat, Right?
The Heart that Can't be Seen.
A Sheep is One Animal!
Anchor
Flourishing Scent
My Heart Is Pounding♥
Kalpi!
The Twisted Emperor ○
Yukkiina
Star Garbage
Russian Last Emperor!
How Russian☆
A Man of Few Words.
The Endless Survivor!
Albums
Don't Leave Me Alone.
The Night that Can't be Seen, The Eyes that Don't Vanish
Putin Album 2.5
Yukkiina!
---
This song series contains examples of: