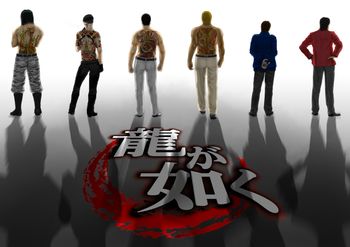 "I can take another name, and build a new life... But on the inside I'll always have that instinct, no matter how much I hate it. I'm yakuza through and through. Guile only gets you so far in this game. Remember that. You won't get another chance."
—
Kazuma Kiryu, the Dragon of Dojima
,
Yakuza 5
For the series' first installment, click here.
Yakuza, or as it's known in Japan, 龍が如く (Ryu ga Gotoku, lit. Like a Dragon), is a video game brawler series that mostly follows the man with the dragon tattoo, Kazuma Kiryu (桐生 一馬, Kiryū Kazuma), the "Dragon of Dojima". Kiryu is a former yakuza whose release from prison after a 10-year sentence, for a crime he didn't commit, sparks the setup of the first game's plot involving huge conspiracies, yakuza members at war with each other, mystery-solving hard-boiled police, lives being lost, tears being shed, punks being beaten, and that formula more or less has stayed with the series since the start.
Ryu ga Gotoku was first conceived by veteran game designer and Sega employee Toshihiro Nagoshi in the early 2000s. His pitch was initially met with quite a bit of skepticism in the higher echelons of Sega, who were more than a bit hesitant towards the proposed game's adult themes and highly controversial concept of being centred around organised crime, and believed that the very Japanese flavor of the game would appeal less to the Western market. Nagoshi, however, was willing to stake his career on getting the game produced, and with some convincing he got the project off the ground. Contrary to any misgivings Sega might have had, the game was heavily acclaimed in Japan for being the first game to explore Yakuza culture with such depth and as it is claimed authenticity to the nature of Japan's criminal underground, and it was such a financial success for the company that both a localization of the first game and sequel were released the following year. Yakuza is now one of Sega's flagship properties, and Nagoshi has since remained the creative lead of the series, which as a whole has so far no end in sight.
The series is basically old school Beat 'em Up with a sandbox setting and RPG elements. While you can just follow the story and play it as a straightforward beat 'em up, there are TONS of sidequests, minigames and secrets to do and find, many of them quite challenging, unique, even funny sometimes. Players can help people on the street with myriad problems, find hidden illegal gambling halls to play in, go to the batting cage to hit a few balls or find an enigmatic martial artist to learn many powerful moves from. And in good ol' Shōnen/Seinen series fashion, there are even underground fighting tournaments to participate in, complete with a caged arena. The amount of things to do in the games is mind-blowing.
Fighting enemies earns you experience points to gain new moves to punish them with, and you can also learn new moves by doing sidequests. There are also tons of items and equipment to find, and you can even create your own. The series is considered by many players to be the Spiritual Successor to Shenmue (on which Nagoshi was a developer), and is also compared to such classic old-school series as Streets of Rage and River City Ransom. As the series goes on, we get more playable characters, explore more locations, gain more and more variety with the combat, and have more relatively mundane and extremely crazy side-activities to do with each installment.
One important facet of the combat that has been integral throughout the series and is its most iconic feature is the HEAT system. As you score hits in battle and dodge attacks, the player character builds up a meter than can be expunged to perform one of several context-sensitive moves that utterly destroy your opponent. Ever wanted to pick up a bike and slam it on someones head? How about backdrop them onto a guardrail, or even glue two fools together? These games let you do that and more, much more. By Yakuza 5, Kiryu has over 100 HEAT moves- not counting the other four protagonists' moves, which all total somewhere around his amount. Oh, and there are new ones each game, though each game evolves the combat in a major way, like Yakuza 0 introducing styles.
After the commercial failure of Dead Souls, Sega had lost hope for the Yakuza series in the west. Considering that the (pretty much still ongoing) zombie craze was at a high point when Dead Souls was released and the game seemed to have been made to cater to the west itself, it's not exactly hard to see why Sega just gave up on it. So the series went on, and in December 2012 Ryu ga Gotoku 5: Fulfiller of Dreams was released in Japan (and only Japan) featuring five different protagonists and cities. It received a perfect 40/40 score from Famitsu magazine, a first for the series.
In late September, 2013 Sega had shut down its Western Yakuza websites, making it officially known to the world that they lost hope and would no longer be exporting the Yakuza games anymore. A sad end for the Yakuza fans around the world, that is until December 2014 when Sony announced that they made a partnership with Sega and that they will be releasing Ryu ga Gotoku 5 as Yakuza 5 for a PSN digital download via the Play Station Network, bringing the series back outside Japan after three years of hibernation. Though Yakuza 5 took longer than expected, it was released on December 8, 2015 (which marks the ten year anniversary of the series in Japan), and to compensate for the wait, the US release includes all the DLC and if preordered, it would be sold at a reduced price.
Though the series was just coming back to the west, it was still going strong in its homeland, with the Japanese-only Ryū ga Gotoku Ishin! (Restoration!) coming to the PS3 and also PS4 (a first for this series). The following year saw the release of a prequel titled Ryu ga Gotoku 0: Chikai no Basho (The Place of the Oath), once again for PS3 and PS4, scaling back from the fifth game, as it focused on the exploits of Kiryu and Majima during December of 1988 and showed how they became the people they are as of Yakuza 1. To celebrate the series 10 years of existence, a remake of the first game titled Ryu ga Gotoku: Kiwami (Extreme) was released on January 21, 2016, containing additional scenes added to the first game's story, for both the PS3 and PS4 again. Ryū ga Gotoku 6 will be released in the same year, but only for PS4.
On December 5, 2015 at Sony's PlayStation Experience, Sega announced that Yakuza 0 would be released in the Americas. On March 22, 2016, they announced that the game would also be headed to Europe. Only the PlayStation 4 version will be released with a projected release date for both regions on January 24, 2017. Sega also announced that they would handle the game's localization, meaning they have hope once more for this series' future. At the same event the following year, it was also announced that the remake of the first game, Yakuza Kiwami and the latest title, Yakuza 6: The Song of Life would be localized, and released in August 2017 and early 2018 respectively.
Being a prequel, the western release of Yakuza 0 was the game that brought in several newcomers to the series and revived Sega's confidence in the series' success outside Japan once more. Upon its release, Sega of America ordered a limited reprint of the first four games for the American region that can be ordered online, including the now difficult-to-find PS2 titles. Along with the announcement of the release date for Yakuza Kiwami, the "Yakuza Experience" was launched in April 2017 on the English Yakuza website, a series database that includes a timeline, a character database, an interactive digital comic, and more features in order to bring fans up to speed with the series. The website can be found here,
but be warned as the character database and timeline contain spoilers for all games.
Nagoshi announced on April 2017 that his team was working on the next Yakuza game, and that it would center on a different character without Kiryu getting involved. In August 2017, it was announced that Yakuza Kiwami 2, a remake of the second game utilizing the Dragon Engine from Yakuza 6, Ryu Ga Gotoku Online, and Hokuto ga Gotoku was in development. A new game in the series was also teased at, codenamed "Shin Ryu Ga Gotoku" and introduced the new series protagonist Ichiban Kasuga, who is also featured in the online title. In March 2018, a western release for Kiwami 2 would also be announced, set for August 28, 2018.
Following the new success of the franchise in the West and the request for Yakuza 3 through 5 to be released on PS4, Sega has announced the release of Yakuza 3, 4 & 5 on PS4 as HD Remasters. Japan got Yakuza 3 HD in August, Yakuza 4 at the end of the year and Yakuza 5 in early 2019. Yakuza 3 HD was released on August 21, 2019 in the West, while Yakuza 4 was released on October 29, 2019, with 5 following on February 11, 2020. A physical release of all three will also be released on February 11, 2020. The series made its PC debut on August 1, 2018 with Yakuza 0, with Yakuza Kiwami following on February 19, 2019, and Yakuza Kiwami 2 on May 9, 2019; 3-5's HD rereleases were put up on Steam in February 2021, and Yakuza 6 is set to be out on PC in March 2021. Hokuto Ga Gotoku, or as the West now knows it Fist of the North Star: Lost Paradise launched on October 2, 2018 outside of Japan.
Another spin-off was announced on September 10, 2018. Judge Eyes: Shinigami no Yuigon, known as Judgment for its Western release, shifts the perspective from the eyes of a yakuza to the eyes of a detective. It's set to release on PS4 in Japan, Asia, and South Korea on December 13, 2018, with its Western release falling on June 25, 2019, with those who pre-ordered it digitally getting access four days earlier on June 21.
In August 2019, it was announced that "Shin Ryu Ga Gotoku" is Yakuza 7 or Yakuza: Like a Dragon, scheduled for a release worldwide by 2020.
In November 2019 it was announced that 0, Kiwami 1 and Kiwami 2 would be released on Xbox in early 2020 and they would be part of Xbox Game Pass.
Yakuza: Like a Dragon was released in Japan in January 2020, with a western release following in November, representing a massive change to the series's paradigm: in addition to introducing a new leading man in Ichiban Kasuga, the series's trademark beat-em-up gameplay was changed to a JRPG-style turn-based battle system, surprising the fandom. While the change was unexpected, it was ultimately welcomed by fans and critics alike.
On a lighter, more silly note, Kazuma Kiryu and Goro Majima appear in Project X Zone 2, in their Dead Souls incarnations, guns and all.
Also compare Binary Domain, a sci-fi third person shooter made in the team's downtime between games. It also uses the series's engine to great extent, and is the first game made by this team that's multiplatform. It also carries a lot of the spirit of this series on its back, and if you're a fan of these games you might like it. It even featured Kiryu, Majima, Ryuji Goda and Shun Akiyama as guest characters.
On October 17, 2020, as part of its 30 year anniversary Sega released Streets of Kamurocho for a limited time on Steam, a free game that's essentially a reskin of Streets of Rage 2 featuring Kiryu and Majima as playable characters.
Like a dragon, this series is flying high, staying strong, has a strong will to do whatever it wants, and is pretty much hard to kill.
Games and other media revolving the Yakuza franchise:
open/close all folders
Main Series Games (Kiryu's Saga)
Main Series Games (Ichiban's Saga)
Yakuza: Like a Dragon aka Like a Dragon 7: Whereabouts of Light and Darkness (龍が如く7 光と闇の行方 "Ryu ga Gotoku 7: Hikari to Yami no Yukue"): Releasing for the PS4 on January 16, 2020 in Japan and Southeast Asia, and later on in 2020 worldwide on PS4, PlayStation 5, XBO, Xbox Series X|S and PC.

In 2019, after eighteen years in prison for a crime he did not commit, Arakawa Family ex-member Ichiban Kasuga finds that not only has his family's parent Tojo Clan been exiled from Kamurocho, the Omi Alliance has joined forces with the police — all thanks to Ichiban's mentor Masumi Arakawa, who asked him to take the fall in the first place.

Like a Dragon was formally announced in August 29, 2019 as the series' "watershed" title, featuring not only a new protagonist in Ichiban Kasuga, but also an all-new Turn-Based Combat system in place of the 3D brawling from the classic series.
The official reveal trailer can be seen here with English subtitles.
Judgment series (Yagami's Saga)
Judgment (JUDGE EYES:死神の遺言 Judge Eyes: Shinigami no Yuigon, lit. "Judge Eyes: The Death God's Testament"): Released in December 13, 2018 in Asian territories and in June 25, 2019 worldwide, for PS4.

Disgraced attorney Takayuki Yagami, now making ends meet as a private detective, follows the trail of a serial killer targeting yakuza members in Kamurocho. When an everyday investigation links the killer to his past, Yagami dives into Kamurocho's criminal underworld to discover who set him up.

Starring ex-SMAP member Takuya Kimura as Takayuki Yagami, Judgment is a police procedural complete with an investigation mode and Le Parkour combat.
Lost Judgment (LOST JUDGMENT 裁かれざる記憶) Released worldwide on September 21, 2021.
In 2021, a sexual assault case for disgraced cop Akihiro Ehara takes a shocking turn when Ehara reveals footage of him killing a man in Ijincho at the time that he was originally arrested. Yagami takes up the case to discover the truth of the matter which leads him into the path of a brutal gang and a mysterious "handyman".

The Kaito Files: Released on March 28th, 2022 worldwide.
The first story-focused DLC in an RGG game, it stars Yagami's partner Masaharu Kaito who mans the agency while Yagami is out of town. Approached by a tech mogul for a missing persons case, Kaito finds himself embroiled in a case connected to a woman from his past.
Other spin-offs
Ryū ga Gotoku Kenzan!! (龍が如く 見参! "Like a Dragon Arrives"): Released in March 6, 2008 only in Japan. Five years after the Battle of Sekigahara, Miyamoto Musashi has retired from his life as a ronin to become a yojimbo in Gion, Kyoto under the alias "Kazumanosuke Kiryu". Now, on a one-ryō request from a little girl named Haruka, "Kiryu" moves to assassinate an impostor claiming to be Musashi.

Kenzan is the first game in the series for the PlayStation 3, and a Jidaigeki spin-off featuring series regulars as a Universal-Adaptor Cast to fit the setting.
Yakuza: Dead Souls aka Like a Dragon OF THE END (龍が如く OF THE END "Ryū ga Gotoku OF THE END"): Released in June 9, 2011 for Japan, March 13, 2012 in North America and March 16, 2012 in Europe for the PS3.

In April 2011, a Zombie Apocalypse has struck Kamurocho, and only four men have the power to fend off the hordes: loan shark Shun Akiyama, infected construction worker Goro Majima, takoyaki chef Ryuji Goda and the legendary ex-yakuza Kazuma Kiryu. Dead Souls is a non-canon spin-off set after the events of Yakuza 4.
Other Media
Books

Kamutai Magazine (カムタイマガジン): a Japan-only Pre-Order Bonus full-color print book for Ryū ga Gotoku, with articles about the many in-game locations and Japanese adult film actress Mihiro Taniguchi as the cover girl, in-character as the hostess Rin. More "issues" were released with other games, featuring different cover girls, and further were printed for Ryū ga Gotoku 4 and Kurohyō.

Ryū ga Gotoku 2: Nana Natsume
Ryū ga Gotoku Kenzan!: Yinling (Joytoy)
Ryū ga Gotoku 3: Shizuka Mutou, Sayaka Araki and Rina Sakurai
Live-Action Adaptations

Like a Dragon: Prologue (龍が如く 〜序章〜 Ryū ga Gotoku ~ Joshō ~): a 2006 Direct to Video crime drama directed by Takeshi Miyasaka, with Takashi Miike as executive director. Released in March 24, 2006 in Japan and in August 15, 2006 on Sega Europe's official Yakuza website, Prologue is a prequel to the original game focusing on Kazuma Kiryu's childhood in the Morning Glory Orphanage.
Yakuza/Like a Dragon (龍が如く 劇場版, lit. "Like a Dragon: The Movie"): a straight film adaptation of the original game directed by Takashi Miike. Released in March 3, 2007 in Japan and in February 23, 2010 direct-to-DVD in North America.
Kurohyō: Ryū ga Gotoku Shinshō: a TV series based on Kurohyō. Aired between October 5 and December 21, 2010 on the Tokyo Broadcasting System.

Radio dramas

Ryū Ga Gotoku Presents Kamuro-cho Radio Station (龍が如くPresents神室町RADIOSTATION)
Shin Kamuro-cho Radio Station (新・神室町RADIOSTATION)

Web TV

Kamurocho Caba Jou TV (神室町キャバ嬢 TV)

Digital Comics

The Dragon's Path: an interactive comic launched for Yakuza 6's worldwide release, summarizing the series' events through several different perspectives. Hidden within certain chapters are a codes for Yakuza 6's Clan Creator minigame and a secret safe. Read here.
---
This game series includes examples of:
#-D
E-N
O-Z
---