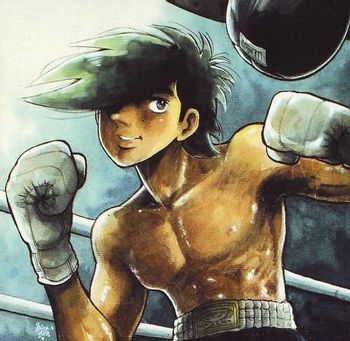 "I'm not fighting because of feelings of debt or obligation to others. I fight 'cause in the end, I love boxing."
— Joe Yabuki
Tomorrow's Joe (Ashita no Joe) is a boxing manga created by Asao Takamori and Tetsuya Chiba that was serialized in Shōnen Magazine from January 1, 1968 to May 15, 1973. After the end of its serialization, it was collected into 20 volumes by Kodansha Comics.
The manga tells the story of a young man named Joe Yabuki and his boxing career, beginning from when he meets the man who would later become his trainer, Danpei Tange, in the San'ya slums.
Tomorrow's Joe has been adapted into various media, including Megalo Box, which was made to celebrate its 50th anniversary in 2018.
Expect any Japanese Boxing Episode to have at least one Shout-Out to it, usually in the form of a character sitting slumped in a corner with heavy line-hatching.
---
This manga contains examples of:
---