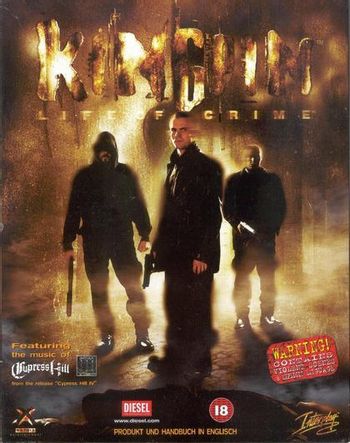 Kingpin: Life of Crime
is a
First-Person Shooter
based on the
Quake II
engine and released by
Interplay Entertainment
in June 1999. It was developed by Xatrix Entertainment, also known for
Cyberia
,
Redneck Rampage
, and the single-player portion of
Return to Castle Wolfenstein
(as Gray Matter Interactive).
Set in an unnamed, Diesel Punk flavored, dystopic Retro Universe city, players take control of an unnamed low-level criminal (referred to as "Thug" by the in-game chat, and therefore by the game's fans as well). Some time before the events of the game, Thug crossed paths with Nikki Blanco, head of the local Blanco Industries chemical plant, and also a resident Lieutenant of the titular Kingpin, the criminal overlord of the city. For reasons unknown, Blanco wants the Thug banished from his turf, Poisonville; to that end, he has his enforcers give Thug an old-fashioned No-Holds-Barred Beatdown, and leave him unconscious in Skidrow, one of the outskirts ghettos of the city, with the warning never to show up in Poisonville again. What follows is Thug's Roaring Rampage of Revenge, first aimed against Nikki Blanco and then against the Kingpin's entire operation, taking him through all major districts of the city, from the outskirts through poisonous chemical plants, rusty shipyards, massive steelworks facilities, and a gigantic railroad network, right into Radio City, the heart of the Kingpin's criminal empire.
While the game is notable for its technical accomplishments (such as the well-made allied and enemy artificial intelligence for its time, a somewhat non-linear level design encouraging map exploration, a rudimentary quest system with neutral and recruitable NPCs, and a basic economic system that allowed players to hire armed muscle and buy equipment), it is more remembered because of the controversy it generated at the time of its release. Unfortunately for Xatrix and Interplay, Kingpin was the first major shooter to be released in the wake of the Columbine high school massacre, generating increased attention (and criticism) from Moral Guardians in the US (although the game's premise, excessive gore, and profanity-laden dialogue didn't help either). As the game was getting Overshadowed by Controversy, most major video game retailers decided not to put Kingpin on sale, resulting in the game being a huge commercial flop (and also a Creator Killer, as Xatrix has closed shop on the day the game shipped). While Kingpin therefore never could become a classic FPS experience of that time period like Half-Life or Quake 2 did, it still garnered a loyal cult following, who keep hosting multiplayer servers for it to this day.
The game is available on both Steam and GOG.com. Bear in mind that playing the game in widescreen on a modern system involves altering the game's .exe file, which can cause conflicts with Steam's authentication procedure. A fan patch has been made to allow for widescreen resolution, with a separate Steam version of the patch to address the authentication problem.
In January 2020, 3D Realms announced a remaster of the game titled Kingpin: Reloaded, co-published with Interplay and developed by Slipgate Ironworks. The remaster is due to be released in 2021 on PC, PlayStation 4, Xbox One, and Nintendo Switch.
---
In the Lighting Strikes of Radio City, Kingpin: Life of Crime provides examples of more than 16 Tropes Till There's No Tropes Left, or until there's a Checkmate:
---