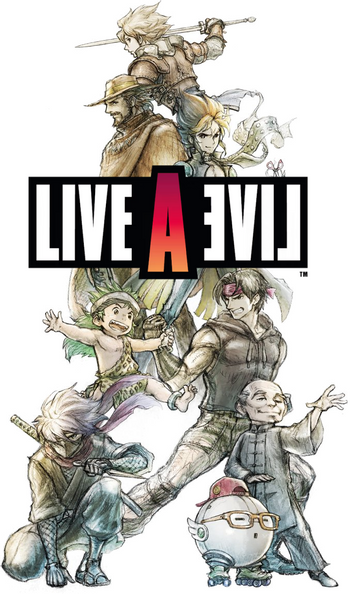 Live A Live (stylized as LIVE A ƎVI⅃) is an Anthology Role-Playing Game by Squaresoft, originally released on the Super Famicom in 1994. It was the directorial debut of Takashi Tokita, who would later go on to direct other Square classics such as Chrono Trigger and Parasite Eve, as well as the first Square title where Yoko Shimomura served as the composer.
The game features seven storylines set in multiple time periods, with each taking place in their own settings and genres. While the individual chapters are seemingly standalone at first, they eventually tie together. The storylines each draw influence from different sources, as wide and varied as '80s anime, spaghetti Westerns, fighting games, 2001: A Space Odyssey, and Alien, to name but a few. They are, in chronological order:
Completing all the above chapters unlocks the final eighth chapter:
"The Lord of Dark"": In the Middle Ages, a brave knight named Oersted is tasked with rescuing a princess from an evil lord.
After that, the player decides which path to take...
Live A Live deviates from the usual Squaresoft fare when it comes to the battle system. While combat is still turn-based like your standard RPG, it takes place on a 7x7 grid with some movement elements you'd expect from a Strategy RPG; characters need to take their position into account when making attacks, Geo Effects can alter parts of the battlefield, and some moves require charging and prevent said characters from moving. Although the battle system stays the same throughout the game, its prevalence varies since each chapter has its own distinct atmosphere, focus, and art style. For example, the Twilight of Edo Japan chapter revolves around a Stealth-Based Mission, the Present Day chapter takes inspiration from Fighting Games and features combat exclusively, the Distant Future chapter has Survival Horror undertones with very little combat, etc.
Live A Live was never officially released outside Japan due to poor sales, and seemed to be trapped there... until 2022, when a remake in the "HD-2D" style of Octopath Traveler and Triangle Strategy was released for the Nintendo Switch on July 22, 2022, which also features voice acting in both languages. Tokita returns as a major creative supervisor with Shimomura supervising the rearrangement of the soundtrack, even personally rearranging several tracks.
Compare Bahamut Lagoon and Treasure of the Rudra, two other RPGs from the same time period by Square that also stayed in Japan. Also compare Final Fantasy IV: The After Years, Kingdom Hearts: Birth by Sleep, and Octopath Traveler, three later Square games with a similar storytelling format.
A demo of the remake was released for the Nintendo Switch's eShop, featuring truncated versions of the Imperial China, Twilight of Edo Japan and Distant Future chapters, which you can import your progress from any of them into the full game past the demo's cutoff point.
The remake has been ported to PlayStation 4, PlayStation 5, and Steam on April 27, 2023, with the same demo system in place but with the Imperial China chapter being replaced with the Wild West.
Not to be confused with the Haruhi Suzumiya episode "Live Alive", The Wavering of Haruhi Suzumiya story "Live A Live", Alive A Life, Date A Live, nor is the opposite of Kill la Kill.
Beware of unmarked spoilers! You Have Been Warned.
---
Live A Live provides examples of the following tropes:
open/close all folders
# to B
C to G
H to O
P to U
Unwitting Instigator of Doom:

Streibough

wanted to be a local Card-Carrying Villain so he could take revenge on his rival

Oersted

. This causes said target to lose his mind, obtain unimaginable power through a string of coincidences, and become a time conqueror. When you meet his ghost later on, he's stuck in shock at the realization that his actions indirectly caused untold death and misery across at least nine different "worlds". Thanks a lot.

Alethea's spiteful suicide caused Oersted to forgo kindness and become a Lord of Dark

. Thankfully,

she realizes how much damage was caused by her actions and actively begs the heroes to defeat Odio and save Oersted

.

Ur-Example: Is probably the earliest example of a fully fleshed-out Woobie, Destroyer of Worlds in video games. Odio was a villain ahead of his time, even by the standards of pre-merge Squaresoft as most villains at the time of this game's release were either Generic Doomsday Villains, Adaptational Villainy, Card Carrying Villains, Well Intentioned Extremists, Giant Space Fleas From Nowhere or all of the above, mostly due to the storytelling limitations at the time. Similarly, it's also one of the first, if not the very first instance of a video game hiding its lore over a seemingly surface-level story, only unraveling its secrets when we learn about Odio's origins. Chrono Trigger did this as well, but was released a year after Live A Live's initial commercial failure, and ironically enough, had a literal Giant Space Flea from Nowhere as its main antagonist.
Useless Useful Spell: Because there is no EN or MP limits for which attacks can be used, a lot of attacks end up being this where the only thing the player has to worry about is the attack's range, element and casting time. However, some attacks are calculated from a stat that the player might not be expecting, nor does the game explicitly state this.

Almost all the starting moves of the protagonists become this once they start learning newer and stronger attacks. Averted with Cube as his default attacks are all he has and he cannot learn new moves outside of accessories obtained from the Near Future or extremely rare drops in the Final Chapter. Downplayed with Akira's physical attacks as Low Kick and Elbow Strike have no charge time and certain enemies in the Near Future go down faster when hit by his physical attacks rather than his special ones.
Masaru's Frankensteiner and Tornado Press uses his Special Attack which cannot increase through level-up to determine damage and combined with being a Death or Glory Attack if it misses, the attack will see little use, despite its decent range. It doesn't help that his German Suplex has the same range and damage rating as Frankensteiner except that it uses his much superior Physical Attack stat. Fleetfoot has slightly less range than Tornado Press but it uses Masaru's Vitality stat and has the added chance of interrupting opponent's charged attacks. Averted with Arm Lock where despite using his Special Attack, its crippling effect will have it see some use.
Hong's Pork's Second Cooking is this as it deals fixed amounts of damage that cannot be countered or defended against, but is completely random and only goes up to 99 damage at best. However, it can see some use if one wants to defeat the Odio mole first rather than last as the game intends.
V to Y
---