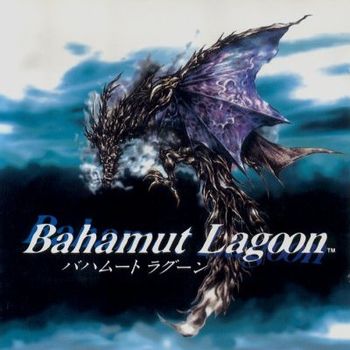 An early Strategy RPG made by Squaresoft (now Square Enix) for Super Famicom and released only in Japan in 1996.
The game is set in the sky world of Orelus, and follows Heroic Mime Byuu as he leads the The Resistance against the Granbelos Empire. Along the way, he rescues his childhood sweetheart, Princess Yoyo. The princess, a summoner, has the ability to communicate with the Holy Dragons and use their powers in battle. The heroes attempt to collect their power to use against the empire, while Emperor Sauzer attempts to gather them for himself. Their battle against the Empire and the greater threat it unleashes range all across the sky and even into the world of origin for the dragons themselves. And Yoyo's experiences with the Empire weren't all negative...
Bahamut Lagoon is notable for having very pretty graphics, being one of the last Squaresoft games to be released for the Super Nintendo. It's also notable for having quite explicit sexual content (though primarily in dialogue) and an openly gay old wizard as one of its main characters.
The game includes much of the Final Fantasy feel and characteristics, including spell names and the names of the dragons: Bahamut, Alexander, Leviathan, and Valefor, to name a few. It directly influenced Final Fantasy X: the plot structures and several key characters of the two games are very similar.
Two fan translations for the game were made over the years. the first one one
was done by DeJap in collaboration with Tomato and Neill, and was released on June 16, 2002. The second
was made by retired emulator developer Near, taking advantage of technological advancements made since the 2002 translation (including tools that Near themselves developed), and released on February 9th, 2021 to commemorate the game's 25th anniversary; it would mark Near's final project before their death the following June.
Compare Treasure of the Rudra and Live A Live, two similar Japan-only games released by SquareSoft near the end of their SNES era.
This game contains examples of:
---