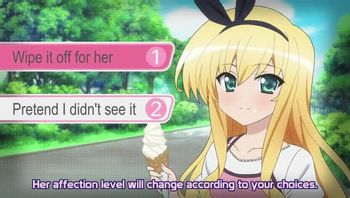 The Dating Sim is a type of game designed to set up goals, usually in the forms of schedules and stats corresponding to social skills, which must be achieved to discover a story focused entirely around the Character Development of the player's chosen girl/guy, get into his/her pants, or both. This leads to Multiple Endings, though some Dating Sims make it possible to see several of these "endings" in a single playthrough.
Some Sim Date games have been made into Harem anime, though the result is usually nothing special due to the removal of sex and the fact that the narrative can no longer focus on any single character.
Because there is almost no market for true Dating Sim games outside of Japan, it's a frequent misunderstanding among western gamers that "Dating Sim" is the general term for all ren'ai (romantic love) games. In fact, many romance games are Visual Novels, which is a much different game style. (See for example, the difference between the Ace Attorney series, which is very close to a Visual Novel style of gameplay, and the DOA Xtreme series, which is the closest thing to a true Dating Sim with mass-market appeal in the US.) If the game plays out like a Gamebook, that's a Visual Novel. If it feels like you're playing an RPG, trying to keep track of everyone's feelings about you and giving out presents, that's a Dating Sim.
In recent years, there have been many Role Playing Games that incorporate dating sim elements. These dating sim elements are often referred to as Romance Sidequests in the RPG genre. Life Simulation Games and Farm Life Sims also tend to feature dating sim elements.
---
Examples:
<!—index—>
<!—/index—>
Parodies
Special Mentions
Dating Sim elements are sometimes present in Western RPGs, especially when the player has some control and customization over the Player Character.
Flash games: a number of English-speaking fans have created stat-driven dating simulations using Flash. The "sim date" games emphasize gameplay over story or characterization. There are a number of games which use original characters and settings, both for male and female audiences. Others are based on popular series, such as Naruto.
The Dawnguard DLC for The Elder Scrolls V: Skyrim has shades of this in the form of Serana. Throughout the questline, when her past and lineage are slowly revealed, you can be polite and understanding in your dialogue, or you can be forceful and rude. While you can't marry her, if you're polite enough,

you can convince her to cure herself of vampirism if you ally with the Dawnguard

.
The awkward dialogue of Festival Days must be seen to be believed.
Grand Theft Auto:

Oddly enough, Grand Theft Auto IV has this as a feature, complete with different places to go, activities to play, and different opinions with each and every girl. You can even meet them online on the internet and eventually have "hot coffee" with them. Your clothes, vehicle, driving skills, calling time, and amount of calling (if you call too much you're a stalker, but too little and they'd think you'd forgotten them) all count in to how they view you. They remember what you have and where you go to. Each girl also has a totally different personality and interest, along with benefits if they like you enough — dating the lawyer Kiki, for instance, will allow you to get out of a wanted level of up to three stars.

A similar system is even used with some of the male characters. Although their activities are strictly of the guy friend variety, like drinking or going to a strip club, it's still the same basic feature, and you can get similar bonuses from being friends with them — your cousin Roman offers free cab rides, Little Jacob offers discounted weapons, etc. They also implement this feature directly into the storyline several times; you have two canonical girlfriends over the course of the game, while the ending you choose results in

the death of either your dear cousin or your already mentally scarred girlfriend

.
Grand Theft Auto: San Andreas also had this feature, albeit a stripped down earlier version. It doesn't tie too much into the story aside from stealing an access card from one of your girlfriends, though you do receive rewards like special outfits and access to their cars.

League of Legends held a temporary, client-based instance of this called Spirit Bonds during their 2020 "Spirit Blossom" lore event, centering around a Featureless Protagonist getting stuck the Spirit World of the game's mythology and encountering alternate versions of several playable champions on varying paths, most of them with a hint of romantic subtext. In order to advance the stories (and earn the in-game rewards for doing so), players would need to complete missions for the characters in the proper League game, including killing enough monsters, dealing tons of damage, avoiding death, etc.
Man Enough is a 1994 FMV game that involves exchanging cheesy pick-up lines with beautiful women.
Mass Effect 2: Legion, a robot, purchased a dating sim based on a blockbuster romance film between two different aliens. His score is 15 (hopeless), humorously contrasted with the rest of his game scores (that consist of a million sniper kills on a generic FPS, et cetera).
Mount & Blade is mainly a Strategy RPG, but it does have a rather complex courtship system that allows you to woo and possibly marry various ladies. Each lady has a certain personality that affects her opinion on certain matters (your character's Honor and Renown, tournament dedication, various bits of poetry you can recite, etc.). Of course, since the game takes place in a medieval setting, there's more to it than just winning her favor most of the time...
The happiness level in some versions of Pokémon has more than a shade of this, with your Pokémon reacting well to "gifts" like Potions and Stat Ups and badly to failures in your cooperative battles.
Sleeping Dogs has four women that you can go on a dating sidequest with. The reward for completing them is that collectibles will show up on your mini-map. The dates are all treated as flings rather than anything serious and

two of the girls you date end up calling Wei out for his philandering ways

.
Yandere Simulator plays like an inverted Dating Sim. Instead of trying to woo "Senpai" (because the main character's Cuteness Proximity prevents her from even talking to the guy), she instead has to kill or otherwise sabotage her rivals to prevent them from successfully dating Senpai. However, you do get to play more straightforward Dating Sim minigames if you decide to matchmake your rivals with other boys to keep them away from Senpai as the matchmaking process involves you coaching these boys on what to say and give to the rivals to win their heart.
---