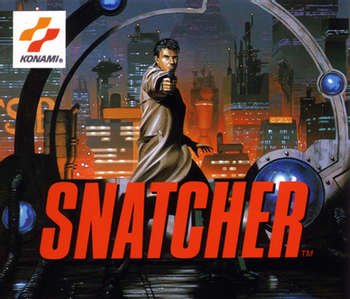 This story is dedicated to all those cyberpunks who fight against injustice and corruption every day of their lives.
On June 6, 1996,note 1991 in the original Japanese version a massive explosion takes place at a government research lab near Moscow. The accident causes a deadly artificial virus (known as Lucifer-Alpha) to be released into the atmosphere, resulting in the infection and subsequent death of 80% of those living in Eastern Europe and Asia––half of the world's population. This tragedy––the greatest loss of human life in history––is retroactively named "The Catastrophe."
Fifty years later, sophisticated bioroid robots, colloquially known as "Snatchers," begin appearing in the artificial island city of Neo Kobe off the Japanese coast. One by one, these beings start killing off the city's population, and with the help of their advanced artificial skin, are able to seamlessly replace their victims in society at large. Nobody knows exactly where Snatchers come from or what they ultimately seek to accomplish. However, a man named Gillian Seed, who is an amnesiac discovered in Siberia by the Russian military three years before the story begins, is convinced that his past is somehow linked to the Snatchers. With his marriage in crisis and his memories all but vanished, Gillian arrives in Neo Kobe City in December 2047note née 2042 to put a stop to the Snatcher menace, learn the truth behind their invasion, and hopefully, uncover his own past as well.
Snatcher is a groundbreaking visual novel written and directed by Hideo Kojima early in his career, set in a Cyberpunk universe (with clear Blade Runner overtones), and with all of the quirkiness Kojima eventually became known for. It includes more than a couple Shout-Outs to other Konami games and the Metal Gear series. The game was first released in Japan for the PC-88 and MSX2 computer platforms in 1988. These first two releases ended the story on a Sequel Hook at the end of Act 2, but no sequel was actually made. Instead, Konami remade the game as an RPG for the MSX2 titled SD Snatcher in 1990, which depicted the characters in a chibi art-style, but also concluded the story in its own manner. Kojima would later revisit the original Snatcher in 1992, with a remake for the PC Engine Super CD-ROM2 add-on titled Snatcher CD-ROMantic. This version updated the graphics to 16-bit standards, and added CD-quality music and voice acting to certain scenes. It also finally concluded the story with the added Act 3, which drew some of its plot elements from SD Snatcher's extended ending.
Konami decided to localize Snatcher to English with a Sega CD port released exclusively in North America and Europe in 1994, although Kojima was not involved with this version (having moved on from Snatcher by this point to work on his next project). Because of its late release during the Sega CD's lifespan, only 25,000 copies were manufactured. Original copies are now collector's items, both because of the aforementioned small print run, and also as a result of being the only official English localization of the game. Snatcher would receive another set of re-releases in 1996 for the newly-released 32-bit consoles, the PlayStation and the Sega Saturn, with these versions once again being specific to Japan.
A Spiritual Successor titled Policenauts was released for various platforms. The Snatchers also make an appearance in the "Jamais Vu" mission of Metal Gear Solid V: Ground Zeroes, in which they're fought by a certain cyborg ninja. A trailer for the mission can be found here.
---
Snatcher provides examples of:
Creator In-Joke:

Elijah Modnar

refers to Lucifer-Alpha as "a type-RA011 virus." RA-011 was the catalog number assigned to SD Snatcher by Konami.
Crusading Widower:

Jean

is out to avenge his wife, who was slain by the Snatchers.
Cut-and-Paste Environments:

Somewhat justified in Queens Hospital. The first floor waiting area is identical to the secret basement, giving the illusion of two hospitals.

Cyberpunk: Heavily inspired by Blade Runner, and a fair-sized Kitchen Sink thereof.
Going by the Matchbook:

Finding a matchbook from the Outer Heaven bar is one of the red herring clues to the identity of the Snatcher that has infiltrated the JUNKER's.

Gratuitous Foreign Language:

The Benson Snatcher's final words in the original 8-bit versions is said in Russian (Желаю вам усцеха, "I wish you luck").
It's a Wonderful Failure: Die and refuse to continue in the final shooting scene, you will hear a voice clip of Gillian saying, "Ugh! No, not here... Jamie, I tried... Ugh..." presumably that he is dying. Accidentally shoot Jamie during the final shooting scene, on the other hand, you will see a cutscene of Gillian cradling Jamie and saying, "Jamie! Jamie! Oh, no, what have I done?" And if that happens, you can't continue and are immediately sent back to the title screen.
Jack Bauer Interrogation Technique: Gillian aiming his blaster into

Ivan Rodriguez's

mouth.

Even after confirming that Ivan isn't the Snatcher he's looking for, Gillian is still pissed off enough at getting shot at by Ivan (in a drug-induced paranoid delirium) that he keeps his weapon shoved up Ivan's kisser until it's time to leave.

Jump Scare: Used liberally. Jamie answering the videophone while wearing a Snatcher mask is the most glaring example. Also, once you reach Queens Hospital with Random, be prepared once you see that an inactive Snatcher you could've sworn was there a second ago has disappeared.
Magic Floppy Disk: Somewhat justified, as Gillian notes that "nobody uses those things anymore" upon finding a floppy disk.
Master of Disguise: Subverted and then lampshaded.

Napoleon

is almost one of these, but ultimately just wants to amuse himself. Besides being a JUNKER informant, he works nights as the doorman at Outer Heaven while wearing a werewolf mask. His outgoing videophone message features a picture of himself wearing said mask, so he's clearly not that interested in hiding his identity. That, combined with his distinctive sneezing both in and out of disguise, makes it easy for Gillian to figure out that Napoleon was Outer Heaven's doorman all along. (The game helps telegraph all this in advance, when Napoleon shows up for his second meeting with Gillian in a Santa outfit, armed with packs of promotional freebie tissues.)

Napoleon

:

Being

an informer

isn't exactly the safest job on the planet, you know. That's why it's important to be a

master of disguise

––like me.

Misanthrope Supreme: To say that Modnar took it hard when Jamie rejected him is an understatement. He leaked the Lucifer-Alpha virus to kill off everyone on the continent, then when that didn't take, developed a horde of robots with which to repopulate the Earth.
Mister Muffykins: Referenced rather darkly, as a new pet craze in Neo Kobe is animals that can be used as cute purses, and tend to be internally lacerated by sharp objects.
A Nazi by Any Other Name: Not exactly subtle.

Chin Shu Oh

expressly compares the Snatcher's fear-mongering tactics to that of the Nazis.
Nightmare Face: A recurring theme with the Snatchers, whose faces usually end up in bad shape.
No Animals Were Harmed: Averted. Gillian overhears Katrina's Evil-Detecting Dog (Alice) barking at the trees outside, but it turns out to be nothing. Later on, however, Alice's disemboweled body is found in the yard, having been thrown through a closed window. In the Japanese version, her body is still twitching.
Robot Buddy: Metal Gear, Gillian's partner in his investigation. By default, all Junkers have said buddies, or "navigators" so as to better handle the more technical side of things and administer battlefield medicine when needed.
Robot Religion:

The Snatchers worship Elijah Modnar as their creator, and even attend church in his name.

Robotic Reveal: Several characters turn out to be Snatchers.
Videogame Caring Potential:

There is an optional scene involving an elderly man hanging with the freemen. One of them explained that the old man is sick. You have the option to call the video phone number provided to arrange for the old man's son to pick him up. Doing so nets you a scene.
As tempting as hitting on Katrina is, if you don't do it, she'll start to warm up to Gillian when you did all you can for investigating her home.

Katrina: Can't you stay here a little longer?

Video Game Cruelty Punishment:

Not exactly cruel, but given the situation, if you try to hit on Katrina (even though her dad died moments ago), she locks you out of her home until a certain number of turns pass.
Similarly (albeit not really cruel), showing the JUNKER ID to

Isabella

nets a similar result.

Voodoo Shark: Why does nobody ever use the easily portable, perfectly effective, completely non-invasive Snatcher detector without a warrant? Respect for civil rights! This would be a perfectly fine explanation if it didn't completely undermine the Snatchers' plans. How are they supposed to turn people against each other out of fear and mistrust when people are that trusting? Unless, of course, the Snatchers themselves initiated a crackdown to cultivate paranoia.
Weakened by the Light:

The artificial skin of Snatchers is incredibly vulnerable to UV-ray born cancer, forcing them into largely nocturnal existences. Even then, they must use copious amounts of sunscreen.

Wham Line: At the end of the game, after Elijah Modnar's thirty-minute Motive Rant:

Metal Gear: I'm afraid that won't be possible.

What Happened to the Mouse?: In the PC Engine version, Mika and Katrina are nowhere to be seen in the ending and not indication is made of what became of them since their last appearance. The expanded ending in the Sega CD localization clears up what happened to them and they both make an unvoiced cameo at the end of the 32-bit versions as well.
You Didn't Ask:

Metal Gear knows everything about Gillian and Jamie's pasts, but is forbidden from talking about it. At least, until Cunningham's death is officially confirmed and Gillian is thus the highest ranking JUNKER agent by default.

Your Head Asplode:

Freddy getting taken out by Random.

Your Princess Is in Another Castle!: Invoked during

Cunningham

's Final Speech, after his termination.

Cunningham

:

JU––JU––JU––JUNKER! You may have stopped me, but it's not over yet!
---
"Throughout history, suspicion has always bred conflict. The real conflict, though, resides in people's hearts. This conflict has just begun."