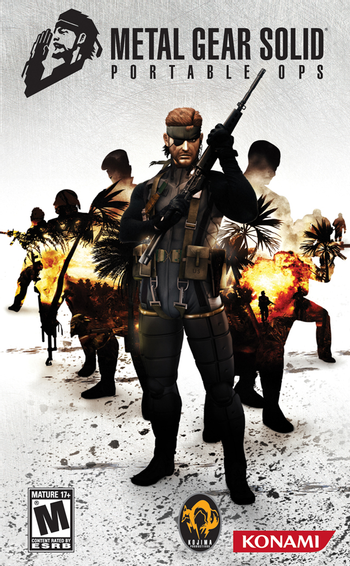 Metal Gear Solid: Portable Ops (officially abbreviated MPO) is a Metal Gear game released for the PlayStation Portable in 2006. Following the release of a few Metal Gear spinoffs for the PSP (both Metal Gear Ac!d, Metal Gear Ac!d 2 and Metal Gear Solid: Digital Graphic Novel), Kojima Productions decided to develop a legitimate Metal Gear Solid game for the handheld system that remained true to the stealth action game design of its console counterparts, with a story that followed the events of Metal Gear Solid 3.
Set in 1970 (six years after Operation Snake Eater), Naked Snake (a.k.a. Big Boss) finds himself abducted by members of his former unit (FOX) and imprisoned in a base somewhere in the San Hieronymo Peninsula in Colombia. After escaping from prison, Snake finds out that FOX has allied themselves with members of the Red Army and have taken over a secret Soviet missile base. They're now threatening both the US and Russia, and the U.S. government thinks Snake is leading the FOX revolt. Unable to take down the FOX unit by himself, Snake joins forces with a Green Beret soldier named Roy Campbell, forming the core of a soon-to-be-much-larger team dedicated to saving the day.
Built on a modified version of the Metal Gear Solid 3: Subsistence engine, Portable Ops introduces a "comrade system" which emphasizes a squad-based approach to the Metal Gear Solid formula in lieu of the traditional solo infiltration style. Featuring a stage-based structure, the player can deploy a team of up to four members to infiltrate various enemy facilities and fulfill mission objectives, as well as scout other territories and gather information. Snake can recruit numerous type of soldiers to his unit, as well as medics, engineers and even main characters from both, Metal Gear Solid 3 and Portable Ops. In addition to the single-player story mode, there is also various multiplayer modes based on Subsistence's online component (Metal Gear Online) where two players pit their teams against others', including a Cyber-Survival mode where the winning team gets to recruit a member of the losing team.
Portable Ops was followed by a stand-alone expansion titled Metal Gear Solid: Portable Ops Plus (MPO+) in 2007. It drops the story mode from the original game with an "Infinity Mission" mode, while introducing new multiplayer modes, maps, units and unique characters based on Metal Gear Solid, Metal Gear Solid 2 and even Metal Gear Solid 4, rather than being based strictly on Metal Gear Solid 3.
While initially advertised as the missing link between Metal Gear Solid 3 and the original Metal Gear, Portable Ops is considered more of a sidestory, as it wasn't directed by Hideo Kojima. Kojima would take directorial helm of the next PSP game in the series, Peace Walker, building upon the game design of Portable Ops and chronicling the further exploits of Big Boss. Kojima has since clarified that while the game is part of the Metal Gear canon, future games may take some liberties with certain elements of the plot.
---
Tropes common to this game are:
---