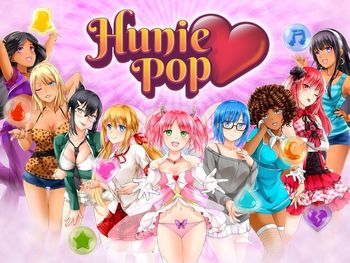 "Grown men are making this game for other grown men."
-
A NeoGAF user description of the game
(actually the team is roughly half-female)
HuniePop is a Western Dating Sim, RPG, and Puzzle Game by Ryan Koons. In the game, you play a nameless protagonist whose love life is nonexistent. The goddess of love, disappointed by the lack of romance in your life, decides to send Kyu, a magic love fairy, to help you out. Kyu profiles eight beautiful eligible girls in town and, after a few helpful tips, starts you on your quest for love… or lust.
The puzzle section (making up the date portions of the game) is, at its core, fairly standard Bejeweled fare but with some added complexity. The player has to score enough points to fill an Affection meter within 20 turns, and each girl has favorite and least favorite token types that change how many points each give out, along with Passion tokens that increase a score multiplier, Joy tokens that give extra moves, Sentimentality tokens that allow the use of special items, and Heartbreak tokens that penalize you if you match them.
Aside from leveling up a girl's relationship status, clearing a date also gives the player money to purchase gifts for use in the dating sim section, where the player talks to the girls to acquire "Hunie," which is then used to upgrade various traits (such as token effectiveness, lessening heartbreak penalties and increasing the score multiplier cap for Passion tokens) for use in the puzzle section.
The game was developed by Ryan Koons with several artists (Kopianget
, Agata Wiejak
, Ninamo
, Kaskia
and Pinguin-Kotak
), and music composed by Jonathan Wandag
. Brad Brown of the webcomic Blaster Nation was originally attached to write it, until he left over creative differences. The game was released on January 19th 2015, and became an unexpected hit.
Later in 2015, the developers announced HunieCam Studio, a spinoff business simulator game in which the player manages a Cam-girl business empire, featuring most of the original HuniePop girls plus several new characters. It was released April 4th, 2016. Watch the trailer here
.
A third game in the Hunie series
, called HuniePop 2: Double Date, was confirmed to be in the works in October 2016, and was finally released on February 8, 2021. Watch the teaser trailer here
and the gameplay trailer here
.
Here's the official website
and Kickstarter page
.
---
The game provides examples of:
---