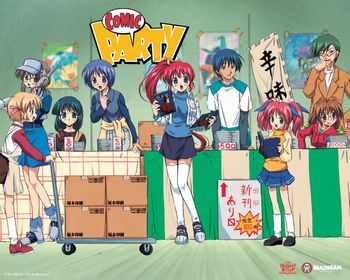 In Comic Party, Kazuki Sendō goes to a convention center in Tokyo with his friend, Taishi Kuhonbutsu. As it turns out there is a convention named Comic Party being there held that day. Kazuki meets several dōjinshi artists and enjoys his time. Since Kazuki can draw decently himself, Taishi encourages him to make his own doujin. Despite another friend of his, Mizuki Takase, discouraging him on the basis of Otaku being gross and smelly he decides to give it a try.
Comic Party began as a romantic adventure and dating sim video game by Leaf. The original PC release contained adult content but subsequent re-releases on the Sega Dreamcast, PC, and PSP were cleaned. This game was inspired from the real world event of Comiket held in Tokyo bi-annually. Comiket is a Doujinshi fair where artists gather to share their work.
Comic Party has since become both a manga and a two-season anime series, as well as generating merchandise like figures and artbooks. The manga was penned by Sekihiko Inui, who would later create Murder Princess, and was released in the US by the now-defunct Tokyopop. The first season was released in the US by RightStuf (Discotek Media later picked it up for the re-release). The second season, Comic Party Revolution, was originally released in the US by ADV Films, until it landed in Funimation's hands due to the Sojitz mess-up.
Mizuki also appears as a playable character in The Queen of Heart, a series of doujin Fighting Games by Watanabe Seisakujo (Now French Bread), more specifically in the second game, QoH '99; and the characters from Comic Party appear prominently in the third game, Party's Breaker: The Queen of Heart 2001.
Much later, Mizuki and Yu were chosen as support characters in Aquapazza, a Fighting Game developed jointly by Aquaplus and Examu.
---
Comic Party provides examples of:
---