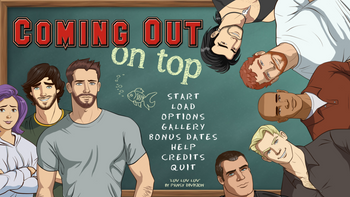 A visual novel game by Obscura
. The protagonist is Mark Matthews, an undergraduate student in Orlin, who is about to come out to his roommates and best friends. You get to play out the final semester of his senior year in college. There are five main guys that Mark can have a romance with. Each guy has their own route/story that the player can have Mark pursue, with a combined total of over 200 choices for the player to make.
It was released December 10th, 2014. The demo can be found here
Now has a Wiki
, which is still a work in progress. And also
on Steam.
---
This visual novel features examples of:
---