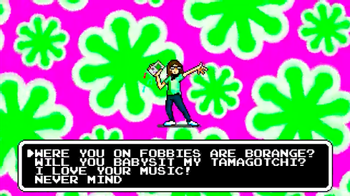 Sweet 33
is a
Dating Sim
game created by Fangamer in 2013 to celebrate Valentine's Day.
In it, you play a nameless, silent protagonist who has been wandering through the desert for several days only to find yourself in front of the titular Suite 33, home of the Fangamer Office. You then decide that you must marry someone as quickly as possible... and that's what you do. You talk to the different members of Fangamer, give them gifts, and hopefully propose to one of them and live happily ever after. Hilarity Ensues, as the over-the-top trailer
suggests.
Can be downloaded here
, in versions for Windows and Mac.
This game contains examples of:
---