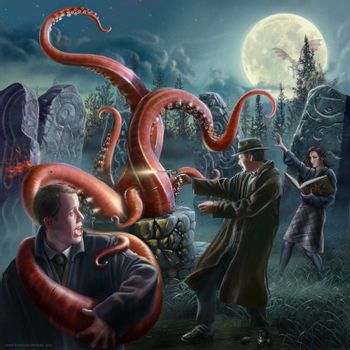 "The most merciful thing in the world, I think, is the inability of the human mind to correlate all its contents. We live on a placid island of ignorance in the midst of black seas of infinity, and it was not meant that we should voyage far..."
One of the most famous Tabletop Games of all time, Chaosium's Call of Cthulhu combines the adventurism and teamwork of Dungeons & Dragons with the Lovecraftian Fiction setting of the Cthulhu Mythos. Your adventurers, or rather investigators, are dropped into scenarios right out of a Lovecraft story, and must keep their wits about them; the goal of every C.O.C. campaign is not so much to defeat the Enemy, but to survive Its horrendous onslaught while following the mystery out to its bitter — and usually grim — end.
Call of Cthulhu has a number of similarities to that other popular TTRPG system, but is lighter on rules and easier to play. There are no classes and except in very exceptional cases, every character is human. Each character has an array of D&D-style attributes (STRength, DEXterity, CONstitution, INTelligence, POWer, EDUcation, APPearance and SIZe) as percentile scores. There are also a dizzying number of skills that each investigator might have a percentile score in. To perform an action, players simply roll a d100 and try to get under their score to succeed; depending on the difficulty of the action, modifiers and bonus or penalty die may be applied, or a hard or critical success (rolling under half or one-fifth of the appropriate skill, respectively) may be called for. Character progression is organic and gradual as skill points are accumulated gradually for successful rolls - if you want to learn lockpicking in D&D, you'd need to take a level in rogue or have the lockpick proficiency, but here you simply get practicing, just like real life. Starting skills are determined by a vast number of occupations to choose from; from petty criminals to law enforcement (police and private detective), military types to academics, elected officials and blue-collar working men.
While Dungeons & Dragons is a game of monster-slaying and high adventure, Call of Cthulhu is a game of investigation, exploration and gathering clues to unravel a mystery. Combat is rare and very often a suicidal endeavour for the investigatorsnote Your average Fighter character from D&D might have upwards of 40 HP and be able to take several hits from a 1D6 axe before being knocked unconscious; whereas your average Call of Cthulhu investigator will rarely ever have more than 15 HP, but a shot from a .303 Lee Enfield deals 2D6+4 damage and an M1911 pistol deals 1D10+2 damage per shot (and pistols can possibly fire three times in a round). That means if someone shoots you at close range, unless your character is wearing a Bulletproof Vest and gets quite lucky then statistically speaking they are probably going to be either instantly killed or at least in for a very lengthy recovery in hospital - while shotguns and dynamite can be quite effective against human cultists and other "low level" horrors, you are hopelessly outmatched by nearly everything else in the game. In Call of Cthulhu, the three most important skills in the game are Spot Hidden, Library Use and Hide, nobody wants to be saddled with the magic item, and any player character who tries to be an Action Hero will probably wind up using their precious gun on themselves to end the nightmare.
Notable for introducing Sanity as a character stat — your characters actually risk having their minds blown apart, partially or completely (and sometimes even literally), by the events they encounter. As a result, the term "SAN check" has drifted out of the Cthulhu following and become a generally recognized metaphor among gaming circles. As characters learn more lore about the Cthulhu Mythos, their maximum Sanity shrinks — forcing players to choose between their characters being ignorant or crazy.
The underlying premise of Lovecraft's senseless and horrifying universe is that unlike previous authors who posited that humans are important and matter hugely in the grand cosmic scheme, here the opposite is true; we as a species are a cosmic joke, constantly under threat by aliens at the fringes of our reality who are so ridiculously advanced and powerful that we would worship them, and many people in dark, forgotten corners of the world do; their technology looks like magic to us and their motives and intelligences are far beyond our ability to comprehend (so much that simply trying to would drive us mad). Our religion is a joke and our science does not adequately explain the real workings of the universe. To them, our civilisation is a dirty nuisance and they would wipe us out with the same contemptuous ease we would a mite infestation. The best we can manage is fleeting victories that push their ambitions back a few decades or even a century or two... but what is that setback next to millions or even billions of years of calculating patience?
The default setting is The Roaring '20s, true to Lovecraft's time period and coming with a lot of advantages for investigative horror - lack of available communication (Investigators can't just whip out their phone and call the cops if they encounter something shady like a cult gatheringnote And of course if the Keeper is smart they will absolutely ensure that the police are totally compromised by the same cult, so by making that call, they will know that you know about them and they can trace your phone to your exact location), there are still parts of the world that are relatively exotic and unexplored, and justifiably any adult male in their twenties and thirties will have combat experience since World War I wasn't that long ago). However there are also variations for other settings and time periods including:
There are also a number of video games bearing the Call of Cthulhu name, all licensed by Chaosium, though their connection to the RPG varies.
Do not confuse with a crossover with Mario of the same name
, a Collectible Card Game of the same name loosely based on (and licensed by) Chaosium's aforementioned RPG, a movie done in the black-and-white style of the 1920s about Cthulhu, the Youtube series Calls for Cthulhu, or the original short story by H. P. Lovecraft that they are all named after. The most famous campaign for the setting was Masks of Nyarlathotep which has been adapted into a radio play. A co-op boardgame called Call of Cthulhu Terror Paths was released for the 40th anniversary. See also Arkham Horror, Cthulhu Mythos The Board Game; and The Sinking City, a investigation Action-Adventure horror game released in 2019 that takes many cues from Lovecraft's works.
Interested in seeing some gameplay? Check out Critical Role's one-shot, "Shadow of the Crystal Palace"
or Chaosiums' own Bookshops of Arkham.
---
Has examples of:
---
Are you done reading this entry? Okay, now roll SAN.