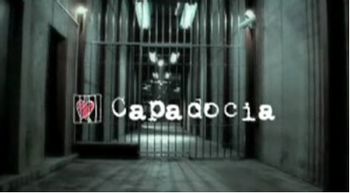 Capadocia: Un Lugar Sin Perdón (Capadocia: An Unforgiving Place) is a Mexican drama produced and aired by HBO Latin America. It lasted three series, from March 2008 to December 2012.
Capadocia is a privately-owned prison for women in Mexico City, owned by a corrupt business conglomerate called ECSO. It was created after a riot in a woman's prison and promoted as an experimental rehabilitation-oriented prison for the least dangerous inmates. Most of the episodes have a new character enter the prison, as well as telling their stories and those of the inmates.
Teresa Lagos, the prison governor, and Federico Marcos, ECSO's employee and representative in the prison, have constant disagreements regarding the inmates' rights and treatment. Unknown to most except Federico and a few inmates and wardens, ECSO uses the prison as a front for drug trafficking through Cautiva, a rehabilitation program where inmates sew lingerie. The secondary storyline covers Lorena Guerra, an upper-middle class stay-at-home mother who accidentally kills her best friend, after catching her having sex with her husband. She is imprisoned and transferred to Capadocia.
---
This show provides examples of: