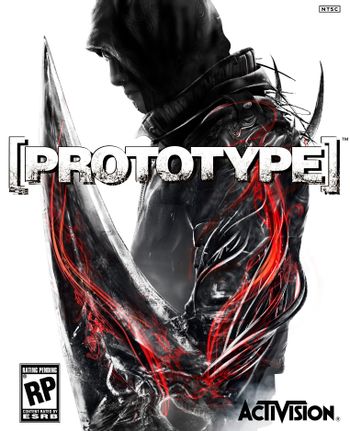 "NOTHING WILL PROTECT YOU FROM ME! NOT MEN! NOT WEAPONS! NOT ARMOR!"
— Alex Mercer
The Incredible Hulk: Ultimate Destruction meets the T-1000 meets Parasyte. Put inside a blender and made sure it mixes evenly.
Prototype is an open-world action-adventure game developed by Radical Entertainment (not to be confused with Free Radical Design) and released by Activision in June 2009.
The game stars Alex Mercer, a man with no memories and a large chip on his shoulder who wakes up at the morgue as a Voluntary Shapeshifter with the ability to absorb anyone he comes into contact with — assimilating their memories in the process. In his attempts to rediscover his past, he tangles with the shadowy military unit, Blackwatch, the United States Marine Corps, and the growing forces of the Infected, mutants with powers similar to his own, albeit much less human. The game is exceptionally bloody and places no moral restrictions on the player's actions.
Never to be confused with inFAMOUS — believe us, the fans sure don't.
As often seen those days, Prototype spans multiple media. Much like Gears of War and Halo, the backstory of some characters along with some events unseen in the game are explored in the six-parter Prototype comic book published by Wildstorm.
A sequel, [PROTOTYPE 2], was released in April 2012. This page is for the original game Prototype. Please place tropes exhibited in the sequel on the appropriate page.
On June 28, 2012, Activision announced major layoffs at Radical Entertainment, citing that the Prototype IP "did not find a broad commercial audience"; casting doubt on the possibility of the franchise continuing, barring the "Biohazard Bundle" of both games being released for PlayStation 4 and Xbox One in 2015. The franchise has been silent since.
---
This game provides examples of:
open/close all folders
#-F
G-L
M-R
S-Z
Say My Name: TAGGAAAAAAAAART!!
Score Screen: After each mission and event completion, no doubt. A top-right fade-in variant while the game is ongoing also appears after you have racked enough kills within a minute or after escaping an alert with some casualties inflicted.
Scratch Damage: Put on your Armor power in Easy mode Plus. Even the police officers can chip off bits of your health bar by themselves.
Screw the Rules, I'm Doing What's Right!: Specialist Cross, when he realizes that Blackwatch doesn't exactly have the city's best interests at heart. Unfortunately, he ends up being consumed by the Supreme Hunter.
Screw This, I'm Outta Here: Taggart attempts it after it finally sinks in how out of control things are: the virus is rampaging across the city essentially unchecked, Blackwatch and the Marines are bleeding troops they don't have, and Mercer just ate

Elizabeth Greene

.
Second Hour Superpower:

Rather odd and likely unintentional example in New Game Plus. Alex has only basic jump strength and no wall running ability before he crosses out of the Gentek compound perimeter. Once he does and triggers the helicopter pursuit, the jump upgrades and wall run abilities are restored.
Avoiding death in combat depends a lot on evading attacks. The airdash upgrades, glide, diveroll, and initial sprint and jump upgrades become available quite early on. Considering that all the rewarding collectibles become available for grabs just before your first manually started mission, you can greatly enhance your ability to survive combat by purchasing whatever upgrades are available with the abundance of EP that can be collected before zombies even start to appear in the streets.

Sequel Hook:

PARIAH

isn't directly encountered in the game.
The comics actually end with one as well: Garcia, after having killed McKlusky, escapes the island via an insufficiently guarded subway tunnel, and kills several Blackwatch guards with her bare hands before they can radio in that she's there. It's pretty obvious that she's become a "Runner", a female Infected that is highly intelligent and independent of Elizabeth Greene's Hive Mind. So it's likely that the infection will be spreading out from the city now.

Sequence Breaking: In order to avert this in New Game Plus, Alex doesn't get to bring along his vehicle skills. This prevents you from taking helicopters or tanks before you're supposed to.
Set a Mook to Kill a Mook: The Patsy ability allows Alex to accuse another military personnel as him while he is in a similar military disguise. Nearby soldiers will target the accused, but then curse and swear for picking the wrong target. There are no limitations on how often you can do this, and the others won't get suspicious no matter how many times you accuse everyone else.
Shapeshifter Default Form: The "Alex Mercer" we know is actually the Blacklight Virus; the virus merely copied the original Alex Mercer's body cell-by-cell. Since Blacklight originally believed himself to be the real Alex Mercer, it makes sense that he would instinctively use Mercer's body as though it were his original shape. However, even after the Awful Truth is revealed, Blacklight still uses Mercer's likeness as his default appearance, likely because he considers Mercer's body to be the closest thing he has to a real face and form (and possibly because he considers "Alex Mercer" to be his name; or, at least, moreso than "Blacklight" or "Zeus").
Shapeshifter Baggage: Alex can consume several orders of magnitude more than really should fit, and shapeshift armor from nowhere. In-game, the amount of excess "consumed" is theoretically the blue part of the player's health bar, which is called "Critical Mass", for good reasons. It is implied that Alex's density is much higher than normal, hence why he leaves craters in the ground after jumping a few feet in the air. For all we know, he may weigh more than 500 pounds in his default form, although he definitely doesn't look like it. That leaves a lot of biomass to extract from.

Considering that Alex can pick up and throw cars without being pushed back even in the slightest, he must weigh at least ten to twelve tons. The upper limit would probably be whatever the weakest Manhattan rooftop can bear without collapsing in on itself (so less than an airplane, probably). Then again, it's entirely possible that the lack of discernible "recoil" might be from him rooting himself to the ground the same way he can to walls.
In both the game and comic, consuming is shown to spill a ton of blood. Dump all the water from a body and you can fit what's left into a smaller space.

Shapeshifter Showoff Session: After

being infected with a weaponized parasite

, Alex has to seek help in the form of Dr Ragland; rather than just explain himself to Ragland, Alex shapeshifts by letting biomatter creep over him in a massive red-and-black ripple.
Shapeshifting Failure: When Alex gets

Infected with the parasite

he loses some of his shapeshifting abilities.
Shapeshifting Sound: Alex Mercer manifests his Shapeshifter Weapons and disguises himself as other human beings with a sound effect that's somewhere between a slurp and a whirring noise. For good measure, the same sound effect can also be heard when he's getting ready to perform a charged jump, indicating that he's actually altering his body to make himself more aerodynamic.
Shape Shifter Mashup: Allows for mixing your one preferred defensive and offensive power each.
Shapeshifter Weapon: Claws, clubs, a whiplike tentacle, added muscle mass, or what amounts to a BFS (not counting the devastators, which ratchet things up a bit). Alex Mercer is basically a shapeshifting swiss army knife. Of doom.
Shield Bash: When the Shield power is active, Alex will do this to anything he runs into.
Shockwave Clap: Called Knuckle Shockwave, instead of a clap it's two clenched fists coming to getting for a massive boom.
Shoryuken: Oh yeah. Oh, oh yeah. Bet you've never Shoryuken'd a person in half before. The move, "Hammertoss", isn't so much "jumping" as it's throwing his huge fist in the direction of any poor bastard in it's way.
Shows Damage: Includes type 2 and both type 3A and 3B. Civilians and organic enemies usually are devoid of this trope, however.
Smashing Survival: Inverted when trying to counter Super Soldier grapples. You must press the correct key quickly just once when prompted. Pressing any other key (read:wrong) will allow them to serve your ass back to you, and chances are that wild button mashing will result in that.
Smoke Shield: One part of the intro cutscene. See The Worf Effect entry below.
Sociopathic Hero: In other games, killing dozens of people to empower yourself would be a defining moment for a character, a choice that the entire game leads to. For Alex Mercer, it's just another Tuesday.

If you manage to consume ten or less innocents civilians during one playthrough, you're awarded with an achievement. Consume, not kill, because it's utterly impossible to finish the game without killing at least a few thousand civilians, if only by accident.
If you take the cutscenes on their own, and the gameplay elements as the player chowing down on innocent civilians, Mercer comes off as a lot less sociopathic and gets even less so as the game progresses. He cares about his sister, he's disgusted by what happened in

Hope

, extremely disgusted at the actions of the real Alex Mercer, and he gets pissed off at

Taggart for making him kill so many undeserving civilians and Marines to drive Taggart out of hiding.

Sociopathic Soldier: Blackwatch seems extraordinarily eager to shoot anything that moves, including civilians; they will threaten to kill a disguised Alex simply for bumping into them. Several Web of Intrigue memories show or reference them gunning down innocents, occasionally laughing all the while. Yes, they're fighting a deadly biological war against an enemy that has the capacity to destroy humanity, and desperate times employ desperate measures... but that doesn't mean they have to enjoy it.
Soft Water: Variant of this trope since Alex does not suffer falling damage. Doesn't matter how high Alex is when he plunges into a water body. Even a Bulletdive drop from the highest in-game building into the water will just create a human-sized splash instead of erasing every destructible object as per solid surface.
Sorting Algorithm of Evil: The boss fights gradually represent some sort of a hierarchy where the next is stronger than the last - Hunters, Leader Hunters, Greene are more of a direct line since the latter is the one who controls the Hive Mind. Captain Cross is by far the strongest human soldier that you encounter before you fight Greene. When Cross returns, the last missions reveal that he is actually the Supreme Hunter who performed a Kill and Replace, and its goal involves nuking the city, while trying to consume Alex himself and become the top of the food chain.
Sorting Algorithm of Weapon Effectiveness: Subverted; some powers are indeed inferior to later ones (i.e. Claw to Blade, Musclemass to Hammerfist and Shield to Armor)... but not all of them are outright replaced in terms of effectiveness, just more of a trade-off between power and speed.
Space Compression: Manhattan is NOT that small.
Spanner in the Works: Alex.
Spikes of Doom: Alex's Groundspike move and its variants. Giant freakin spikes burst out of the ground and skewer whatever was standing where they erupt. In the Groundspike Devastor move, they erupt all around you and skewer everything nearby. Not only great if you're about to be mobbed, but bases and hives take a lot of damage if you use it on top of them.
Spin Attack: The finishing sequence for the Claw and Blade powers behave like this.
Spreading Disaster Map Graphic: The general map in the pause menu highlights infected areas using red circles. As the game progresses and the infection spreads further into the city, the map will highlight more red areas.
Standard Power-Up Pose: The usual pose done whenever a Ground based Devastator is performed.
Start Screen: Being a console game and port to PC, no surprise. Comes with Attract Mode as standard package.
State Sec: Blackwatch, a black-ops style organization that may or may not have authority superseding that of the President. Their stated purpose is to prevent the spread of bioweapon infection (specifically Redlight and Blacklight), but given that every other person in their group is a Sociopathic Soldier, they're using the USMC as Cannon Fodder, and they have a plan to nuke Manhattan if they think they're losing, they're more clearly this trope.
Stationary Boss: Happens to be the largest one also.
Stealth-Based Mission: Some of the Events require you to disguise as a soldier and use a specific weapon. Dropping the weapon, changing disguise, or using a Devastator fails the mission. Predictably, these are the hardest events to do well in, since it takes away almost every other superhuman advantage you have, and are limited to infiltration.
Stealth Hi/Bye: Alex does this occasionally in cutscenes, and a skilled stealth-oriented player will be doing it on a regular basis. Rather impressive for a guy who's got to weigh at least half a ton at full health.
Stuff Blowing Up: Being a high octane action game, no surprise here. Although the explosions really do resemble the Hollywood-style combustion-type explosions rather than the detonation-type whenever appropriate. What else would one expect when every vehicle is a Pinto?
String Theory: The Web of Intrigue. Alex absorbs the memories of anyone he assimilates, and he proceeds to use that in order to unravel the whole situation by exploring the memories of the people he assimilates in order to identify the next person who could have an answer, assimilate them, gain their memories, find the next one, and so on. The pause menu renders this investigation as a web of interconnected people.
Suicidal Overconfidence: Most egregious are the police officers in New Game Plus.
Super Drowning Skills: Alex cannot swim, but rather than drown, any attempt to jump into water results in Alex sinking like a stone then jumping back to shore a few seconds later. Probably justified since he likely weighs somewhere around a ton and that the Blacklight and Redlight viruses are repulsed by water.
Super Soldier: The Blackwatch Super Powered Mooks are named as such. They are 7 feet tall genetically engineered bodybuilders with limited parkour abilities and a thing for CQC. They're also tough enough to punch out a Hunter in hand-to-hand.
Super Strength: Alex and the Super Soldiers. There's Musclemass for Alex if you aren't convinced. Radical threw in Musclemass Throw and Boost if you're still not convinced.
Super Toughness: Alex, and most of the other bigger infected. The Armor power even boosts Alex's defense in-game at the cost of reduced speed and his parkour moves.
Swiss-Army Hero: Or Swiss Army Anti-Hero given Alex's shapeshifting weapon-body powers.
Take a Third Option: The Kill Events pit you against a certain faction and tell you to aim for marked targets. What it doesn't tell you that any members of that faction, marked or not, count toward the score. In the case of the military, this includes empty vehicles. For some missions, it's almost a necessity if you want to get the platinum medal.
Take That!: Early interviews had the development team deciding that, instead of a conventional morality system, they'd assume that the player would act like everyone acts in a Wide-Open Sandbox; hence the ludicrous Video Game Cruelty Potential.
Take Your Time: The story only progresses once you start a mission. In the meantime, feel free to abuse Manhattan as the light in the sky changes between day and night several times.

Even when the countdown for operation Firebreak begins.

Taking You with Me: It cannot be said often enough: the real Alex Mercer was not a nice man. Cornered by Blackwatch? Release a deadly virus into a busy transit station! Arguably the best example of this trope, considering he was effectively trying to take the entire species with him.
Tank Goodness: While the standard M1 tank you can hijack is definitely awesome, the Thermobaric tank you get later is even better. Kill It with Fire!
There Is No Kill like Overkill:

Between absorbing enemies alive, cleaving them into tiny pieces, or just smashing them into pulp, Alex doesn't pull any punches.
The Kill Event involving the use of a thermobaric tank against normal and elite zombies. Amusingly, you have to kill more than a thousand zombies for gold and platinum, and this is not that difficult to do.
There's an event called Overkill.

This Is Gonna Suck: Alex's observation of what he's up against when he goes to destroy the Bloodtox production facility.
Throw-Away Guns: Alex tosses empty guns away. Justified because they are not his guns, he's not carrying extra ammo, and he's getting them by killing the people who were holding them.
Time-Limit Boss: The final boss, with the added bonus that you don't get to see the timer until it's down to two minutes.
Title In: Every change of scenery in the cutscenes has a subtitle in the lower left stating the current time and place,

useful in identifying which part of the narration takes place in the flashback or in the present time

.
Tomato in the Mirror: Alex Mercer is actually The Virus. The Alex Mercer we know is just merely the Shapeshifter Default Form — the original Alex died in Penn Station.
Too Dumb to Live: The Artificial Stupidity of certain AI factions can be abused in several situations to get enemies to take themselves out. For example, if Alex lands from a sufficient height without gliding, he'll loudly impact the ground and leave a distinct crater. However, if Alex isn't seen by military personnel doing so, they won't suspect him so long as he's in disguise - even if he's standing at the crater's dead center and nobody else is around. Military will just rush right past him to find a culprit - and they will charge right into deadly situations, such as running into other infected or simply dashing off a pier when they can't swim.
Took a Level in Badass: Mercer, during his Brought Down to Badass phase. Before being hit with the parasite, players will probably have been relying on their powers to get things done quick and dirty. Having those taken away but being left with the combat moves and the disguise and consumption abilities along with Mercer's enhanced speed and strength will make players fight smart, and by extension make Mercer even more dangerous. When the parasite is removed, not only does Mercer regain his powers

, he gets the sword and armor ones well. Making him even stronger than he was before.

Transformation Discretion Shot: In the climax, Alex discovers that

Captain Cross, his apparent ally,

is actually the final boss in disguise, having performed a Kill and Replace some time prior to the mission. After getting flung across the room, Alex looks up... and then we cut to a shot of Alex from the final boss's POV, rising steadily higher into the air as he goes full-blown One-Winged Angel. Cut back to Alex's side of the screen, where the fully-transformed villain is now advancing on him.
Transformation Sequence: By holding down a quick-change arrow on the D-Pad, instead of the claws or whatever just instantly appearing, you get a fairly cool lengthy sequence for them. Even for the Vision powers!
Trial-and-Error Gameplay: The final boss fight isn't kidding when it says the nuke only has six minutes on the timer. You can't see the timer, but it's there. So players who don't realize this might just try the same Cherry Tapping that worked for every other boss... then suddenly find that the boss still has half its health when the two-minute timer finally pops up. The boss can be literally unbeatable if you can't keep up a steady stream of damage before the timer kicks in.
Unfinished, Untested, Used Anyway: General Randall insisting on the deployment of Super Soldiers after merely hearing an initial summary on the test results.

Peter Randall: What's the word on the new round of test subjects?
William Demeza: Sir, they're testing off the charts. No ill effects at present. No evidence of the unmodified virus!
Randall: Prepped for field deployment - ASAP.
Demeza: Sir, I-I don't think we're ready.
Randall: You're not paid to think!

Universal Driver's License: Averted. To drive any type of military vehicle (APCs, tanks, and helicopters), you have to consume someone who knows how.
Unusually Uninteresting Sight: Nobody seems to think it's that suspicious to see a guy running at speeds of at least 60 miles per hour up the side of the Empire State Building, even though crawling up it like Spider-Man instantly sets off alerts.
Unwitting Pawn: Alex, the poor bastard. You want to ask if his day can get any worse, but you know damn well that you'd just be Tempting Fate. Of course, it's going to get worse anyway, so you might as well.
Upgrade vs. Prototype Fight: In the series this trope turns up several times: Alex Mercer (upgrade) vs. Elizabeth Greene (prototype) and Alex Mercer (prototype) vs. Supreme Hunter (upgrade).
Video Game Cruelty Potential: The sheer number of ways you can take people down in this game is staggering, but the craziest has to be shifting into a soldier, accusing another soldier of being you, and watching him get shot to death. If you're bored, just get a tank and aim it at some civilians.
Video Game Cruelty Punishment:

Very downplayed. It doesn't matter whether civilians are just collateral damage or you're going on a rampage and killing all of them that you can on purpose, all that will happen is the military will turn up... which you can swat aside like flies. Most of your "helpers" during the main quest don't seem to realize the carnage that Alex creates. Dana is genuinely shocked upon learning that Alex routinely consumes people.
On the other hand, if you start a New Game Plus and run around using the Musclemass power on innocent civilians at the start of the game, you have a situation wherein you are a monster who is running around punching people in half, their guts streaming about everywhere, as gallons of blood stain the street, with nothing but a few scattered cops and the occasional APC to stop you.

Videogame Dashing: The Air Dash. It can be upgraded to make you dash further and dash a second time after the first. Charging up attacks also amplify the extent in which Alex will lunge towards his target. This is justified as Mercer is propelling himself forward by expelling extra mass behind him, simialr to his Glide ability where he expels mass downward to keep his body from falling faster.
Villain Protagonist: Alex himself. He gets better.
Villainous Breakdown:

As the situation continues to escalate, Colonel Taggart starts to lose his cool. By the end of the game, he's abandoned Blackwatch and is trying to flee Manhattan in a terrified panic. Then again, he is kinda hunted by a completely insane Person of Mass Destruction, AKA Alex "cut a tank in two with one hit from a BFS that grew from his own fucking arm" Mercer.

Karen Parker to a lesser extent in the optional mission where you repay her for betraying you. She gets told Mercer knows where she is and is ordered into an elevator with a trooper when suddenly the elevator loses power. Cue her freaking out, knowing Mercer is coming. Quite justified as the trooper turns into Mercer and says, "I know" as the screen fades to black.

The Virus: The Blacklight virus, which frankly makes Umbrella's creations look like a mild case of the common cold. The game's protagonist is actually the Blacklight virus itself after it infected Alex Mercer's corpse and transformed it on the cellular level. That's right, in this game, you play as The Virus.
Virus-Victim Symptoms: Once the level of infection reaches very noticeable levels, some of the civilians will exhibit zombie-like gaits.
Voluntary Shapeshifting: Alex's main power; includes shifting his body into weapons or armor and becoming people he has absorbed, complete with their memories and skills.
Wake-Up Call Boss: The first encounter with the Hunters will teach you to fear them, at least at the beginning of the game. Later on, Specialist Cross teaches an overconfident player to not underestimate Blackwatch.
Waking Up at the Morgue: A little further than that. Alex awakens moments before getting vivisected.
Walking Wasteland:

Elizabeth Greene spreads her virus on everything she touches, alive or not.
In the Web of Intrigue videos,

Elizabeth's child, PARIAH

, is implied to be this as well.

Wall Crawl: Alex sure doesn't need ladders. But doing so makes him very conspicuous to military notice. More so than simply running up the wall.
Wanted Meter: The alert meter next to the minimap deals with enemy human awareness to your nature.
The War Sequence: The whole game! There is nothing stopping you from ignoring the plot missions entirely, and just diving into the fray, slaughtering marines, Blackwatch, civilians, and Infected left, right, and center.
We Have Reserves: The USMC are explicitly being used by Blackwatch as human shields to absorb the casualties of the occupation. This is Blackwatch's attitude towards everyone, including civilians and their own personnel. No cost is too high to contain an outbreak - even destroying a town. They've done it at least twice before.
What Happened to the Mouse?:

What happened to Dana and Ragland?

What Measure Is a Non-Human?: By the end of the game, the Blacklight Virus is a better "person" than the real Alex Mercer ever was. Ouch.
Whip It Good / Whip Sword: The Whipfist. Though not an actual sword, but slices up things as viciously as the Claw or Blade powers would.
With Great Power Comes Great Insanity:

Inverted, but also played straight, possibly. Mercer tells Dana how the memories of everyone he eats are swirling inside his head, and by the end of the game, you will likely have consumed a third of your total kill count. That cannot be easy to deal with. However, rather than driving him crazy, which he already was to be eating people regularly, he actually gets more heroic as the plot moves forward.
However, at the part where you're eating people to hone your Infected Vision, when your progress gets to about 80%, Alex suddenly flips out and groans "So many minds at work... All talking, all dying..." — Whether this is him starting to lose it, freaking over his first true contact with the Hive, or just being affected by grief due to what he's having to do for the greater good is up to the reader's opinion.

The Worf Barrage: A double subversion in the intro cutscene where the grenade-shrugging Alex appears to have been finally defeated by a rocket. The trooper who took the shot proceeds to help a nearby surviving Blackwatch officer, who then reveals himself to be Alex to deadly effect on the trooper.
Wrestler in All of Us: Alex can do chokeslams, powerbombs, and multistory elbow drops. And the Super-Soldier enemies use Alabama slams and backbreakers.
Writers Cannot Do Math: Several egregious examples;

Many of the ages don't match up with the timelines.
The death of Greene, the activation of Operation Firebreak, Taggarts escape attempt and the final confrontation on board the Reagan are all implied to take place over a few frantic hours (based off dialogue from Cross) but the game claims that nearly 6 days pass between Greene's death and the detonation of the nuke.
Manhattan is said to have a population of 18 million, despite the game's Manhattan being significantly smaller than the real Manhattan. In the real world Manhattan Island has less than 800'000 permanent residents and might go up to 3.6 million during the working day. New York City in 2020 only has 8 million residents.
Mercer has 6 minutes total to defeat the Supreme Hunter, attach the nuke to a helecopter and fly it "10-15 miles" out so sea.

You Are Who You Eat: Alex can turn into any human he consumes though his disguise will disappear if he consumes another person.

In other examples, Alex inadvertently did it with the corpse of the original Alex Mercer and the Supreme Hunter consumed Cross to lure Alex into a trap

.
You ALL Look Familiar: Partially due to Palette Swap, though the common attire being mostly semi-winter wear might also be contributing. In any case, there are two standard character heights throughout all NPCs: Male and the slightly shorter female.
You Fight Like a Cow: Cross as he fights the player, depending on the performance.

"You're slow. Painfully slow."
"You're fast, but I'm faster."
"You're fast, I'll give you that."

You Have Researched Breathing:

Patsy. It seems a bit of a stretch that you can't do it right out of the gate, given that you learn stealth consumes rather early in the game. On the other hand, it could be that it wouldn't work until everyone's good and freaked out after a day or two of hunting viral mutants.
Played straighter with some combat moves, even the basic conventions compared to other action games: It costs EP to learn how to step on a guy's face, or to even roll out of the way.

Younger Than They Look:

Specialist Cross. He's thirty-eight. No, seriously.
Also,

Alex/ZEUS/Blacklight is only a few days old

.

You Will Not Evade Me: The Whipfist allows you to grab enemies from a distance.
Zerg Rush: Because the player is so ludicrously overpowered compared to the enemy roster, the game compensates by hurling droves of enemies at you whenever possible.
Zombie Apocalypse: Any area controlled by an Infected Hive.
Zombie Infectee:

While it is never a concern in actual gameplay, in the late stages of the game, you will often see civilian NPCs on the streets who are practically five steps away from dying of the infection. They lumber, they can barely stand, and they cough like crazy. Some can be witnessed puking up blood. Half of these symptoms should have made them at least consider going home, and yet they're still wandering the streets, ready to infect people when they inevitably turn. To be fair, though, this infection is a lot more contagious than your average zombie apocalypse is, and these people suffer from a serious lack of information about it.
In the comic, an infected character says that he can hear

Greene

's voice in his head. If that holds true for all of the infected victims, perhaps those severely ill people are under the sway of the Hive Mind already and haven't gone home because they are already home, so to speak...
There are also normal people wandering around infected zones days after they've fallen, which seems to suggest that some people are just flat out immune.
One of the Web of Intrigue entries points out that the virus has a 99.999% fatality rate. That means that the zombie state is just like a starting state (similar to how people and animals go mad from rabies before dying) and that death is sure to follow (at least in the Redlight outbreak in Hope). This is Blacklight so it could be different.
---