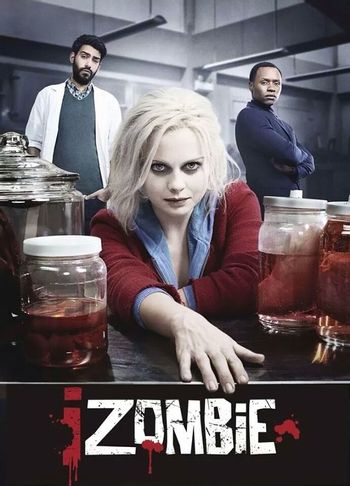 "Hmm, so 'you are what you eat' isn't just a bitchy thing my mother says about fat people."
— Liv
A crime/black comedy show that began airing in 2015 on The CW, loosely based on the Chris Roberson-Mike Allred Vertigo Comics series iZOMBIE and executive produced by Rob Thomas and Diane Ruggiero-Wright.
Olivia "Liv" Moore is a young, upwardly-mobile go-getter who has it all. She's pretty, perky, has a hot fiance, and is on the fast track to becoming a heart surgeon.
Well, she was.
That is, until she got scratched by a zombie in the middle of an outbreak and became undead. Now she's a zombie, who has to eat brains to stay intelligent and civilized. Instead of continuing as a surgical resident, now she works in the morgue. And since her need to eat brains comes with the side effect of picking up some of the...er..."brain donors'" memories and skills, she also helps a detective solve their murders.
Stars Rose McIver as Liv Moore, Rahul Kohli as Dr. Ravi Chakrabarti, Malcolm Goodwin as Detective Clive Babineaux, Robert Buckley as Major Lilywhite (Liv's former fiance), David Anders as Blaine DeBeers. Alyson Michalka portrays Peyton Charles (Liv's best friend, and love interest to both Ravi and Blaine) in a recurring capacity in the first two seasons, and as a series regular onward. Robert Knepper portrayed Angus McDonough (Blaine's father) in a recurring capacity in the second and third seasons, and was a series regular for the fourth season only.
The series ended after 5 seasons on August 1st 2019.
Tropes for single episodes can go in the appropriate recap page.
---
open/close all folders
Tropes A-B
Tropes C-G
Tropes H-O
It's also ironic that the creator of Utopium itself (also the creator of the 'tainted' strain, which was revealed to just be an experimental new formula of the drug) was

Liv's own father!
Tropes P-Z