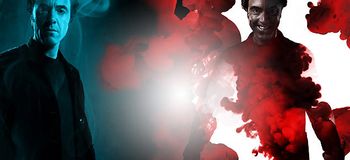 "Heard of good cop, bad cop? This is the movie!"
— Tom Jackman, Jekyll
Jekyll is a bizarre six-episode British TV series from 2007, written by Steven Moffat as a deconstruction of the Jekyll & Hyde trope and a partial sequel to The Strange Case of Dr. Jekyll and Mr. Hyde. It tells the story of the scientist Dr. Tom Jackman (James Nesbitt), and his Mr. Hyde, who coexist in an uneasy relationship, the two communicating through a dictaphone and "changing" at designated times. Unfortunately, Jackman has a wife (Gina Bellman) and children, and he will go to any length to prevent his other side from finding out about them and hires a psychiatric nurse named Katherine Reimer (Michelle Ryan) to aid him. But even worse is the arrival of a shadowy agency intent on capturing Hyde for their own ends.
Not to be confused with the other British Jekyll and Hyde series, ITV'S Jekyll and Hyde (2015).
---
Jekyll provides examples of the following tropes:
---