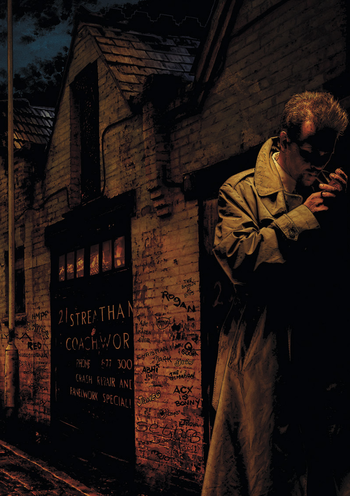 "So. Magic. What's it all about, then? I wonder what you were after when you got into the game. It's usually something. Something specific that you think is worth taking risks for. Money. Sex. Revenge. Power. Enlightenment. Thinner thighs in thirty days. It's a long time ago for most of you, I know. Maybe you don't remember. Fuck, maybe you don't even want to. But I'll tell you something for free. At rock bottom, it's always about the same thing. It's always about entropy. The Universe is winding down. Things fall apart. The moving finger writes, and what it writes is 'Tough shit.'"
A long-running Vertigo Comics horror title that spun off from Swamp Thing in 1988, running for 25 years before concluding in 2013 with an impressive 300 issues. Hellblazer followed Con Man, Occult Detective, gambler and magician of ill repute, John Constantine (rhymes with "turpentine"), as he tangled with Hell, Heaven, the police and the criminal underworld. The comic typically combined horror and fantasy elements (demons, ghosts, vampires. etc.) with a gritty 'real world' setting and an occasional dash of political and social commentary. The majority of the series was set in modern urban Britain, particularly London. Virtually every British comic writer of repute has written for Constantine, such as Jamie Delano, Garth Ennis, Warren Ellis, Neil Gaiman, Brian Azzarello, Denise Mina, Paul Jenkins, Andy Diggle, Ian Rankin and Peter Milligan among others.
Hellblazer was notable for averting Comic-Book Time, with John steadily growing older along with the rest of us. An ancestor of his, Johanna Constantine, appeared in some issues of The Sandman (1989) and was fairly badass.
For the tropes specific to John himself, regardless of his incarnation, see the Hellblazer – John Constantine page.
---
Tropes:
open/close all folders
A-B
C-D
E-G
Early-Bird Cameo: "Original Sins" contains two exceptional examples,

a nameless shaman who tells Constantine the history of the opening arc's demon, and a crime boss quoted in an article as an old friend of Constantine's.

Neither show up again until Andy Diggle's run, nearly 20 years later.
The End of the World as We Know It: "The Fear Machine", "Staring at the Wall" and "The Red Right Hand".
Eldritch Abomination: John Constantine met and defeated two Lovecraftian gods from different story arcs. Jallakuntilliokan, a two headed dragon/floating meat who eats reality, and M'Nagalah, who is the god of cancer.
Enfant Terrible: Little Harry in "Son of Man". He's actually the dead son of a crime boss whom Constantine was blackmailed into bringing back to life. Since he was unable to do so, John settled for summoning a demon into his body.
Evil Is Petty: For all of his power and status as the ruler of Hell, the First of the Fallen is primarily a vulgar, petty being prone to taunting Constantine from a distance leaving it up to other demons to battle him, flying into rages at any perceived slight, being an Ungrateful Bastard, and for years his greatest "victory" over Constantine was one time flipping him and walking away.
The Evils of Free Will: According to the First of the Fallen this was the reason he turned against Heaven; he didn't believe the human race could be trusted with it. Even Constantine thinks he might have a point.
Forced Euthanasia: Lord Burnham is a depraved aristocrat who arranges for Mako the blood mage to build him an Artificial Afterlife full of sex slaves of every age before committing suicide, thus escaping Hell. Constantine shows up just after Burnham started the lethal injection to inform him that the slaves' souls have been freed, and now Burnham gets to spend the rest of eternity with a very pissed-off Mako, desperately trying to stop the injection.
For the Evulz: One of the trope that introduces the First of the Fallen. Being the sole personification of evil himself, John is surprised to discover the Devil and his friend Brendan had made a deal to give the latter the biggest wine collection, even though John knew Brendan was just a simple pathetic drunkard. The First, of course, responds by saying he made the deal because he found Brendan to be amusing, and wanted to see him fail as he tried to cheat the Devil. This of course triggers John to try and save his friend. The rest was history.
During John's adventures in America, he has FBI Agent Turro tracking his tail until he gets murdered.
H-K
Ham-to-Ham Combat:

Brendan and O'Flynn's first meeting which degenerates into actual combat, since they're both the type who need to be the center of attention.
John and Ellie's fight in "Mortification of the Flesh".

Since they were in the Vatican, they used the corniest lines they could think of.

Ellie: We meet again, my old adversary! I should have devoured your soul in Rotterdam!
John: Do your worst, hellspawn!

Hate Plague: Inverted in "The Red Right Hand", in which the plague makes people incredibly empathic - to the point that they share each other's misery and cause mass suicides.
Have a Gay Old Time: "Fags" being British slang for cigarettes, and Constantine being a chain-smoker, lines like "...you'd better go and get yourself three days worth of food and fags" can sound rather odd to American readers. During American Brian Azzarello's first storyline, the double meaning is exploited as Constantine emerges from a shower in prison and claims, "We're all out of fags."
Hell: Hell in the series aren't often the fire and brimstone of myth. It constantly shifts and shapes to accomodate to different kinds of sinners. So everyone has his/her own Hell. If you think you'll like Hell because you like fire, well guess what, Hell isn't that generous and will make sure you WILL NOT LIKE IT.
Hide Your Children: So horribly, horribly averted.
Hidden Badass:
Historical In-Joke: Constantine and many of his relatives have had a hand in various events throughout history. For example, the "man from Porlock" who interrupted Samuel Taylor Coleridge during his writing of "Kubla Khan" was one of John's ancestors.

And it was deliberate: some rogue angels were using Coleridge as a vessel for the "Empyrean Manifesto," a document that describes Heaven, which would've helped bring about a new era of faith. John's ancestor didn't want anyone mucking about in human affairs, and broke up the party.

Hoist by His Own Petard: When Nergal visits John in the hospital to get him to help in bringing down the Resurrection Crusaders, he brags about being the demon that screwed John over in Newcastle, thus letting slip what that demon's real name was. John catches the slip-up and files the information away for later use when he's in a better position to take advantage of it.
Holy Ground:

Played with in one arc. John makes a deal with a bunch of demons to get a little girl's soul back. The summoning takes place in an old church, so they're trapped in the circle. Which is when John brings in the other party to the deal, an Aztec death god who, having been around for longer than Christianity, has no problem with the holy nature of the church, and starts eating the demons.
He also once sets up an ambush by waiting for chasing demons to reveal that they're standing on the grounds of an old church that was later turned into an insane asylum.
Seen also in Brendan's vain attempt in cheating the First, by entrapping himself in a fountain blessed by a saint. This however gave Constantine the edge to finish the job.

Horrifying the Horror: From "Son of Man": even the mob torturer with the codename of Gestapo is horrified learning that Ronnie raped The Antichrist into his father
Kill the Host Body:

One arc had a demon summoned inside a corpse and sent to attack a crimelord's house, dragging the corpse behind it. While the demon itself was Immune to Bullets, one of the mooks quickly figured out that shooting the corpse damaged the demon.
One story has John exorcize a little girl by threatening to kill her (specifically, by setting fire to a strand of her hair which would consume her body via Sympathetic Magic). The demon leaves and John is punched for his methods, before revealing it was a bluff- he'd gotten the hair from a wig, as even he wouldn't knowingly sacrifice a little girl.

Knight Templar: Usually the forces of Heaven; also the Order of Saint Oran in "Empathy is the Enemy".
L-R
Ley Line: Among the various forms of magic that shows up in the series. In an early story, "The Fear Machine", they are actually artificial, created by ancient magicians in order to channel the natural magic of the earth in controllable ways. A modern-day sect attempts to "tap into" this network with new technology, as part of a ritual meant to blanket the country in fear.

Constantine: It makes sense, man. Did you ever hear of a straight line in nature?

Light Is Not Good: Angels, who are all too often self-righteous racists (and at one point attempt to enslave humanity with the help of a human cult.
Like You Would Really Do It: In-Universe, John threatens an Aztec death god (in a way that involves murdering a little girl by setting her hair on fire). The god backs off, John gets punched for his trouble... before revealing

the hair was from a wig.

Long Runner: With the DC relaunch and cancellation of Uncanny X-Men, Hellblazer became the longest running series from the Big Two to never have been cancelled or renumbered (noting that Action Comics and Detective Comics went back to #1 without being given the chance to get to #1000).
Loser Deity: Implied. God stays offscreen, but is arguably insane, Can't Take Criticism, and created the First of the Fallen as a conscience he could beat up for backtalking. However, this is according to the First himself; later appearances with different writers portray him closer to a Big Good.
Made of Evil: The First of the Fallen, being the Devil and Satan, is the embodiment of sin and evil.
Magical Society:

John once was member of the Tate Club, a London-based sorcerer's guild.
John later becomes part of the Trenchcoat Brigade to fight the Cult of Cold Flame and save Timothy Hunter.

Magick: Unlike other fantasy genre magic who is filled with shooting lightning from your hands, and casting spells with wands. Magick in the Hellblazer mythos (and the whole Vertigo universe) is spontaneous and invisible. This means that although Magick is powerful, it is not flashy as seen in many fantasy genre.
Magic Versus Science: Magick in Hellblazer is heavily differentiated by users from science, though both can be combined to create greater effects. Magic and science are two different forms of logical reasoning, but science is more widely accepted as it is easier to apprehend, whereas magic is complicated. This is the reason why mages were executed in ancient times because of their powers. This is further explained in Books of Magic.
The Magic Versus Technology War: John once defeated the god-demon Nergal by trapping him inside a computer, before the computer opened a gateway to Heaven where angels ripped Nergal apart.
Manipulative Bastard: John Constantine

and his name-sharing twin brother

, who lies, cheats, and steals his way into and out of all kinds of trouble.
Memory Jar: A particularly horrible example: John encounters a sweet, grandmotherly old woman who

sends her son to kill prostitutes and hack off chunks of their flesh with a razor which she then keeps floating in jars. She can then relive the victim's happiest memories, which John compares to a drug high.

Mesopotamian Monstrosity:

The demon Nergal has the name of a deity from Mesopotamian Mythology. It's implied that he passed himself off as a god, back in the day.
The vile Julian, introduced in issue #251, is a Babylonian entity called an "ekkimu".

Mistaken for Disease: The opening issue features random people across New York gorging themselves on the objects of their obsession - only to starve to death moments later, instantly reduced to Nothing but Skin and Bones despite being in perfect health beforehand. One talk show suggests that both symptoms are the result of a virus, but by this stage, Constantine already knows that this is the work of Mnemoth the famine demon.
Mister Seahorse: A London gangster's pregnancy goes undetected, as everybody thinks he's just overweight. An enterprising demon wants to emulate the immaculate conception, only in reverse: gang boss Harry Cooper was selected for his sterling record of sadism (he raped his aunt at age 13). Making London the birthplace of the antichrist was no accident, either. ("Where the misery is built into the bricks and mortar...)
Monster Progenitor: The King of the Vampires is this to the Vampires.
Mundanger: In "The Family Man", the titular monster turns out to be an elderly Serial Killer. In "Good Intentions", a creature that is killing people in the wilderness around a mountain village turns out to merely be an enormous boar.
Mystical City Planning: The Knowledge is the name of all the routes, roads and geographical information London cabdrivers need to know before they can get a license. In the Chas: The Knowledge, we're told it's actually a complicated sealing ritual to contain a demon.
Only Good People May Pass: The "All His Engines" story has John exploit this by summoning a bunch of demons inside a church (so they can't pass the door). Cue an Aztec death god, who is older than Christian rituals and thus could not care less about them, plowing through the wall and devouring them all.
Our Werewolves Are Different:

Werewolves in the Hellblazer mythos looked vaguely different from traditional animalistic werewolf. Although still retaining their bloodthirsty instinct, they are still capable of communications, and can ride horses too.
The demon Norfulthing is a powerful werewolf/demon/elemental who eats people, and it can even detach its head and home in on its prey.
The 'fuckpig' ("You're taking the piss.") has a three-foot phallus and isn't afraid to use it. ("Son of Man")
John's dong saved the world once. It involved having sex with all the suffering in the world. ("The Horrorist")
Painting the Medium: In issue 58, the icy-cold Dr. Amis asks Chas where his nickname comes from. Chas tells him that it's after Chas Chandler, the manager of Jimi Hendrix. Dr. Amis replies, "Jimmy Hendricks?" The two names would be pronounced identically; the different spellings are to indicate that he is unfamiliar with Hendrix or his music.
Pay Evil unto Evil: A gang of neo-Nazis kills their gun supplier when he makes the mistake of noting the irony of neo-Nazis using Israeli-made weapons. The gunrunner's boss Stanley Manor (himself a serious nutcase) ends up offering a Sadistic Choice to the Nazis' boss: either Manor jizzes in his mouth... or his daughter's.

The old man spares his daughter from being raped... who all but spits on him, since he taught her that homosexuality is a sin.

Perpetually Protean: The Third of the Fallen exists in this state: unlike the First and the Second, he is constantly transforming into different shapes, often taking wildly different forms from panel to panel. In this first appearance alone, he appears as a Blob Monster, a flaming serpent, a floating brain with eyeballs, an armoured warrior, a skeleton, Elvis Presley, and many more. For this reason, he's known as the Lord of a Billion Faces.
During the Hard Time arc, John almost gets this while taking a shower ala "drop the soap". But John, being one step ahead, curses the would be rapists with catatonia.
The inmate who wanted to rape him first ends up raped over several days by inmates who think he's a woman.
S-T
Spotting the Thread: John may be a blue-collar type, but he's definitely not dumb. In one issue, on being shown postcards from Gemma, who's staying in Lyons, he immediately smells a rat: for one, the postcards all show scenes from Normandy, in the north of France, rather than Lyons, which is in the south, and for another, they haven't been stamped with French postage.
"Spread Wings" Frame Shot: A cover for Rise and Fall sees John stand in front of a brick wall painting of angel wings.
Sub-Par Supremacist:

The Highwater arc, set in the rural U.S., features a gang of neo-Nazis who use Uzis (a machine gun invented by an Israeli).
The same arc features the gang's leader Gage, a homophobic white supremacist given a Sadistic Choice by the Big Bad S. W. Manor: either he or his daughter perform oral sex on Manor. At the end of the story, we see Gage went through with it... and his daughter immediately disowns him for being a homosexual.

Surprisingly Realistic Outcome: In the Dangerous Habits storyline John gets lung cancer from "smoking 30 cigarette's a day since he was 17". He bitterly resents after years of battling demons, gods, and other supernatural forces his death seeming going to be something so mundane.
Take That!:

One of Garth Ennis' stories features an unnamed member of the British royal family as a member of a particularly depraved club for the rich and bored, who volunteered to possessed by a demon in the hopes of becoming a leader capable of ruling uncontested.

Marston

: I wanted to restore the monarchy of this country to its rightful power. I wanted a king who would have the iron will to rule

absolutely

. And believe me, he

was willing...

He would be backed by the military and advised by me. There would be no parliament. No opposition. No radicals. No liberals. No thinkers. No immigrants. There would simply be the rulers and the ruled... and we could do

anything. Constantine

: You're talking about putting the

thing

that used to be

Jack the Ripper

in charge of us? The bastard

eats

people, you headcase!

Marston

:

Ah

, but Constantine... What has our royal family

ever

done...

Except feed off the blood of the people?

Also features said member's equally-deviant brother who wouldn't mind the possessed guy being killed, as this would put him one spot closer to the throne. Why, yes, Garth Ennis is Irish, why do you ask?
And the usual British comic jabs at Margaret Thatcher. One of John's punishments by demons is left hanging upside down in front of a TV covering an election, ending with Thatcher winning, while the First of the Fallen mentions how hard it is to get an Adolf or Maggie up to speed.

Tear Jerker: Plenty, with a few notable examples.

In the Family Man arc, Constantine breaks down in tears after learning that

his father was killed by the Family Man.

In a confrontation with Satan, Constantine sees what appears to be the spirit of Astra, the girl he damned in Newcastle. He immediately starts apologizing, weeping in despair.

To Hell and Back:

In various stories, most notably "Down in the Ground Where the Dead Men Go".
John goes there many times like some strolling place. One demon even remarks that John himself "belongs" to Hell.

Took a Level in Badass: Many of Constantine's associates become one. Namely his best mate and sidekick Chas Chandler, who took down a powerful demon by himself and a few others.
Trial by Ordeal: One arc has John be interrogated by a tribe descended from Cain. His ordeal consists of plunging his hand into boiling water, which will burn him if he's guilty of theft. He exasperatedly sticks his hand in and tells them he's innocent... waiting until he's far out of earshot to scream (having used magic to fake his innocence).
Tuneless Song of Madness: Harry Cooper in "Son Of Mad" is introduced inanely singing "Roll Out The Barrel." Having lost his health and his sanity, it turns out that singing the tunes of his childhood is literally the only thing he can do.
U-Z
Wretched Hive: London is repeatedly shown to be populated with junkies and homeless people wallowing in their own filth, vapid socialites, and members of the British royal family.
Your Mind Makes It Real: A journalist was persuaded that a box containing the immortal aborted Antichrist had grafted itself to his chest, that it had pissed its evil into his veins, and caused him to murder people. When John graphically rips it from his chest, his wounds disappear, and the box is revealed to be a cereal box with a hole containing a dead rat.
---