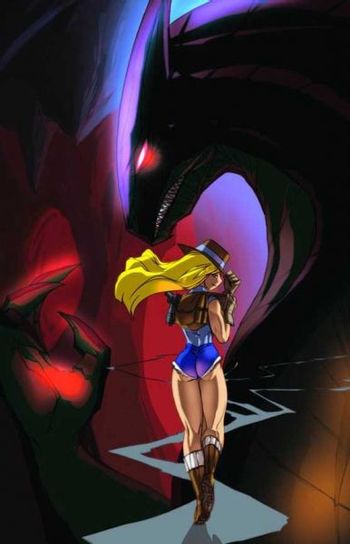 Gold Digger is a long-running US comic from Antarctic Press with manga-inspired art, written and drawn by Fred Perry. The first appearance of the characters was in the anthology title Mangazine Vol. 2 #11 (September, 1991). They then got their own eponymous 4-issue miniseries (September 1992-March 1993). This proved successful enough to make Gold Digger Vol. 2 an ongoing. 50 regular issues were published between July 1993 and June 1999, plus a number of annuals. These issues were mostly in black-and-white. The series was then relaunched as a full-color series. Vol. 3 started in July 1999 and is still ongoing, becoming one of the flagship series of the company.
The story centers around the adventures of the kind, nerdy, and idealistic Hot Scientist inventor, archaeologist and explorer Gina Diggers; and her Boisterous Bruiser, fashionista, were-cheetah adopted sister/bodyguard, Britanny "Cheetah" Diggers, as they search the world (and others) for relics of the distant past.
The third sister, Brianna, is the goofy mental and physical combination of Gina and Britanny, accidentally created in the process of removing a curse gained during one of their adventures. She combines Gina's thirst for mysteries, scientific acumen, and libido with Britanny's low attention span and thirst for action, fashion, or entertainment (plus a portion of her werebeast strength). Hence, she likes action-technology of any kind, especially if explosions are involved. She is usually accompanied by her trademark childlike little Peebo robots.
If, as the name and the Adventurer Archaeologist trope implies, the sisters seem more intent on digging up valuable treasures to fund their lifestyle than searching for actual knowledge, they invariably make up for it by becoming unwitting heroines in the process, usually with the help of their friends, and with time, Gina evolves into a more idealistic character.
It is popular enough to have several spin-offs, usually four-issue miniseries.
Fred Perry has also made an OVA, Gold Digger: Time Raft, based on his original, pilot story from 1991. He basically did everything except for the voice acting and music composition, while still producing the main series. The first part of the animation was released in 1999, and last part was finally completed and released in 2010.
Now has an online library!
And a Character sheet that needs wiki love.
Not to be confused with the (completely different) character archetype — even though that very trope is a derisive (and largely undeserved) In-Series Nickname for Gina.
---
Gold Digger contains examples of:
open/close all folders
A-D
E-H
Getting Crap Past the Radar: Good lord, Issue 259. It doesn't so much get crap past the radar as it detonates the radar and runs away laughing. Gina and Nez are transported into the bodies of expies of Megatron and Optimus respectively, and first find themselves 'uplinked' in vehicle mode, with Nez's 'plug' in Gina's port. Judging by their reaction, Fred just showed two cars having sex.

It gets better. Nez never puts away his 'plug' in robot mode, and the 'Seekers' are visibly in awe of said plug. Nez is walking around with his dick out through most of the issue.
God Save Us from the Queen!: Natasha, ruler of the undead, who would rather let her kingdom be wiped out than be humiliated by a higher power.
I-L
M-P
Q-T
U-Z
---