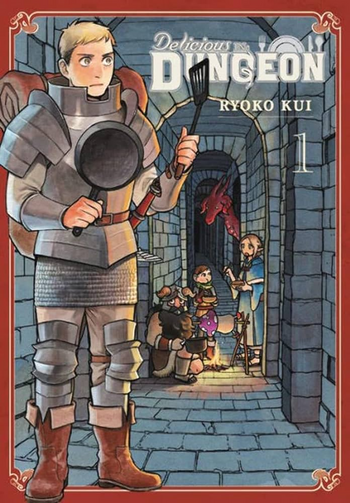 Delicious in Dungeon (Japanese: ダンジョン飯, Dungeon Meshi, literally translated as "Dungeon Meals") is a Fantastic Comedy seinen manga created by Ryōko Kui. The manga began serialization in Enterbrain's Harta magazine in 2014, concluding in September, 2023 with 97 chapters, 14 volumes. Yen Press has licensed its run in North America.
In a fantasy world of dungeon exploration, guilds go out on expeditions to raid dungeons, hoping to find the mysterious Golden Kingdom claimed to be the ultimate treasure of a particular island dungeon, said to be created by a Lunatic Magician after sinking the Kingdom to the ground. Human knight Laios Touden and his adventuring team are saved from a Total Party Kill by a fearsome beast, the Red Dragon, when his sister, Falin, sacrifices herself to teleport them all out of danger. Now she's in the dragon's belly, and it's only a matter of time before she's digested and it's too late to revive her. Laios and his friends must delve back into the depths to recover her remains - but there's not enough time or resources to buy enough rations for the trip. His solution: take advantage of the sprawling ecosystem of the dungeon itself by cooking the various monsters within into delicious, wholesome, dungeon-sourced meals.
Secretly, Laios has always been fascinated by dungeon monsters and has wanted to try eating them for a long time. However, this is typically never done and Chilchuck (the party's halfling trapmaster) and Marcille (their elf mage) are opposed. On the first floor of the dungeon, the team meets Senshi, a dwarf and experienced dungeon cook who agrees to help and joins their party as Team Chef.
Every chapter shows this team of four traveling through the dungeon, introducing environments (such as forests and lagoons) filled with new creatures. The manga focuses on world-building detailed fantasy environments, and captures a daily-life snapshot of fantasy dungeon raids and those who embark on them.
Part classic Dungeon Crawler, part Cooking Show, Delicious in Dungeon is a quirky, funny, thoughtful exploration of the ecosystem of a fantasy dungeon that may make you very, very hungry for the strangest of foods.
An anime adaptation based on the manga
by Studio TRIGGER (who had previously animated a commercial
for volume 8) would be announced on August 9th, 2022, with plans to release it in January 2024.
Compare Toriko and Food Wars!, both also adventure series about Food Porn.
---
Tropes are the exclusive privilege of the living. If you want to live, you have to trope:
open/close all folders
Tropes A to H
Tropes I to P
Tropes Q to Z
Race Against the Clock: The protagonist's goal is to save Falin from the Red Dragon. However, it's pretty much guaranteed that she's already dead; what they intend to do is resurrect her, which they have a limited window of doing so before Falin's body is digested to the point that she can't be revived.
Rapid-Fire "No!":

Senshi reacts this way when Team Touden encounter a griffon. Unfortunately, this ends up attracting the griffon's attention and it proceeds to swoop down and carry the poor guy off.

Reconstruction: One of the joys of the manga is taking the whole concept of Dungeon Crawling and examining how it could be made to work realistically, from its socioeconomic implications to monster ecology to the simple question of "what separates a 'dungeon' from a regular abandoned mine, fortress, etc." Then it takes that and starts extrapolating how dungeon crawling fits in on a broader geopolitical scale...
Red Herring:

The box that Chilchuck noticed during the mimic chapter turns out to be just that, a normal box. The real mimic was the much larger box in the corner.

During the doppelgänger business, one of the Marcille's states that she has mostly gotten over her issue with eating monsters, after having eaten all sorts of things like merfolk eggs. Laios realizes she is the doppelganger Marcille not due to that but due to the real Marcille being careless enough to pour out boiling water, an action that earlier in the story nearly got her killed by an angry undine.

Rewatch Bonus: Many, many idle instances of dialogue and minor details become much more significant on a second read, even before the series is finished. For example, from the very first chapter, there's a background instance of Chilchuck and Marcille acting doubtful when Senshi says he's been living in the dungeon for a decade. From Laios' thoughts on chimeras to Anne the kelpie to the Elite Mook living armor, there are many things that become much more important as the story goes on.
Ridiculously Cute Critter:

The dog form of dream!Laios that Marcille sees, much to his irritation since he had imagined himself as a badass wolf.

Rocket Jump:

Laios sits on Senshi's indestructible pot while Marcille activates a detonation spell underneath it in order to get on the Red Dragon's head.

Rocket-Tag Gameplay: A rare manga example; the Dungeon Rabbits have the force necessary to break a full-grown Dwarf's neck in a single kick, while simulateously cutting through the neck with a bladed foot for good measure, but a single thrown knife from Izutsumi can kill one instantly, even if it doesn't hit a vital organ. The problem comes from a pointed deconstruction of Conservation of Ninjutsu; there are far more rabbits than there are members of Laios' party, and that quickly gets reduced to just Marcille, who is the only one with neck protection.
Royals Who Actually Do Something: King Delgal was the only member of the Golden Kingdom who managed to escape, retain his sanity and reach the surface to get help for his people. He kicks off the plot by promising his kingdom to anyone who can defeat the Lunatic Magician, i.e. the Big Bad who trapped him and his subjects in the first place.
RPG Mechanics 'Verse: Downplayed; even though the world is clearly based on Dungeon Crawling and there's the occasional mention of monster levels, nobody ever talks about stats or refers to the world as anything other than completely real. Despite this, some concepts slip through (though explained by in-universe logic):

It is elaborated upon that some RPG elements, such as resurrection, only apply within the confines of the dungeon itself and don't work in the world outside of it. One of the proposed theories in-universe being that death itself is not allowed inside the dungeons and that souls are chained to their bodies after death, eventually becoming zombies if not treated quickly enough.
The food has unquantified "stat blocks" roughly displaying how much of certain nutrients they have, in keeping with the manga's theme of the importance of a balanced diet.
The way the dungeon shifts around has some elements of Roguelike dungeon crawlers in how it operates: certain rest stops appear when needed, the dungeon can't rearrange with more than it already has or obtains, and the frequency of monsters changes depending on how much power flows through the dungeon at the time. Chilchuck even works out a pattern in the dungeon's shifting despite its initial seeming randomness. However, this is explained by the dungeon being shaped according to the will of the Dungeon Lord, as well as

the desire-granting properties of the Demon's magic allowing basic desires like shelter and respite to be fulfilled

.

Running Gag: During the final arcs of the story, multiple characters come to the conclusion that the Dungeon powers may be evil and that nobody should become a new Dungeon Lord. They dramatically reveal this to others only for them to already have realized it.
Samurai Ponytail: Shuro, an adventurer from the East that fights with samurai armor and techniques alongside his loyal retainers, has a long ponytail to match the archetype.
"Save the World" Climax: What started as a party rushing to rescue their old cleric before she gets digested by a dragon ends with

that same group taking down a demon before it can devour the entire world

.
Screw This, I'm Outta Here:

Shuro and Namari both leave Team Touden after the Red Dragon attack at the beginning of the series.

Shuro intends to return to the dungeon to rescue Falin by himself, while Namari simply moves on to other work.

Kensuke flees during the battle with the Red Dragon. Chilchuck finds it again a few chapters later.

After he learns that killing the Red Dragon put a giant target on his and the party's backs, Chilchuck briefly tries to find some way to trick Laios and Marcille into giving up on Falin and leaving the dungeon for their own good. He fails and decides to stay with them anyway despite the increased danger.
Happens again with Shuro after he and his party face down chimera!Falin and, later on, he loses his fist fight with Laios. Believing he's lost Falin forever, he tells the rest of Team Touden that he intends to go home to the East and never return to the Island.

Sea Serpents: Kabru's party encounters one, which resembles an enormous finned snake. They're also venomous, with poison strong enough to knock out a whale and instantly kill a human.
Serious Business: Dragon scholarship is so in-depth that even the monster maniac Laios feels out of his depth when talking about them. The literature on walking mushrooms, one of the most common and weakest monster types, is said to be equally extensive.
Shovel Strike: Senshi takes down three earth golems using a shovel. Appropriate as he was using them as gardens for growing vegetables!
Sibling Team:

Laios and Falin Touden, brother and sister dungeon crawlers.
There's also Kiki and Kaka, twins and the warrior duo of their party.

Sick Episode:

After battling an angry undine, Marcille runs out of mana and becomes very weak. She's bedridden for a while and the rest of Team Touden, plus others, have to find a cure. Their solution is to make the same undine into soup and let her drink it since undine are full of mana.
Another one occurs when they fight a Cockatrice. Happens twofolds; having just learned how to use magic, Laios tries it out but suffers from Mana Sickness as a result and ends up taken out of action. Just as the rest of them stumble upon a Cockatrice. Because they lack Laios as a tank and fighter, Marcille ends up getting bitten and turned to stone. The remainder of the chapter is Laios and Senshi trying to figure out a way to cure her.

Sirens Are Mermaids: Mermaids (the type that appear more human) in this setting can sing songs that hypnotize those who hear it to drag them into water. Apparently they dislike others joining on their song, as Laios finds out when he tries singing along.
The Smurfette Principle:

Marcille is the only female member of Team Touden (after Falin is eaten by the Red Dragona and Namari leaves, both in the first chapter)

until Falin is saved and, later on, Izutsumi joins the party.

Shuro's team is an inverted example with him being The One Guy in what's otherwise an Amazon Brigade.

Spikes of Doom: Many of the dungeon's traps are either spike pits or spikes that shoot up from the floor.
Spontaneous Generation: It's indicated that dungeons spawn monsters naturally as they evolve and grow; the older and bigger a dungeon gets, the more numerous and more powerful monsters get generated (although monsters can also breed naturally).

In fact, spawning monsters out of nowhere is one of the chief abilities granted to lords of a dungeon.

Mages are also capable of creating a living familiar from organic matter (like meat and vegetables), although the necessary spell is difficult and requires a lot of resources.
Spot the Imposter: In chapter 39, the party is infiltrated by shape-shifters and they have to determine who is real before they fall asleep (because the shape-shifter will kill and eat the real one). While they're able to determine several of them as fake by obvious physical differences (including all of Laios'), the last three copies Laios has to figure out by their behaviour alone.
Spot the Thread:

Laios manages to figure out Senshi's last copy because it took all that he could rather than all that it needed while collecting ingredients from the dungeon, which went against Senshi's sentiment of trying to keep the dungeon's ecosystem in balance, he figures out Chilchuck's last copy because

it sat on a random crate without thinking, while the real Chilchuck is extremely cautious around containers in dungeons because they very often contain dangerous traps or monsters

, and he figures out Marcille's last copy because she dumped out a pot of boiling water without thinking, when earlier, doing this angered an undine that almost killed her. But in a comedic twist, he realizes because of this carelessness that this was probably the real Marcille.
Unscrupulous corpse hunters cast an illusion spell on Kabru and his party that gives them the appearance of monsters in an attempt to trick them into killing each other. However, Kabru is able to deduce that the "monsters" are his party members purely by their subtle Character Tics, and quickly sees through the illusion, and then turning the tables on the corpse hunters.

Sorting Algorithm of Evil:

Seems to actually be part of the dungeon ecosystem, with powerful mid-level bosses preventing deep-level boss monsters from forcing lesser species further up and overrunning the easier levels.
Also holds true of the story. Initially, the objective is to kill the Red Dragon, the largest and strongest monster yet discovered in the dungeon. It's an extremely dangerous animal, but the party could've defeated it at the very beginning if they hadn't been weakened by hunger. When the dragon's dead, the dungeon's master, the Lunatic Magician, takes center stage. He's an elven sorcerer who can control the dungeon's structure and contents at will, including the Red Dragon, and is an intelligent and actively malicious enemy. After he's dealt with, the story turns to the Winged Lion, an Eldritch Abomination who the Lunatic Magician had kept sealed as the source of his powers. The Winged Lion is the dungeon, and his plans will spell The End of the World as We Know It.

Spell My Name With An S:

There are many differences in the spelling of names between the official english release and the fan translated release. For instance, is it Laius Thorden or Laios Touden? It just keeps going from there.
However, the release of The Adventurer's Bible confirms the official English release's translations as the proper names through Ryoko Kui herself, with fan translations following suit.

Stock Video Game Puzzle: Marcille inadvertently creates a complex Rendezvous Puzzle for herself when she

animates the corpses of the rest of her party and the dungeon rabbits who attacked them. All of the bodies move along with her, but are in different positions, meaning some might get stuck on a tree or shrub while trying to move along with her. Then she realizes she has to get all of them through a narrow door. We don't see her solve this but it's implied it takes hours.

Succubi and Incubi: The party is attacked by a whole horde of succubi, with the monsters assuming forms that make the attacked drop down their guard. They are essentially mosquitoes with Glamour, though it is said that proper succubus demons may exist.
Supernatural Gold Eyes: Falin has them.

Laios too, and it becomes this trope when he starts learning healing magic.

Surprisingly Realistic Outcome:

The adamantine cookpot is indeed able to withstand dragon fire without melting. But it wouldn't be any good as a cookpot if being exposed to fire didn't make it hot—

too hot to keep using as a shield, as it turns out

.
It's implied Shuro is the stronger of the two but thanks to Shuro's malnutrition and lack of sleep, Laios, who has been eating and sleeping well, is able to come out on top when the two men resort to fisticuffs against one another.
Laios briefly discusses the business of dragon slaying in an omake, noting that the biggest burden is the logistical hurdles of getting the necessary equipment to the dragon's lair and transporting its valuable parts back after killing it.

Synchronization: If a familiar is killed while their mage is connected to them, there's some negative feedback. Just how much appears to have something to do with the mage's skill at making and using them. Marcille (competent but definitely no expert) seems to feel a sharp pain when one of her familiars is destroyed, while Fleki (a specialized expert) seems to have gotten the equivalent of a severe concussion and was rendered comatose with blood flowing from her nose.
Taken for Granite: At one point Marcille is turned to stone by a cockatrice. The party use her as a pickle press while they try to turn her back. Unlike most examples of this trope, the effects are temporary but still takes a long time to wear off naturally and they obviously can't afford to wait.
Tastes Like Chicken: Basilisk. Considering it looks like an oversized rooster with a snake for a tail, makes some sense.
That Was the Last Entry: In an omake, Laios shows Marcille a book written by someone who ate various types of walking mushrooms. Marcille says the last entry had better not be him eating a poisonous one. It isn't – he became a Matango.
The Secret of Long Pork Pies:

Senshi's greatest fear is that he had to eat another member of his former mining party to survive, though it's ambiguous whether the miner who fed the meat to him lied about it being griffin or not. Laios speculates that the meat may have come a similar-looking but still different monster, a hippogriff; the team eventually finds out this was the case when they transform some griffin meat into hippogriff meat with a changeling ring.

The Talk: After the fight with the dryads, Senshi, apparently mistaking Chilchuck for a child, attempts to give him the talk. (It should be mentioned that Chilchuck is married and has multiple kids.)
Toilet Humour:

Marcille remarks how all the toilets in the dungeon are so well maintained... only to find that Senshi has been maintaining them by using the waste for fertilizing his golem crops. She's disgusted, but Chilchuck does point out it's exactly what normal farmers do aboveground anyway.
The omake where the purifying ability of a unicorn's horn is demonstrated, as well as the opposing effect of a bicorn's horn. The unicorn horn turns the water of the dungeon's fountain clear and drinkable, but the bicorn horn turns it into putrid-smelling sludge. Laios has a sudden realization where the dungeon gets its water from... and Chilchuck and Marcille start beating him up because they did not want to know.
In another omake, Holm explains to Kabru how he feeds his pet undine, which eats mana. The mana can come from any source, but as a water sprite, it prefers liquid sources of mana, such as the bodily fluids of people (with the implication Holm has already fed his undine a lot of bodily fluids already). Mickbell and Kuro are then seen taking a refreshing shower underneath the undine, none the wiser, while Kabru tells Rin not to join them.

One omake involves Chilchuck and how his sharp ears pick up...everything that happens. Of, course, he's well used to that sort of thing so it doesn't bother him. What weirds him out is that Marcille makes absolutely no noise whatsoever in the toilet.
Token Wizard: Marcille the Wizard is Team Touden's only magic user.
Too Dumb to Live:

The newbie party that Team Touden run into are almost completely wiped out by a basilisk. When their leader is running from it, he turns his back and it kicks him with its poisoned spurs. Laios remarks that turning your back on a basilisk is asking to be killed. Needless to say, the last two members only survive because Laios and Senshi save them.
Kabru's party find a box of treasure and immediately start playing with the coins and wearing the jewelry. This despite the fact treasure bugs are a well known dungeon hazard. They all end up paralyzed and have to be rescued by a team of corpse hunters.

Total Party Kill:

In the beginning, the party loses all their supplies, is hungry, and is not in the best condition to fight the Red Dragon. Said monster would have wiped them all if not for Falin's sacrifice to distract it and cast a teleportation spell on the rest of the party.

Prevented again by Falin shortly after she was resurrected. Senshi accidentally detonated the Red Dragon's fuel sacs, and Falin's quick reflexes and new-found powers saved the party yet again.

Subverted when the party fights the Lunatic Magician. He defeats Laios's party and throws them into a pitfall trap; however, they are rescued before trap crushes them.

Before getting some character development, this frequently happened to Team Kabru.

They later find out that one gang of Corpse Hunters had been following them hoping to scam more money out of them. When that fails, the Hunters cast an illusion spell on them hoping they'd kill each other in the confusion. Kabru and co make short work of the hunters after the illusion is lifted.

Thousand-Yard Stare: Strangely, Laios has one on the cover of the first volume.
Throwing Your Sword Always Works:

Chilchuck throws Senshi's mithril knife, the only weapon that so far had any success, with perfect accuracy and devastating results into the eye of the Red Dragon. This move is a key factor in the victory, but he gets taken out of commission soon after.

Tragic Monster: Ghosts and zombies. See Was Once a Man.
True Art Is Angsty: In-universe example. An omake on Nightmares has the group pondering why they give the victim predominantly bad dreams and not good ones, discussing a researcher who went out of his way to find the answer to this question. It turns out that the victim themselves unconsciously compels the Nightmares to create bad dreams because they're more stimulating to the mind than good dreams.
Two Girls to a Team:

Team Touden after Falin is rescued from the Red Dragon; and later after they lose Falin again, Marcille and Izutsumi

.
Underdogs Never Lose: Averted completely. Less skilled parties tend to end up wiped out while experienced teams venture further down and manage to come back alive.
Under the Sea: The fourth level of the dungeon is home to a huge lake-like pool of water, along with a bunch of aquatic monsters. Adventurers usually have to cast a water walking spell to navigate it.
Unicorn: One of the numerous monsters present, but unusually, its horn is located on the tip of the snout like a rhinoceros, rather on the forehead. There's also an opposite counterpart known as a bicorn, which (as its name suggests) has two goat-like horns.
Unicorns Prefer Virgins: Played with. Unicorns are drawn to virtue and can be tamed by innocent virgin maidens, but bicorns — black horses with two goat-like horns — love immorality and eat virtuous husbands. Laios reasons that they can be tamed by corrupt adult males, and the party tries to catch one by behaving sinfully so that they can get close, but they fail to take it alive when it senses Chilchack (who the party assumed was the necessary corrupt adult) and tries to eat him. It turns out that the state of his marriage is both less and more complicated than he pretends.
Unspoken Plan Guarantee: When the party finally rematches with the Red Dragon, they strategize to best kill it with their limited numbers and equipment, using Senshi's adamantine pan to shield themselves from its fire until it runs out of fuel, and then luring it under a large bridge which Marcille will collapse on top of it, forcing the dragon to the ground and allowing them to strike its weak point on the throat.

The plan immediately goes awry when Laios accidentally flings the pan away before the dragon uses up all its fuel, because the fire caused the pan to become too hot to hold. They manage to trap the dragon anyway, but it turns out to be stronger than expected and immediately busts free from the rubble. They're forced to improvise on the fly after that

.
Was Once a Man: The zombies, walking skeletons and ghouls are the re-animated corpses and ghosts of adventurers who couldn't be revived for various reasons.
Wham Shot: In chapter 65, when Marcille tells the Lion that

she wishes that all of the spoken races could share the same lifespan and asks if he would be capable of making that happen, his eyes suddenly turn into the same eyes that the Demon Goat that possessed Mithrun had, making him look much more ominous and showing that he is likely just as dangerous as the Demon Goat was.

What Measure Is a Non-Human?:

Briefly discussed by Laios and Chilchuck about fish-type merfolks. Laios argues they're closer to fish than they are to humans; therefore it's all right to eat them. Chilchuck is still turned off by their overall human-like features, especially since they're intelligent enough to use tools. In an omake though, a human-type mermaid readily eats a fish-type merfolk without hesitation.
Discussed again when Laios comes up with a solution to saving Falin by eating the dragon parts of her. Laios quickly gets caught up trying to figure out how they're gonna devour the several-tonned size dragon portion of Falin while everyone else is clearly disturbed by his idea.

What the Hell, Hero?:

Chilchuck telling Marcille to quit pressuring Namari to rejoin their party since abandoning her current employers would wreck her reputation as a hired adventurer.

Shuro

gives

Laios

a pretty massive one when he learns that

they revived Falin using black magic

. He admits that in the same situation, he might have done the same thing, but Laios's blithe attitude about it plus everything else they did infuriates him.

When Trees Attack: In Chapter 1, one of the monsters Chilchuck remembers is some kind of evil looking walking apple tree.
Who Wants to Live Forever?:

The inhabitants of the Golden Kingdom were cursed with immortality by the Lunatic Magician hundreds of years ago. Constantly repeating mundane tasks, like polishing silverware they no longer use or growing vegetables they won't eat, is the only way they can stay sane.

Wishplosion:

Under the effects of the Winged Lion, Marcille isn't being controlled by it, but her desires do get out of control. When isolated, she keeps wishing for things and have them materialize around her. The party uses this to create a path towards her in the void. In chapter 86, she mentions that not only are her desires maximized, but she also loses her desire to not want things.

With Great Power Comes Great Insanity:

Apparently even the most well-intentioned dungeon masters start going insane eventually

.
The Worm That Walks: Living Armors aren't empty husks controlled by a mage, as the party finds out: they're mollusk colonies that grow metallic shells and join together to form a gestalt entity.
Worthless Yellow Rocks: Senshi sees little value in anything that isn't directly related to cooking. He tells Marcille and Chilchuck to throw out a bunch of "inedible treasure bugs," only mentioning offhand that they are actual pieces of treasure. Gets worse in an Omake, where Laios reveals that the bugs they ate were highly sought-after specimens for collectors, possibly worth more than the treasures they were impersonating. Chilchuck and Marcille were not amused.
Yank the Dog's Chain: It took a lot of blood, sweat and tears but Team Touden have finally got Falin back, yaaaay! Oh wait, she's been spirited away by the Lunatic Magician and is now trying to kill them. Also she Came Back Wrong and Shuro intends to get all of them imprisoned (at best) for their unwitting part in it. Also, the Lunatic Magician, a far more dangerous enemy than the Red Dragon, is out for their blood. Ouch.
Your Princess Is in Another Castle!: Whenever Team Touden completes their current objective, something happens to complicate things and they have to travel even further into the dungeon's depths to put things right.

Team Touden's first goal was to recover Falin's remains from the Red Dragon's stomach and resurrect her. Much time passed before they were able to finally defeat the Red Dragon and Marcille had to resort to forbidden blood magic to restore Falin's body using Red Dragon flesh in order to resurrect her. Because of this, the Lunatic Magician Thistle later transforms Falin into a monstrous chimera and the party then had to find and defeat Thistle in the dungeon's deepest level in order to eventually free Falin from Thistle's control.
After Laios barely defeated Thistle, the Canaries show up not long after, intending to seize Thistle's spellbook by force, uncaring of Team Touden's goals. Afraid that the Canaries would kill her, Marcille hastily accepts the Winged Lion's offer to become the new lord of the dungeon, which quickly takes on a new layout. Team Touden now has to find both Falin and Marcille in a new dungeon, with the Canaries pursuing them as criminals!
Once Marcille is finally subdued, Laios is then tricked into becoming lord of the dungeon and gets his body possessed by the Winged Lion. They then have to stop the Lion from completely destroying the barrier between the world and the dungeon, and when that failed, the barrier between it and the Infinite before the world is totally consumed.
---