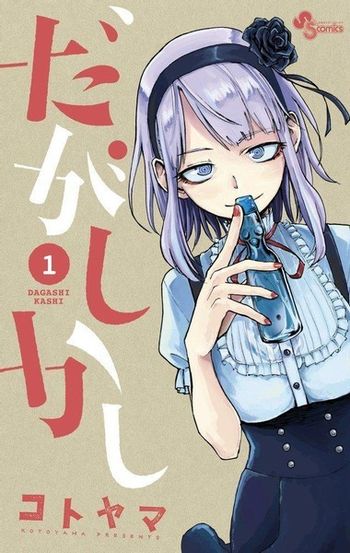 Dagashi Kashi is a manga series by Kotoyama, which was serialized in Weekly Shonen Sunday from 2014 to 2018 and compiled into 11 volumes.
The story revolves around country boy Kokonotsu Shikada. His father runs a small family-owned candy shop and wants Kokonotsu to inherit one day. Kokonotsu wants nothing to do with the shop and aspires to become a manga artist instead. One day a weird but cute girl named Hotaru Shidare visits the shop. Hotaru is part of a famous family-owned sweets company, which she wants Kokonotsu's father to join. However, his father only agrees to if Kokonotsu can be convinced to take over the shop. She then makes it her mission to convince Kokonotsu to do so, no matter how long it takes.
The manga later received an anime adaptation, airing as part of the winter 2016 anime lineup, with a sequel airing as part of the Winter 2018 lineup.
Dagashi Kashi provides examples of:
---