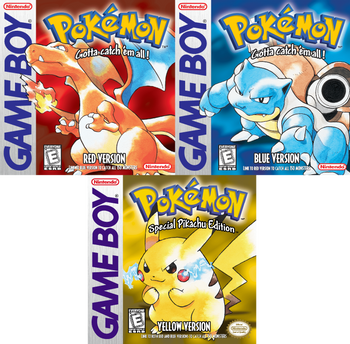 "You've finally been granted your Pokémon Trainer's license. Now, it's time to head out to become the world's greatest Pokémon Trainer. It's going to take all you've got to collect 150 Pokémon in this enormous world...can you develop the ultimate Pokémon strategy to defeat the eight Gym Leaders and become the greatest Pokémon Master of all time?"
— Blurb on the back of the boxes of Pokémon Red Version and Pokémon Blue Version
The first installments of the Pokémon franchise hit the Game Boy in 1996 in Japan (as Red and Green; see below) and in 1998 in North America. Taking place in a part of the world called Kanto, based on the Japanese region of Kanto, the plot is simple: you, an eleven-year-old with a baseball cap, are offered your very first Pokémon by Professor Oak, the local authority on Pokémon. He gives you a choice of three different types: Bulbasaur, Charmander, or Squirtle. His own grandson, your long-time Rival, gets second pick, and takes advantage of this to snag whichever one happens to be strong against your chosen partner.
In exchange for your first Pokémon, Oak wants you to run an errand for him: travel around the region and collect as many different Pokémon as you can, recording all of them in your Pokédex. Of course, along the way, you're more than welcome to challenge the eight Pokémon Gyms, collect their badges, and take on the Elite Four in hopes of becoming the Champion of the Pokémon League. Then there's the emerging threat of Team Rocket, a proudly evil organization that uses Pokémon for its own selfish ends. Somebody's gonna have to deal with them, too — and who better than an eleven-year-old and his team of trained monsters?
While the game's Competitive Balance is undeniably broken and glitches abound...it's Pokémon.
It should be noted that in Japan, the first two games were released as Red and Green. Blue was released later as a third version, with a bit of a graphical improvement over the originals. For the international releases, the names Red and Blue were used. Although the Japanese Blue provided the graphics, codebase and game script for translation, the Japanese Red and Green provided the wild and version-exclusive Pokémon for the international Red and Blue respectively. Aside from its codebase, this makes the Japanese Blue the only main series game to lack an international release.
As evidence of its incredible popularity, Pokémon Yellow was later released as a fourth version in Japan in 1998, and as a third international version in 1999. Yellow took elements from the first season of the anime and transported them back into the games, however loosely. Instead of picking one of the usual trio, a wild Pikachu ends up as your starter, and follows you everywhere rather than getting into the usual Poké Ball. The familiar Team Rocket trio also show up, although Meowth acts as a normal mon as opposed to an equal member to Jessie and James, acting as the third member in their party alongside Ekans/Arbok and Koffing/Weezing.
After a successful run, Red, Blue, and Yellow were followed by the Game Boy Color-enhanced (though they can still be played on a previous incarnation of the Game Boy, as well as later ones) Pokémon Gold and Silver, taking place three years after Red became champion and featuring a kid from Johto, a region west of Kanto, the return of Team Rocket, and improved the graphics that Yellow didn't (back sprites, etc.).
Jump ahead a couple gens, and Red and Blue reappeared in the form of their Video Game Remakes on the Game Boy Advance: FireRed and LeafGreen. These allowed players to relive the classic games with many of the new benefits, tweaks, and balances of the second and third generations, though it took some Retconning here and there, and added in some new areas to explore after finishing the familiar challenge(s).
These games have received two animated adaptations. The first one is the first season of Pokémon: The Original Series. The second one is the anime special Mini Series titled Pokémon Origins, which aired on October 2, 2013 in Japan (10 days prior to the release of the tie-in games Pokémon X and Y) and November 2013 in the United States. This miniseries essentially serves as a more accurate depiction of the plot of Red and Blue, being a Truer to the Text Anime of the Game in comparison to the main Pokémon anime.
On November 12th, 2015, it was announced that Red, Blue, and Yellow would be making their way to the Nintendo 3DS's Virtual Console in the eShop in celebration of the franchise's 20th Anniversary. Trading and battling with other players was retained by modding them to work with the system's local wireless functionality, while the Restore Points option is disabled. Pokémon caught in the Virtual Console versions can also be transferred to future mainline Pokémon games, starting with 2016's Pokémon Sun and Moon, via Pokémon Bank. They were released on February 27th, 2016, exactly 20 years after their release in Japan.
As of May 29th, 2018 a third set of Kanto games were announced, this time being enhanced remakes of Pokémon Yellow, called Pokémon Let's Go, Pikachu! and Let's Go, Eevee!. It is available on the Nintendo Switch and features compatibility with Pokémon GO.
Another detail worth noting is that many of the tropes listed under Red and Blue's category also apply to Yellow, FireRed, and LeafGreen.
Random trivia: the games were developed on Sun's SPARCstation 1 computer; four or five units were used in their development.
---
open/close all folders
Tropes used in Red and Blue
Tropes used in Yellow
Tropes used in FireRed and LeafGreen
---