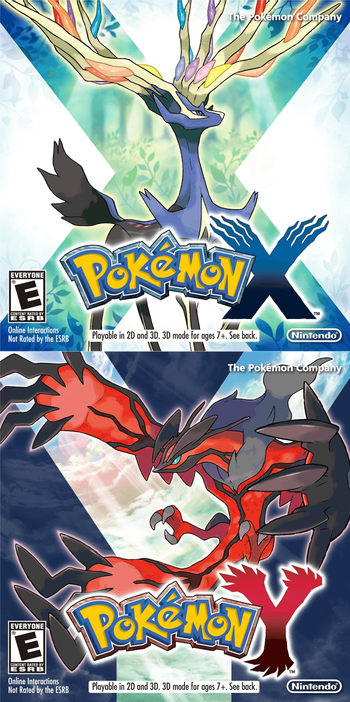 "The next evolution in Pokémon!"
— Blurb on the back of the boxes of Pokémon X and Y Versions
Pokémon X and Pokémon Y are the first games in the sixth generation of the Pokémon game series, for the Nintendo 3DS; fittingly, they are the first main-series games to have full 3D polygonal graphics. These games are set in the Kalos region, modeled after real life France.
These games are perhaps most notable for two new features: the new Fairy-typenote the first new type since Generation II, a 14-year gap and Mega Evolution. A new Eeveelution, Sylveon, was the first announced Pokémon to have the Fairy type; older Pokémon that have inherited this type include Jigglypuff, Gardevoir, Marill, and Mawile, among others. Primarily introduced to balance the Dragon type, the Fairy-type is strong against Dragon, Dark, and Fighting types, and weak against Poison- and Steel-type attacks. Mega Evolution allows many older Pokémon to transform into even more powerful forms during battle, with new stats, Abilities, and sometimes new types. This is balanced by the inability of Mega Evolved Pokémon to hold any items that would aid them in battle other than the ones that activate their Mega Evolution, and that only one Mega Evolution can be used by a Pokémon Trainer on their team per battle.
The games were announced on January 8, 2013 via Nintendo Direct, and were released October 12 later that year across most territories, another first for the Pokémon seriesnote Previously, countries outside of Japan would have to wait weeks or even months for Game Freak to finish localization before they could get their hands on a non-Japanese copy. X and Y feature multilingual support rather than all languages being on separate game carts, although choosing a specific language "locks" the game to that language until saved data is deleted.
Pokémon Origins, a four-episode anime special Mini Series, was produced as a nostalgia-laden tie-in special to help entice and garner support from players of the original Pokémon games and to premiere Charizard's Mega Evolution of Mega Charizard X. The miniseries aired in Japan 10 days prior to the release of Pokémon X and Y.
Not to be confused with X Meets Y, the The X of Y trope, the Pokémon 10th anniversary CD album Pokémon X: 10 Years of Pokémon
, Lugia (which has been referred to as "Pokémon X" in some media), Pokémon Crystal (which was once known as Pokémon X), the webcomic Pokémon-X, or the Pokémon the Series: XY anime.
Please place information regarding the new Pokémon on the page for Generation VI Pokémon sheet.
---
Tropes that Pokémon X and Y provide:
open/close all folders
A-D
E-K
L-R
S-Z
---