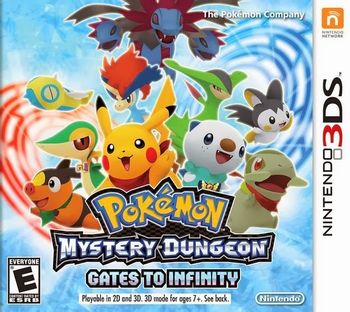 "
The Pokémon world needs you! Enter the Magnagate and bring back hope!
"
The fourthnote (or third, for those of you who live outside Japan) installment to the roguelike Pokémon spinoff series Pokémon Mystery Dungeon. It was released in Japan on November 23rd, 2012, while North America had their release on March 24, 2013. It was later released in Europe on May 17 2013, with Australia getting it a day later, May 18.
As per series tradition, the player takes the role of a human transformed into a Pokémon, called into the world by a cry for help. After falling from a great distance in the sky, they meet a partner Pokémon. Together, they work to fulfill the partner's dream of building a Pokémon Paradise, while the player seeks to find out why he was called to the world.
---
This game provides examples of:
open/close all folders
A-F
G-O
P-Y
White-and-Grey Morality:

None of the characters are ever truly evil. Most of the less-friendly characters turn out to be bitter from being wronged in the past, while Kyurem sits on an absolutely neutral position, being able to see what future awaits the world.
Curiously, the game manages to pull this off despite being Darker and Edgier, despite the already-dark standards of the subseries. How so?

Munna and her gang aren't malevolent, they're so consumed by despair that they think a group suicide and the destruction of the entire world is better than living in an empty world filled with bitter, cynical pokemon.

Not to mention,

Kyurem isn't opposing the player and friends because he hates them or wants the world to end. He simply opposes anyone who wants to change fate, as he believes that the predestined fate is absolute and anyone trying to change it is wrong. Not evil, but wrong.

You Cannot Grasp the True Form:

The Bittercold has some elements of this, as its various damaging "attacks" don't give any battle log messages when they happen.

You Did the Right Thing: After

Emolga

gives up his spot to go to the Great Glacier for

Dunsparce

, Gurdurr tells him "You did a good thing, kid."
---