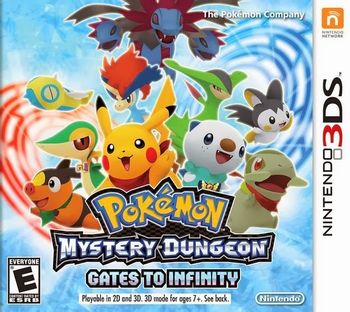 "
The Pokémon world needs you! Enter the Magnagate and bring back hope!
"
The fourthnote (or third, for those of you who live outside Japan) installment to the roguelike Pokémon spinoff series Pokémon Mystery Dungeon. It was released in Japan on November 23rd, 2012, while North America had their release on March 24, 2013. It was later released in Europe on May 17 2013, with Australia getting it a day later, May 18.
As per series tradition, the player takes the role of a human transformed into a Pokémon, called into the world by a cry for help. After falling from a great distance in the sky, they meet a partner Pokémon. Together, they work to fulfill the partner's dream of building a Pokémon Paradise, while the player seeks to find out why he was called to the world.
---
This game provides examples of:
open/close all folders
A-F
G-O
Gameplay and Story Segregation:

When informed that HAPPI regulations require at least one team member staying at base at all times, this means a plot-relevant team member (you, your partner, Virizon, Emolga and Dunsparce, Espeon and Umbreon). The potentially-dozens-of Pokemon you recruit in dungeons don't count for this (despite that they're implicitly given team badges and you can take them out to perform official rescue jobs on their own), and neither does everyone else who helps with managing your team and base operations (like Quagsire or Azumarill).
Even though you're supposedly moments away from The End of the World as We Know It, you can still spend several in-game days in Companion Mode. Take Your Time, indeed!
P-Y
---