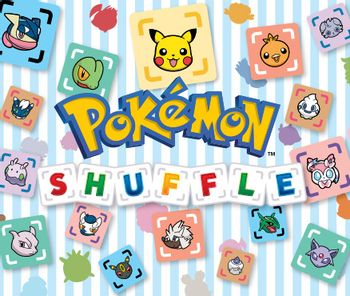 Pokémon Shuffle (ポケとる, PokéToru in Japan) is a free to play spin-off of the Pokémon Trozei! puzzle game series, known as Pokémon Link! in Europe, developed by Genius Sonority. It was first released on the Nintendo 3DS on February 2015. Its gameplay is similar to the Trozei! games, but based more on using a limited number of moves and building combos than on clearing the board.
This game incorporates the Mega Evolution mechanic introduced in the main series games Pokémon X and Y. After obtaining its Mega Stone and placing it at the head of your team, matching enough of a Mega-capable Pokémon's icons will trigger its Mega Evolution, giving it a new ability, which includes clearing tiles in various patterns and clearing opponent disruptions.
Like the Pokémon Trozei! games, the opponent Pokémon attack by causing disruptions in the puzzle area. In this game, there are more disruptions that the opponents can use against you. In addition to changing icons to other Pokémon types, the opponent disruptions are:
Wood blocks (AKA Rocks): Brownish blocks that can be cleared by making adjacent matches and certain Pokémon skills such as Rock Break. Affected by gravity.
Metal blocks (AKA Blocks): Dark blocks that cannot be cleared by adjacent matches and disappear on their own after 5 turns or 5 seconds in timed stages. Pokémon skills can clear these blocks as well. Affected by gravity.
Ice barriers: Freezes anything (Pokémon icons, wood, metal) in a block of ice, rendering them unaffected by gravity. This disruption can become annoying when the top rows are frozen, putting the columns below the frozen spots out of commission. Can be cleared by matching the frozen Pokémon, but does not clear the Pokémon themselves.
Black clouds: Obscures the view (but not completely) of the tiles they occupy. They cannot be cleared by regular matches, only by certain Pokémon skills and Mega Evolution effects.
The game being free to play, it comes with a hearts system that regenerates one every thirty minutes and microtransactions similar to many mobile phone games.
Speaking of mobile phone games, Shuffle finally did get an iOS and Android port in August of 2015.
On July 2018, Marshadow was added to the game, thus concluding the game's update cycle. Although the game remains in service, there are no plans to add any further content. The game would later be followed by Pokémon Café Mix on the Nintendo Switch in 2020.
---
Tropes used in Pokémon Shuffle:
---