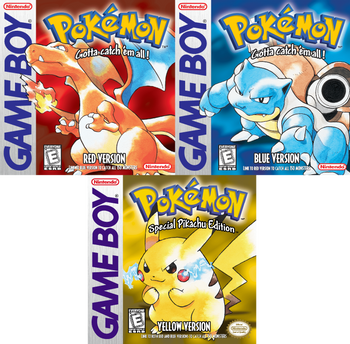 "You've finally been granted your Pokémon Trainer's license. Now, it's time to head out to become the world's greatest Pokémon Trainer. It's going to take all you've got to collect 150 Pokémon in this enormous world...can you develop the ultimate Pokémon strategy to defeat the eight Gym Leaders and become the greatest Pokémon Master of all time?"
— Blurb on the back of the boxes of Pokémon Red Version and Pokémon Blue Version
The first installments of the Pokémon franchise hit the Game Boy in 1996 in Japan (as Red and Green; see below) and in 1998 in North America. Taking place in a part of the world called Kanto, based on the Japanese region of Kanto, the plot is simple: you, an eleven-year-old with a baseball cap, are offered your very first Pokémon by Professor Oak, the local authority on Pokémon. He gives you a choice of three different types: Bulbasaur, Charmander, or Squirtle. His own grandson, your long-time Rival, gets second pick, and takes advantage of this to snag whichever one happens to be strong against your chosen partner.
In exchange for your first Pokémon, Oak wants you to run an errand for him: travel around the region and collect as many different Pokémon as you can, recording all of them in your Pokédex. Of course, along the way, you're more than welcome to challenge the eight Pokémon Gyms, collect their badges, and take on the Elite Four in hopes of becoming the Champion of the Pokémon League. Then there's the emerging threat of Team Rocket, a proudly evil organization that uses Pokémon for its own selfish ends. Somebody's gonna have to deal with them, too — and who better than an eleven-year-old and his team of trained monsters?
While the game's balance is undeniably broken, and glitches abound...it's Pokémon.
It should be noted that in Japan, the first two games were released as Red and Green. Blue was released later as a third version, with a bit of a graphical improvement over the originals. For the international releases, the names Red and Blue were used. Although the Japanese Blue provided the graphics, codebase and game script for translation, the Japanese Red and Green provided the wild and version-exclusive Pokémon for the international Red and Blue respectively. Aside from its codebase, this makes the Japanese Blue the only main series game to lack an international release.
As evidence of its incredible popularity, Pokémon Yellow was later released as a fourth version in Japan in 1998, and as a third international version in 1999. Yellow took elements from the anime and transported them back into the games, however loosely. Instead of picking one of the usual trio, a wild Pikachu ends up as your starter, and follows you everywhere rather than getting into the usual Poké Ball. The familiar Team Rocket trio also show up, although Meowth acts as a normal mon as opposed to an equal member to Jessie and James, acting as the third member in their party alongside Ekans/Arbok and Koffing/Weezing.
After a successful run, Red, Blue, and Yellow were followed by the Game Boy Color-enhanced (though they can still be played on a previous incarnation of the Game Boy, as well as later ones) Pokémon Gold and Silver, taking place three years after Red became champion and featuring a kid from Johto, a region west of Kanto, the return of Team Rocket, and improved the graphics that Yellow didn't (back sprites, etc.).
Jump ahead a couple gens, and Red and Blue reappeared in the form of their Video Game Remakes on the Game Boy Advance: FireRed and LeafGreen. These allowed players to relive the classic games with many of the new benefits, tweaks, and balances of the second and third generations, though it took some Retconning here and there, and added in some new areas to explore after finishing the familiar challenge(s).
These games have received two animated adaptations. The first one is the first season of the main Pokémon anime. The second one is the anime special Mini Series titled Pokémon Origins, which aired on October 2, 2013 in Japan (10 days prior to the release of the tie-in games Pokémon X and Y) and November 2013 in the United States. This miniseries essentially serves as a more accurate depiction of the plot of Red and Blue, being a Truer to the Text Anime of the Game in comparison to the main Pokémon anime.
On November 12th, 2015, it was announced that Red, Blue, and Yellow would be making their way to the Nintendo 3DS's Virtual Console in the eShop in celebration of the franchise's 20th Anniversary. Trading and battling with other players was retained by modding them to work with the system's local wireless functionality, while the Restore Points option is disabled. Pokémon caught in the Virtual Console versions can also be transferred to future mainline Pokémon games, starting with 2016's Pokémon Sun and Moon, via Pokémon Bank. They were released on February 27th, 2016, exactly 20 years after their release in Japan.
As of May 29th, 2018 a third set of Kanto games were announced, this time being enhanced remakes of Pokémon Yellow, called Pokémon Let's Go, Pikachu! and Let's Go, Eevee!. It is available on the Nintendo Switch and features compatibility with Pokémon GO.
Another detail worth noting is that many of the tropes listed under Red and Blue's category also apply to Yellow, FireRed, and LeafGreen.
Random trivia: the games were developed on Sun's SPARCstation 1 computer; four or five units were used in their development.
---
open/close all folders
Tropes used in Red and Blue
Tropes used in Yellow
Tropes used in FireRed and LeafGreen
Absurdly Youthful Mother: Inverted. In HeartGold and SoulSilver, Professor Oak claims to be 50 years old, and the resulting Fridge Logic has implications for this game. Factoring in the three year Time Skip, Oak would've been 47 years old at the time of FireRed and LeafGreen. At the same time, it's All There in the Manual of the first generation games that his grandson, The Rival, is eleven years old.

Assuming these ages are constant for each Video Game Remake, Professor Oak must've been a mere thirty-six years of age when his grandson was born and even younger when the rival's older sister was. This means the Oak family has managed to squeeze two whole generations into about thirty years.
Adaptation Expansion: We get to learn more about Lorelei in the remakes, including getting to see her home, as well as learning where she obtained her Lapras on Four Island.
All Bikers Are Hell's Angels: You find one of the Sevii Islands which has been taken over by a Hells Angels style biker gang and naturally, it is up to you to get rid of them.
Anti-Frustration Features: In these games (and only these gamesnote ), Charmander learns Metal Claw at level 13, giving players who chose it an easier time against Brock.
The Artifact: One NPC still says her old line from the originals, wondering what Pokémon would look like if they had distinct genders.....despite them having them since the second generation.
Artistic Age: While still stated to be 11-years-old like in the original games, Red and the rival both look at least a few years older with their slender, somewhat adult-like proportions and less childish facial structures. Leaf as well seems to be a bit more developed in official artwork than most 11-year-old girls.
Artistic License – Biology: The Saffron City Gate Guards won't let you pass until you give them Green Tea to quench their thirst. The problem with this is that Green Tea is a diuretic which doesn't hydrate your body but instead stimulates it into urinating sooner and thus takes away water and makes you more thirsty. So Green Tea is not really a good choice for quenching thirst, especially when it's served hot.
Ascended Meme: Many new features and secrets seem to call back to the wild rumors that surrounded the original games. For instance, Bill granting you access to a new area (in this case, the Sevii Islands) and the ability to find something by the truck near the S.S. Anne.
Automatic New Game: These games are the first in the series to automatically proceed to a new game from the title screen if there is no save file is present.
Awesome, but Impractical: The glitch in Gen 1 that allowed a Pokémon using Hyper Beam to skip its recharge turn if it KO'd the opposing Pokémon with it has been fixed by Gen 3, so Hyper Beam and its derivatives Blast Burn, Frenzy Plant, and Hydro Cannon are rendered this here, as giving up a free turn to the opponent is often not worth hitting with one super powerful attack.
Balance Buff: The starters all do much better here than in the original games thanks to buffed stats from the Special split and movepool additions.

The Bulbasaur line learns the status-inflicting Powder moves much sooner, and later on, get stronger STAB options like Giga Drain and Sludge Bomb, as well as Earthquake for coverage. Plus, Venusaur is one of the few Pokémon that had a 100 or higher Special stat in the Gen 1 games that didn't get one of its Special stats nerfed in the Gen 2 Special split (with both Special stats remaining 100), making its stats relatively better compared to other Pokémon, especially compared to the competing Victreebel and Exeggutor lines, who had their Special Defense drastically nerfed from the Special split.
The Charmander line gets Metal Claw very early on to help players out against Rock Pokémon, and learns Flamethrower considerably faster, while learning more coverage moves like Iron Tail and Rock Slide from TMs. It also has a significantly higher Special Attack stat than in the Gen 1 games after the Special split, allowing it to better fulfill its Glass Cannon design and making it the best offensive Pokémon of the starters.
The Squirtle line gets some utility moves like Rapid Spin, Protect, and Rain Dance, to help support its team. It also has a significantly higher Special Defense stat than in the Gen 1 games after the Special split, allowing it to better fulfill its Stone Wall design, and making it stand out better from the numerous other Water types that outclassed it before.

Beef Gate: The Diglett's Cave example from the originals returns and is even harder this time around. Not only are the Diglett and Dugtrio just as strong as before, they now come with the ability Arena Trap, which prevents you from fleeing.
Boss Remix: When battling a legendary Pokémon, the standard battle theme is played at a higher pitch.
Bowdlerize

Gambler-class trainers had their titles changed to gamer, leading to things like Route 8's Gambler/Gamer Rich exclaiming, "I'm a rambling, gaming dude!" That subverted rhyme aside, the change is less jarring considering that gambling is often referred to as "gaming" nowadays (i.e. Indian gaming, the Las Vegas Gaming Commission, etc.).
Lavender Town's Pokémon Tower had a possessed woman say "Give...me...your...all"; contrast with the original line, which is "Give...me...your...soul." This particular instance of Bowdlerization seems a bit unpredictable, as there's another woman whose line remains as "Give...me...blood." in all versions.
Rocket Grunts called you a little rat in the original version, which was changed to a little mouse in the remakes.
Juggler Shawn's line in the originals upon defeat was "Dropped my balls!" Here, he instead says, "You're more skilled than I'd thought!"

Character Select Forcing: Zigzagged from the originals when it comes to Charmander. Brock's Mons now get actual Rock and Ground type moves, but Charmander in turn has access to Metal Claw to even things out.
Color-Coded Speech: The games have an aesthetic feature not in any other Pokémon game: male characters have blue text, while female characters have pink text.
The Computer Is a Cheating Bastard: There are trainers with evolved Pokémon at lower levels than they actually evolve at. For instance, your Rival has a Pidgeotto at level 17 when you battle him in Cerulean City. Pidgey evolves into Pidgeotto at level 18 (which was its level in the original games).
Console Cameo: Instead of an SNES in the player's bedroom from the original Red and Blue, there is now an NES. The SNES still appears at Celadon Department Store.
Crutch Character: See the series' page here.
Damn You, Muscle Memory!: Players who rushed to the top floor of the Celadon Department Store to buy drinks for the thirsty guards will be disappointed since the guards in FireRed and LeafGreen accept hot tea instead, which is obtained from an old lady in the building next to the Pokémon Center.
Death Mountain: This time, Mt. Ember on One Island is an actual mountain. Since it is a volcano, it combines this with Lethal Lava Land.
Developer's Foresight: Has its own page here.
Disc-One Nuke: See the series' page here.
Due to the Dead: On Five Island, there is a memorial for a dead Onix nicknamed Tectonix. The Player can set down a lemonade next to the one that is already there. This earns gratitude from the Trainer next to you, and he gives you TM42 Facade as thanks.
Early-Installment Weirdness:

When it comes to the music, FireRed and LeafGreen are two of only four games post-Ruby and Sapphire to not have the Poké Mart theme or the expanded portion of the Hall of Fame theme that were both introduced in Ruby and Sapphire (the other two being Pokémon Let's Go, Pikachu! and Let's Go, Eevee!). Even the remakes of Pokémon Gold and Silver use them to the point that there's a GB Sounds equivalent of the Poké Mart theme. It's also the only set of remakes to recycle the gym theme from the mainline generation games. All the other remakes either have their own remix of the theme (in the case of HeartGold and SoulSilver) or uses an updated version of the original game's incarnation (in the case of Omega Ruby and Alpha Sapphire).
The ability to teach the final forms of your starter Pokémon Frenzy Plant, Blast Burn or Hydro Cannon was introduced within these games. Unlike within later generations, only the Kanto starters could learn them.
FireRed and LeafGreen are the only remakes not to include a duplicate of the main game's Battle Tower/Battle Frontier analogue. HeartGold and SoulSilver has the resident Battle Tower replaced with the duplicate of the Sinnoh Battle Frontier while Omega Ruby and Alpha Sapphire replaces the Battle Tower of the original games with a replica of Kalos' Battle Maisonnote .
These are the only remakes where the opposite gendered player character doesn't appear in-story, and thus, the only games where you don't get to see the canon names of both playable characters in-game until Sun and Moon, where both protagonists don't get a canon name. HeartGold and SoulSilver adds the opposite gendered playable character into the story (as well as retconning the canon name of the male playable character) and the original opposite gendered playable character of Ruby and Sapphire reprises their role as a rival in Omega Ruby and Alpha Sapphire.
These are the only remakes to make some non-native legendary Pokémon event exclusive (as Ho-Oh and Lugia can only be captured in these games via an event).
These are the only remakes not to alter the HM list and the only remakes that don't give field effects back to moves that previously had them. Downplayed as the original games are the only ones not to have moves with field effects exclusive to them and the first games that don't have HMs unique to them.
Attempting to evolve a Pokémon with a non-Gen I evolution, trade in a Pokémon not native to Gen I, or even trade with one of the Hoenn games all before the National Dex is obtained will result in the evolution being cancelled and the trade being rejected. Later remakes would retcon most new evolutions into their regional Pokédexes and have no restrictions on trading, and even Pokémon Let's Go, Pikachu! and Let's Go, Eevee! (which outright removed all Pokémon past Mew) allowed the non-Gen I Meltan and Melmetal to be used.

Extended Gameplay: After defeating the Elite Four, the Sevii Islands start opening more so than after Blaine was defeated. The islands are one of the few places in the third generation games where you can capture Johto Pokémon. This will also open up a daycare where you can breed your Pokémon. Your reward for traveling through and completing the Sevii Islands is the ability to trade with Pokémon Ruby and Sapphire.
Fake Balance: Downplayed in comparison to the Gen. I games, but the Psychic type still has a tremendous advantage owing in large part due to the sheer lack of Dark- and Steel-type mons. Further, while more and better Ghost-type moves are present, the only Ghost-type line (Gastly) is part-Poison and thus weak to Psychic type moves. A good Psychic-type Pokémon can still run roughshod over most of the game, with only the odd Dark or Ghost-type move being used to worry about. Even then, this was before the physical/special split, so the aforementioned Gastly line couldn't really take advantage of either of their STABs due to being special attackers, and Psychic types could tank the few offensive Dark-type moves easily since they still ran off the Special Attack stat (most Psychic types have high Special Defense).
Fanservice Pack: Just about every character was upgraded in attractiveness from the originals, but especially Red and Blue. They went from being two average looking, if maybe a bit scrawny, looking eleven-year-old boys to Bishōnen who look at least a few years older than their listed age.
Fauxlosophic Narration: The cave in Mt. Ember where the Ruby is found contains the following inscription, in braille: "Everything has meaning. Existence has meaning. Being alive has meaning. Have dreams Use power." This doesn't relate to the game's plot or themes in any way at all, and just seems there for the sake of it. Contrast the braille inscription near the Sapphire, which is an elaborate metaphor for cross-version trading, which the gems enable you to do. This could be a hilarious subversion as within the confines of the game, unlike its counterpart, the text has absolutely no meaning despite what it preaches.
Forced Tutorial:

Professor Oak insists on explaining how a Pokémon battle works during your initial battle with your Rival, and before you even play the game, there are mandatory introductory screens showing you which buttons do what and telling you about the world of Pokémon in even greater detail than Professor Oak.
In Pallet Town, a certain woman wants to show you what's written on a newly-placed sign near the lab. You will not be able to leave Pallet Town unless you either read the sign or hear her recite what it says — and all it says is "Press Start to open the menu".

Fun with Palindromes: The passwords for the Rocket Headquarters on Five Island are "GOLDEEN need log" and "Yes, nah, CHANSEY".
Game-Breaking Bug: There are two such particular bugs with the roaming Legendary Beasts. One is if they use Roar on you to end the battle, they disappear permanently on your file and can no longer be caught, when normally them using Roar is supposed to be functionally equivalent to them running away, where the battle ends but you're able to find and catch them again. Then for the second bug with them, instead of being able to be generated with an IV up to 31 for each stat as it is normally, due to a glitch with how their IVs are handled they can never have an IV higher than 7 for their Attack stat and the rest of their non-HP stats will always have an IV of 0, meaning it's impossible for you to catch one in these games that doesn't have completely gimped stats.
Gameplay and Story Segregation: There's one ranger on Seven Island who claims that city trainers (meaning trainers from Kanto) "sure are tough". This is despite the fact that the Sevii Islands are the Extended Gameplay, so any trainers living on them are guaranteed to be inherently better than nearly any Kanto trainer.
---