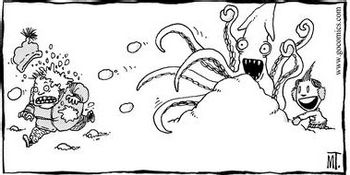 A newspaper comic by Mark Tatulli, revolving around the life of the titular character, known for its lack of dialogue, unique storylines, and creepy protagonist.
Plots revolve around the strange circumstances Lio gets into, usually with extremely dark punchlines. The comic is also known for frequently taking shots at other comic strips, both for one-offs and even occasionally longer storylines. The strip premiered in 2005.
---
This work contains the following tropes.
---