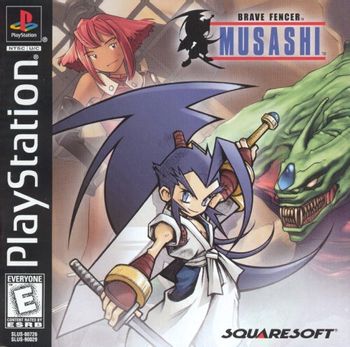 Probably the loosest interpretation
ever
of the legendary antics of Japanese swordsman
Miyamoto Musashi
,
Squaresoft's
1998
Brave Fencer Musashi
(Japanese:
Brave Fencer Musashiden
, literally
Brave Fencer: The Legend of Musashi
) for the original
PlayStation
shrinks the wandering samurai to
Fun Size
,
transports him
into a fantasy world
full of
Woolseyisms
, and sets him off on a quest to save the besieged Allucaneet Kingdom by unsealing Lumina, the
Sword of Luminescence
, reabsorbing its scattered powers from within
the Five Scrolls
, and
collecting action figures of the friends and foes he meets during his exploits
. We mean, bashing in the heads of the Thirstquencher Empire's goons until they learn not to underestimate him for being short.
Musashi Samurai Legend is a follow-up released on the PlayStation 2.
---
This game provides examples of:
open/close all folders
#-E
100% Completion: Earned by beating the game after finding all 13 Minkus, rescuing every villager on the rescue list (therefore breaking all of the Bincho Fields), and collecting all of the game's action figures (including the Special series note ). You'll be treated to a congratulatory picture with the message "PERFECT!! Thank you for playing!"◊ after the credits and Squaresoft logo, and the save file will now display a red "Fin" mark when overwritten.
Adjective Noun Fred: The majority of the cast have names like this, such as "Knitter Lunchetta" or "Carpenter Dicey."
Advancing Boss of Doom:

In Frost Dragon's lair, before you get to the second (and main) phase of the fight, it'll chase you across an ice bridge covered in spiky icicles that you need to melt with the Fire Scroll. The dragon will start crashing into the bridge behind you, so if you're too slow here, you'll fall into the abyss.

Dark Lumina's first form involves you running away from him over a collapsing bridge. After he morphs into his next form, he'll randomly pounce the tower you ascend before facing you for real.

The Alcoholic: Mannick. Even before

you find him plastered in the basement of his restaurant, with alcohol bottles lining the floor

, he's shown to always be in a drunken stupor with flushed cheeks. Chatting with Mannick has him blurt out randomly negative lines, including telling everyone to leave because the food at his own establishment is terrible.
All Just a Dream: Continuing from a Game Over treats you to a short cutscene where Musashi thrashes awake from a bad dream. Sort of justified, given that Musashi can fall asleep almost anywhere at any time.
All Your Powers Combined: In addition to self-duplication and transmutable limbs, Dark Lumina's third and final phase uses all the other powers of the Five Scrolls, but on a grander and more destructive scale.
Alternative Calendar: The exact year and era are unknown, but, at the very least, the calendar in this game replaces Friday with Skyday, each marked by different symbols. This comes in handy later in the story.
Always Identical Twins: Implied. When Hotelo the innkeeper departs for Twinpeak Mountain in Chapter 3 to pick up Aqualin so that a cure can made for Tim, who was locked outside the grocery by his mother Hilda for not obeying his curfew and subsequently bitten by a Vambee, his brother Motelo, who is a dead ringer for Hotelo, fills in for the time being. If you fail to reach Aqualin and deliver it to Hotelo in time, Motelo will permanently assume the role due to Hotelo's Heroic BSoD-induced departure.
Amazing Technicolor Battlefield:

Dark Lumina - Finale.

Ambiguously Gay:

Scribe Shanky, although the ambiguity comes dangerously close to being thrown out of the window when he refers to Musashi as "lovely and handsome" right before the kid is summoned and is extremely eager to read books to him ("O-h! Sir Musashi! Been waiting for you!"). He also criticizes Librarian Brisketta's choice of wearing fashion glasses, calling them hideous.
Soldier Hanky-Flanky might just outdo Shanky. After rescuing him, visit him at Allucaneet Castle and he'll be overjoyed to see Musashi, thinking that the boy came to serenade him. He offers to repay Musashi with his love and devotion, which weirds out Musashi so much, he snaps back that he'll tell Shanky on him if the soldier tries to pull a fast one.

Ambiguous Situation: When Musashi obtains the Earth Scroll, Lumina uses telepathic communication to speak to Musashi for the first (and only) time. It tells him to go slay the Earth Crest Guardian, but immediately clams up after briefly explaining to Musashi what a Crest Guardian is. In light of Musashi's Unwitting Pawn credentials in defeating the Crest Guardians and liberating the Five Scrolls, the question is raised as to who/what was speaking to Musashi at that moment: the sword or the monster sealed inside of the sword.
Ambition Is Evil: Fuhrer Flatski fits this one to a T.

Predictably, he ends up biting off far more than he can chew at the end.

The Assimilator: Rare heroic example in Musashi thanks to Fusion, the signature power of which is called "Assimilation."
Astral Projection: The Lone Mist's Sublime ability, which allows Musashi to detach his soul from his body to get a better look at his surroundings. It's very handy in the dimly lit area where the ability is found, as his ghost form naturally glows. If his sleeping body is attacked, the effect is broken, meaning you need to ensure Musashi is out of harm's way while using Sublime. (For bonus points, the BGM for the maze where you encounter this enemy is even named "Out of Body Experience.")
Attack Its Weak Point: Most bosses have a glowing weak spot (usually made of Binchotite) that must be attacked in order to damage their lifebar. It's your job to figure out how to get them to reveal it, as well as how to access it.
Attack of the 50-Foot Whatever: Many of the bosses, most notably

Dark Lumina

.
Awesomeness by Analysis: While the sequel would greatly expand on this ability of his (as Musashi lacks Fusion, instead brandishing a regular katana), Musashi is able to learn several sword techniques by watching the movements of the four knights at the palace (as well as Dashing Pierce from Maid Loinette whacking a fly and Shish Kebab from a juggling act by Clown Weinee and Acrobat Sausages).
Aw, Look! They Really Do Love Each Other: Platonic version between Musashi and Fillet. The two start off on the wrong foot (she's the one who calls Musashi a "little turd," after all), but after a journey's worth of heroics, they come to respect and genuinely care for each other. Right before

facing Dark Lumina

, Musashi expresses his relief that the princess is safe and sound, telling her to make sure no one else kidnaps her, to which Fillet urges Musashi not to lose. The perfect ending message (see 100% Completion above) is a visual representation of how chummy the two have become over the course of the game. Their bickering and later cooling down could be interpreted as Belligerent Sexual Tension in spite of the apparent age gap, but there's no expressed attraction on either character's part, aside of the not-quite-I "Uh" You, Too moment mentioned below and Jam teasing Musashi about his love life after the

fake

princess is rescued.

Jam: "You look especially happy today! Did a pretty girl steal your heart?"

Badass Adorable: Musashi, an effect of the cutesy art style and his short stature.
Badass Arm-Fold:

Dark Lumina's pose as he chases after Musashi across the crumbling Empire.

Badass Cape: Colonel Capricciola. Bonus points for being one of the few competent men in the Empire. He discards it quite triumphantly when he reveals himself to be Jon and pulls a gun on the Fuhrer.
Beauty Is Bad: Though their brand of villainy is nothing if not petty (and one of them gets

a death scene

ambiguous in both its sympathetic quality and

the actual "death" part

), the villainesses seen working for Thirstquencher are generally mean-spirited, concerned with little more than their looks, and willing to go to great lengths to earn the favor of the Fuhrer and, more importantly, Capricciola. Fillet may be a little rough around the edges (at first), but these girls make her look like a saint. Gingerelle, despite being the haughtiest of the three, manages to get the least of this, as most of her misdeeds are never shown. Comparatively, Bubbles' oversight of the Bincholoid research for Mission Vambee creates a temporary Vambee Apocalypse wherein Tim is a victim, while Topo sabotages Steamwood and removes a few of the valves necessary for its maintenance, uncaring of the fact that her actions would

doom the village she just bullied out of its finances

.
Beware My Stinger Tail: Later in the battle, Skullpion will start drilling its tail through the ground in the hopes of skewering Musashi. If you're caught, you'll end up poisoned for your troubles as well.
Beware the Silly Ones: Leader's Force are a trio of imbeciles, each member of which is convinced he or she is the one calling the shots in the group. All of them prove to be really nasty opponents when Musashi fights them.
BFS: Lumina, the Sword of Luminescence.
Big Bad: Fuhrer Flatski of the Thirstquencher Empire.
Bigfoot, Sasquatch, and Yeti: The Slow Guy enemies in the Frozen Palace are Bincholoid abominable snowmen.
Big Red Devil: The Wizard of Darkness, who appearance-wise is basically Darkness from Legend with the serial numbers filed off.
Bishōnen Line:

The final boss

, which drew frequent comparison to Frieza.

Dark Lumina assumes a smaller, sleeker, almost angelic form for the final battle, complete with a female voice.

Bitch Alert: Bubbles makes her first impression on Musashi by cackling obscenely and demanding Lumina at gunpoint.
Bitch in Sheep's Clothing: The description for Topo's action figure says she has a nasty personality. Her actions in the story don't exactly dispel this notion, no matter how cute she may be.
Blade on a Stick: Ben.
Blow You Away: The Wind Scroll. Used to counteract strong winds and blow away poisonous clouds.
Body Horror: Dark Lumina's transformation into his second form.
Bonus Boss: Mother Minku, accessible in the Meandering Forest once you've found all 13 Minkus in the game.
Boss Subtitles: Most of the bosses are introduced by a lingering camera shot with their name displayed near the bottom of the screen.
Bound and Gagged: Princess Fillet when she is kidnapped.
Bratty Half-Pint:

Musashi has this as his running gag... It's even in his first title, "Little Turd."
Princess Fillet has shades of this herself, humorously enough. Note that she's the one who calls Musashi a little turd.
The straightest example by far is Tim. He does get a little bit better after learning Musashi was responsible for saving him during the events of Chapter 3, uncharacteristically apologizing to Musashi for how badly he treated him, but then says that he'll let Musashi be his friend.

Breath Weapon:

Skullpion also has a move of this nature, utilizing a blast of sand.
Vambees are able to spit acid, though it's not something you'll see often from them.
Once you've damaged it enough

to cause its forehead crystal to turn red

,

Dark Lumina's second form

will retaliate with either this in the form of fireballs or a Ground Pound Shockwave Stomp.

Broken Pedestal: 95% of the village gets this with Princess Fillet when

Topo, disguised as the princess, uses her position to strong-arm them into giving her their profits and life savings

. Only a select few, like Father White, don't have their faith in the princess completely shattered. Luckily, the situation is amended when

Topo outs herself in front of Musashi, as Administrator Fores' eye-witness account of Topo leaving Steamwood after he locked "Fillet" in there allows Mayor Govern to do damage control

. The villagers instantly sing a different tune, as if they never doubted the princess and her character at all.
Broken Record: Mr. Lands will repeatedly harp on about the state of disrepair the Gondola is currently in, becoming increasingly irate about the subject until it's fixed early on in Chapter 5. Given the Gondola's importance to the village and Allucaneet Kingdom (and his future employment), he's not unjustified in voicing his frustration.
The Brute: Fuhrer Flatski's son, Rootrick, comes off this way, being big and rude with an inexplicable Dixie accent, but you never actually fight him directly.
Bucket Helmet: Tim's choice of headgear. Mint, on the other hand, wears a basket on her head.
But for Me, It Was Tuesday: A Double Subversion occurs in the final chapter. When Capricciola tells the Fuhrer he was responsible for the death of his mother and father, Flatski protests that he doesn't remember killing Capricciola's parents, implying this sort of thing has happened more than once in the past. Once Capri reveals his true identity, it all comes back to Flatski.
Camera Abuse:

To stop the red Gi-Ant that's assailing the Gondola office, Musashi rides the Gondola down from the castle and crushes the ant, leading to a spray of green blood across the screen. Eww...
The Hurl ability, obtained from the Slow Guy enemy in Frozen Palace, consists of Musashi throwing enemies straight into the screen and out of view.

Canine Companion: Leno to Jon, alternatively known to Tim (and sometimes Mint) as Chappy.
Character Development: Musashi starts out a bit self-centered, only helping out the royal family of the Allucaneet Kingdom and the people of Grillin' Village by extension because it's the only way he'll be able to get back home. Throughout the game, he matures and develops into a full-fledged hero.
Character Level: Musashi has four stat categories: Body (attack strength), Mind (defensive power), Fusion (Fusion's attack power), and Lumina (Lumina's attack power). Each category increases individually (through felling baddies, walking around, and landing successful attacks with both swords), with their average calculating Musashi's current level. Somewhat abnormally for a game with RPG elements, experience, which counts toward all four, is earned not by defeating enemies, but instead is determined by the total distance Musashi has traveled in-game (not as tedious as it sounds since you'll be running a lot). When all four gauges are filled, Musashi's level increases by one, although there is an upper limit for level gains in each chapter that can only be increased once Musashi takes care of the corresponding boss and receives its core as spoils. Upon leveling up enough, Musashi's title/rank in the sub-menu will begin to change, capping off at "LV30 Hero."
City of Adventure: Grillin' Village.
Color-Coded Elements: Earth is brown/yellow, Water Is Blue, Fire Is Red, and Wind Is Green. Sky is also blue. Sky blue, that is.
Combat Stilettos: Bubbles, though the heels are rather practical

and you never get the chance to fight her

.
Cool Shades: Jon.
Cool Sword: Besides Lumina, there's Fusion, a katana able to copy the powers of enemies by assimilating them.
Costume Copycat: The Fillet you rescue from Kojiro is actually Topo in disguise, who uses the princess's clout to demand profits from the townspeople's shops and then ends up causing Steamwood to go berserk for a second go-round. Unfortunately, Topo forgot to keep hidden the one feature of hers that would give away her true identity: her tail. Even worse for her, Musashi both overhears her plans for the stolen money and does not fail to notice the new appendage.
Counter-Attack: Musashi holds up Fusion to block attacks during the charge-up for Assimilation, Lumina Rotation, or one of the Five Scrolls' powers. If an enemy strikes you while you are blocking and you successfully block the attack, you can counterattack by swinging Lumina immediately afterward (a technique called Mighty Strike), which results in a devastating explosion, complete with Planar Shockwave!
Critical Hit: Musashi can randomly deal these out, designated by a flash of red light when his attack connects. Obtaining the Legendary Gloves increases the chance of landing a critical, though by asking Weaver Dinneretta to fashion the Legendary Cloth (when you find it

behind a cracked wall in the basement of Mannick's Restaurant

) into the L-Gloves, the player is missing out on the equally useful Legendary Quilt (reduces tiredness to 0% and recovers HP and BP at an increased rate), so choose wisely. (But see Power-Up Letdown below for more details.)
Cute Bookworm: Librarian Brisketta. She is painfully shy, reclusive, and prone to stammering repeatedly, and it's adorable.
Damsel in Distress: Princess Fillet. This is even poked fun at near the end of the game when Kojiro kidnaps her while they're on the run from Dark Lumina. Fillet apologizes for being captured again.
Dark Is Evil: The Wizard of Darkness,

Dark Lumina

.
Department of Redundancy Department: Lumina, the Sword of Luminescence.
Devour the Dragon: Though he's far from actual Dragon status, Dark Lumina absorbs Kojiro to go One-Winged Angel.
Died Standing Up: Ben. This is most likely a Shout-Out to Benkei, the Warrior Monk who served Minamoto no Yoshitsune and died in the same fashion.
Disappeared Dad: In a reverse of Hotelo and Mint's situation, Tim's father is never spoken of. It can be implied from Hilda's tearful reaction to Tim's Vambee-afflicted illness and her guilt from locking him out of the house, along with direct statements that he's her only child, that she's a single, possibly widowed mother, though it's never confirmed.
Dishing Out Dirt: The Earth Scroll allows Musashi to activate switches, cause boulders to fall, and temporarily paralyze some enemies with a Shockwave Stomp. Oddly enough, it's the Wind Scroll that allows Musashi to dig through certain patches of dirt.
Disproportionate Retribution: Kojiro seeks to settle the score with Musashi because he hasn't forgiven him for inflicting the scar on his forehead, which makes for a humorous nod to Musashi thumping Kojiro with a bokken carved from the oar of the boat that carried Musashi to the site of his duel with Kojiro. Musashi gives a different account of the duel that has Kojiro's motivation free fall from personal revenge to this; according to Musashi, the scar was self-inflicted when Kojiro tripped and fell over his feet, apparently having a hissy fit after Musashi refused to let a coin toss determine the winner. Kojiro's Big "SHUT UP!" and telling Musashi that he came to cross blades "this time" affirms how petty a grudge Kojiro is holding.
Double Jump: Courtesy of the Legendary Belt. It also grants Musashi the ability to cancel charging with a backflip. Of note is the fact that a double jump is required to use the Rumparoni-SP attack, a relatively safe and easy way to

deal damage to Dark Lumina's second form

.
The Dragon: Colonel Capricciola is The Dragon to Fuhrer Flatski, ruler of the Thirstquencher Empire. However, near the very end of the game, you find out that Capricciola is actually your buddy Jon, who's been helping you during the game, and HE is secretly the son of the Emperor and Empress of the Thirstquencher Empire, whose deaths Flatski arranged in some unspecified manner that was meant to look like an accident (Jon, who was a child at the time, was meant to die with them). Unfortunately, he is shot In the Back by Flatski's son Rootrick before he can take his revenge on Flatski, and then later stepped on by Dark Lumina.
Dramatic Ellipsis: Lumina and

Dark Lumina

's preferred form of communication.
Dual Wielding: With a magic katana in one hand… and the aforementioned BFS in the other. Rescuing certain villagers allows Musashi to learn special techniques that utilize both of his weapons in tandem.
Dude Magnet: Wanda, who waitresses nights at the local pub. In Chapter 6, a tourist who frequents the spot claims to have fallen in love with her.
Dumb Muscle:

Rootrick, as well as Ben of Leader's Force. Rootrick appears to be a country hick, given his accent.
Macho, too. He even resorts to Hulk Speak frequently, something not even Ben, who has problems with grammar and spelling, uses.

Edible Theme Naming: The good guys are given food-related names (Allucaneet Kingdom, Grillin' Village, Princess Fillet), the bad guys are given soda-related names (Thirstquencher Empire, Gingerelle, Rootrick, Capricciola, Flatski). In Japanese, the bad guy names are based on booze instead.
Electric Torture: Mildly used during your "battle" with Topo. Mess up your dance steps and Topo will set the fans in front of her stage to full blast, sending you into an electrified fence for a quick zap before you're forced to start from scratch.
Element No. 5: The Sky Scroll. Allows Musashi to hover in the air.
Elemental Powers: Each of the Five Scrolls grants Lumina (which is Non-Elemental in its base form) the powers of Earth, Wind, Fire, Water, and Sky (think the fifth classical element, Aether), following the Eastern elemental makeup to a fault. The catch is that, outside of specific situations, these powers are used more for platforming and puzzle-solving purposes than for combat.
Elite Mooks: Encountered in the final chapter of the game, where Musashi infiltrates the Thirstquencher stronghold.
Empathic Weapon: Lumina, the Sword of Luminescence, is able to communicate with Musashi via telepathy, although it only does so sparingly.

When it's used to unseal Dark Lumina, it immediately comes back to Musashi afterward.

The Empire: Thirstquencher. The headquarters/central district of which is called Soda Fountain.
F-K
L-P
Q-S
T-Z
---