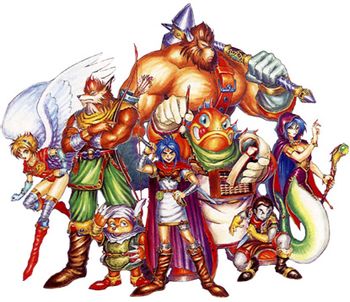 The original game in the long-running Breath of Fire series, released on the SNES in April 1993 in Japan and August 1994 for North America. It was later ported out to the Game Boy Advance in July 2001 in Japan and December 2001 in Europe and North America, with updated Character Portraits, a dash button, graphical upgrades on the menu screen and a trade option between games (complete with a few new items as bonus).
Being the first game on the series, its story is not as ambitious as following sequels: Many years ago, the goddess Tyr (Myria) appeared on the world and staged a terrible war among the Dragon Clan for her own amusement, splitting it into two sides: the Light Dragons and the Dark Dragons. This carried on until a a warrior of the Light Dragons, together with 7 allies, sealed up the goddess using the six Goddess Keys.
Cut to many, many years after: The Dark Dragon Empire has grown in power, and under the leadership of their Emperor Zog, they are waging war against the world while searching the keys to release Tyr. The Light Dragons, who by this point have long since abandoned their dragon powers so they would not be tempted to participate in further bloodshed, are the first on Zog's hit-list, but they are saved from annihilation by the sacrifice of their priestess, Sara. Missing ever since, Sara's brother Ryu embarks on a quest to find her, while gathering allies who are all opposing the Dark Dragons' ambition.
One aspect that is well known about this game is the story behind its localization: At the time Capcom apparently didn't feel like translating such a heavy text-based game, so they handed localization and distribution duties to SquareSoft, with Ted Woolsey involved in the translation. This ensured a somewhat decent translation, albeit with random name changes that obscured connections with its sequels and some details regarding its story lost in the transition.
Place any character-related tropes on the character sheet.
---
Provides Examples Of:
---