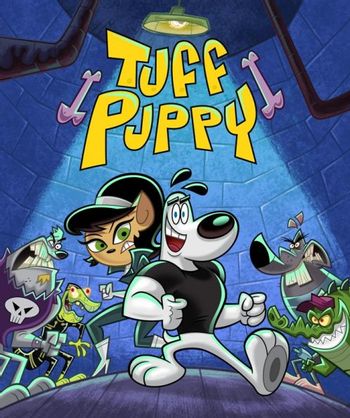 Dudley Puppy was a plain old mutt (Plain old mutt)
He'd track, he'd dig, and then he'd chew his butt (Chew his butt)
But when bad guys get too rough
He went to work for T.U.F.F.
And now he's doing secret agent stuff!
The third Nicktoon created by Butch Hartman (after The Fairly OddParents and Danny Phantom). It ran from October 2, 2010 to April 4, 2015.
In the show, a "dim-witted dog" named Dudley Puppy is recruited by the Turbo Undercover Fighting Force (T.U.F.F.) to protect his hometown of Petropolis with the aid of his partner, Kitty Katswell, against villains like the Diabolical Order Of Mayhem (D.O.O.M.).
Now has an (in-progress) recap page.
---
Tropes:
---