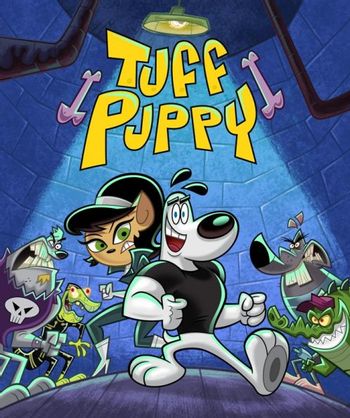 Dudley Puppy was a plain old mutt (Plain old mutt)
He'd track, he'd dig, and then he'd chew his butt (Chew his butt)
But when bad guys get too rough
He went to work for T.U.F.F.
And now he's doing secret agent stuff!
The third Nicktoon created by Butch Hartman (after The Fairly OddParents and Danny Phantom). It ran from October 2, 2010 to April 4, 2015.
In the show, a "dim-witted dog" named Dudley Puppy is recruited by the Turbo Undercover Fighting Force (T.U.F.F.) to protect his hometown of Petropolis with the aid of his partner,Kitty Katswell, against villains like the Diabolical Order Of Mayhem (D.O.O.M.).
---
Tropes:
Gilligan Cut: Happens in "Kid Stuff" when Dudley comes up with a plan to beat Snaptrap with Quacky the Duck's help.

Dudley: I'm president of his fan club. He can't say no to me.

(Cut to Dudley bruised and bandaged)

Keswick: I can't believe he said no to you.

Dudley: He didn't just say no. He had his bodyguards throw me down a flight of stairs!

Dudley: What's he gonna do? Put us in jail?
(cut to Dudley and Kitty in jail)
Dudley: Wow, he put us in jail.

Giving Someone the Pointer Finger: "Or should I call you...THE CHAMELEON?!"
Goggles Do Something Unusual: Subverted at the end of "Mind Trap"; Keswick makes a pair of goggles that allow the wearer to see people's underwear. Kitty promptly throws them down the garbage chute before anyone can use them.
Got Volunteered: Dudley was chosen to go undercover in Snaptrap's School of Evil when Kitty and Keswick stepped backwards.
Gravity Is a Harsh Mistress: In "Puppy Love", The Chameleon realizes that he can't stick to walls in the form of a French poodle. Only then does he fall off the side of the building that he has been stuck to for a while now.
Grievous Harm with a Body: In "Doom-Mates", Dudley repeatedly uses Kitty as a club.

Kitty: Dudley! Stop hitting things with me!

Gross-Up Close-Up: Dudley's butt rash in "Dog Dish", much to everyone's horror.

Chief: My eyes!

Had the Silly Thing in Reverse: Or rather, forward, when Dudley attempted to back out to escape the Chameleon and ended up running over him.
Half-Dressed Cartoon Animal: Dudley. He doesn't do pants. This is frequently lampshaded.

Averted in Mom-A-Geddon where it's shown that Dudley wears underpants underneath pants that look like naked animal legs.
Many other characters wear shirt but not pants: Larry, Francisco, Bird Brain, Bad Dog, etc.

Halloween Episode: "Happy Howl-o-ween"
Hammerspace: Kitty pulls a cannon that's about ten times her size out from behind her back in "Mall Rat". Later in the same episode, she pulls out two pom-poms to perform a gloating dance after it turns out that she was right about Snaptrap being evil the entire time that he was pretending to have changed after his stay in prison.
Hartman Hips: Kitty.
Helium Speech: Happens to Kitty and Dudley in the "Bored Of Edcucation" episode.
The Hero: Dudley
Hero with an F in Good: Snaptrap's temporary Heel–Face Turn in "Snap Dad" was foiled by the fact that he was a kleptomaniac Jerkass, as well as generally incompetent as a good guy.
Hot-Blooded Sideburns: Kitty, quite prominently.
Hollywood Tone-Deaf: Kitty
Hypercompetent Sidekick: Ollie (and maybe Fransisco and Larry as well) to Snaptrap.
I Can't Dance: Kitty is a terrible dancer, as shown in "The Rat Pack" and "Hush Puppy". Later gets lessons at Snaptrap's dance boutique in "Dancin' Machine".
Identical Twin ID Tag: The one difference between between Kitty and her sister Katty, besides their clothes, is Katty has a Skunk Stripe in her hair.
Idiot Ball: In "Agent of the Year" Dudley tricks Kitty into grabbing a rocket by pretending it's a phone.
Idiot Hero: Take a guess.
Informed Deformity: In "Diary of a Mad Cat" there's a Running Gag where people point out Kitty's "broad shoulders."
Informed Species:

Despite supposedly being a British opossum, Ollie looks more like a weasel or a brown rat.
The Chief looks like a frog with antennae than a flea.

Inventional Wisdom: What was a 'Flood the City' button doing on the city dam?

For that matter, why was there an 'Unflood the City' button?

Insistent Terminology: Inverted. Birdbrain is quite insistent that the team up between him, Snaptrap and the Chameleon is not called Team Evil.
Instant Bandages: Kitty got these in the episode "Snap Dad" for example when she hit a tree due to Snaptrap's distracted driving.
Insult Backfire: In "Diary of a Mad Cat".

Dudley: What's this next to my name?

Kitty: Nincompoop.

Dudley: Does that mean handsome?

Interspecies Romance: Snaptrap and Peggy Puppy (Dudley's mom) in "Snap Dad." It didn't last.
I Taste Delicious: In "Toast Of T.U.F.F.", the Chameleon tries to turn everyone into bugs. The spray backfires and turns him into a mealworm.

Chameleon: Oh, the irony. I must resist the urge to eat myself. Well, maybe just a nibble. Aieee! Ow! How can something that tastes so good feel so bad?

I Want Grandkids: According to Kitty's diary her mother is pressuring her to get married.
Jerkass Ball: Dudley and Kitty in "Agent of the Year" where they arrest innocent people just to win an award. It could be argued it's in character for Dudley, but it's definitely out of character for Kitty.
Jewish Mother: Dudley's mother is a blatant one.

Kitty's mother. She has a Jewish accent and is always pressuring Kitty to get married.

Keet: Dudley. Dear Lord, Dudley.
"King Kong" Climb: Bird Brain does this in "Barking Tall", knocking down T.U.F.F.'s airplanes, and later grabbing Kitty.
Last Episode, New Character: The Overbear in "T.U.F.F. Break Up".
Last of His Kind: Bird Brain, who uses this to his advantage to protect himself from TUFF. Until he violates this by creating a giant mutant Boobie, therefore no longer protected by the law for being the last one.

Possibly Keswick, who is part of his own species. Part of their life cycle is growing a reptilian tail that breaks off and becomes another Keswick, who they must fight to the death.

Leatherman: There used to be a recurring villain named Leather Teddy.
Left the Background Music On: In "Dog Daze", when Snaptrap was hypnotizing Dudley, eerie hypnotic music was playing in the background. In the end, it turned out to be being played by Larry, who Snaptrap told to knock it off as it was creeping him out.
LEGO Genetics: Dudly is a combination of every breed of dog ever, and somehow a bit of goat. But the all-time winner is Keswick, who has gills, webbed feet, lays eggs, has a pouch, and who knows what else.

Partially justified with Dudley as a long enough blood line could mix every dog breed, the goat is something else.

Lethal Chef: Lunch Lady Bug. Except to Dudley who loves her food.

In "Mind Trap" Kitty bakes fish cookies that even she hates.

Line-of-Sight Alias:

In The Wrong Stuff, Dudley and Keswick try to hide their identity from Kitty by saying that their name is "Bob" and the name of a sign, such as "Men's Room" or "Don't Feed The Squirrels" or "Stay Off The Grass".
In "Girlfriend Or Foe", the Chief desperately claims he has a girlfriend named Exit, because he looked at the exit sign over a door.

Literal Metaphor:

Kitty: We've just been a little disorganized since we lost our secretary.

Chief: The secretary quit?!

Keswick: No, we literally lost her. She took a ten-minute break, stuff piled up, and we never saw her again.

Dudley: Whoa! Your dress is smoking!

The Chameleon, disguised as Fifi: Thank you.

Dudley: No, I mean it's really smoking!

In "Snap Dad", Dudley's mother Peggy isn't too broken up over Snap Trap turning back to his evil ways, saying she saw the writing on the wall...because Snap Trap literally wrote it on the wall.
In "The Rat Pack", when the Chief said that the reviews for a musical were terrible, Snaptrap replied that the critics didn't know anything....because he had their minds erased.
Really, damn near half the jokes on the show is like this. Especially the episode featuring Jack Rabbit, where doing this is a running gag. He offers Kitty to go to "The Old Stumping Ground". Turns out there's a restaurant called that. Later, Snaptrap is eating sushi from three days ago... that is, from the restaurant called "Three Days Ago". It keeps going and going and going, and that's just in ONE episode.

Love Redeems: Invoked and subverted in "Snap Dad" when Snaptrap agrees to go straight because he's fallen in love with Dudley's mom, and was actually sincere about it, trying his best to perform a Heel–Face Turn. He eventually breaks it off with her because of his inability to actually act good and the fact he still cares too much for his former D.O.O.M. teammates (except Larry) to turn on them.
Mad Scientist: Bird Brain. Keswick is a heroic version of this, as he often invents things for the sake of inventing them, including dangerous things like an acid spraying waffle maker, which even he questions why he created.
Magic Feather: Kitty gives Dudley a collar that is supposed to reduce fear. The collar is ordinary, however.
Male Gaze: "Puppy Unplugged" starts with a close-up on Kitty's butt.
Manchild:

Dudley and Kitty act more like pre-teen siblings rather than adult agents, one who lives in their own apartment. Even more so with Dudley, he still lives with mom, and joins in with the kids when Snaptrap uses the "no hitting or killing near kids" rule to his advantage, doing kid related stuff along with crimes.
All the main characters seem to qualify when it comes to Quacky the Duck.

Medium Blending: Dudley, Kitty, Birdbrain, and Snaptrap become CGI in "Puff Puppy".
Minion with an F in Evil: Percival in "Law and Odor". Because of his repeated incompetence, Stink Bug fired him when he pulls out a sign for his signal known as "Air Un-Conditioner". This would lead him to side with T.U.F.F. in the end.
Mistaken for Dying: In "Dead or a Lie", Dudley lies to Kitty about eating cupcakes behind her back by saying that he was poisoned by the Chameleon, which makes Kitty try and make Dudley's "final hours" his happiest, and makes Chameleon popular with Snaptrap and Birdbrain.

Eventually, Dudley tells Kitty the truth, and she's not pleased about it

.
My Name Is Inigo Montoya: Kitty does it in "Freaky Spy-Day" after switching brains with Snaptrap to stop Jack from giving out the information of every undercover T.U.F.F. agent.

Kitty: [in Snaptrap's body] No chance, Jack, cause I'm not really Snaptrap. I'm Kitty Katswell!

My Name Is Not Durwood: There are times when a character doesn't get the other character's name right. Examples includes Peg mostly calling Kitty "Mitzi", and even Jack mostly calls Dudley different names like "Davey" and "Dumply".
No Celebrities Were Harmed: Keswick is a straight up parody of Jerry Lewis, while The Chameleon is clearly based on Peter Lorre. Booby is a play on Jonathan Harris (of Lost in Space fame) in full Dr. Smith mode. Kitty's former partner Jack Rabbit is a lot like Sean Connery-era James Bond. Snaptrap's voice is an impersonation of Ed Wynn. The episodes "Top Dog" has The Mere Kat, who is a Paul Lynde impersonation.
No Indoor Voice: Dudley Puppy
Nobody Can Die: Usually played straight (it's a cartoon by Butch Hartman on Nickelodeon, for crying out loud), but rather surprisingly averted in the second episode. The Chameleon, seeking revenge on Kitty Katswell for capturing him, traps her in a small chamber with a bomb that can be detonated several times. He proceeds to blow her up 8 times, supposedly killing her repeatedly until she's only got one life left (since as a cat she has 9 to start with).
Non Sequitur Causality: In "Watch Dog", Dudley uses a time travel watch to go back and beat Kitty to the last donut. This somehow changes the present so Snaptrap has taken over the world.

And at the end, Dudley uses it again when he misses the ice cream truck and this somehow changes the present so he's wearing pants.

Not Even Bothering with the Accent: The Chameleon, despite having the ability to transform into anyone, he (usually) still uses his normal voice, occasionally using phrases related to his disguise.

For example, when he infiltrated T.U.F.F. by disguising himself as "Fifi Oui-Oui", a gorgeous French Poodle, he said "French" phrases like "Notre Dame", "Eiffel Tower" and "Jacques Cousteau".

Not in Front of the Kid: TUFF Rule 857 states that agents can't fight bad guys around children. Unfortunately, when Snaptrap found out, he takes advantage of it by attracting kids to him, leaving Dudley and Kitty powerless to stop him from committing his crimes.
Not Now, We're Too Busy Crying over You: After Keswick "sacrifices" himself to save everybody, Dudley, Kitty and the Chief are all crying in a huddle. Keswick appeared why they were still crying. Kitty then exclaims, "Not now Keswick, we're too busy crying over Keswick!"
Nutritional Nightmare: Quacker Jacks, a ridiculously unhealthy snack food sponsored by Quacky the Duck, whose ingredients involve a ton of trans-fats and artificial bacon cheese. So unhealthy, that when Dudley wins a lifetime supply of them, he's only given two boxes, because according to Quacky: "You can't eat more than two boxes and live!"
Off-Model: The animators can't seem to decide whether Kitty's nose is circular or triangular.

Take a look at the page image. Kitty looks really off.

Oh Wait, This Is My Grocery List: When Dudley goes undercover to learn one of Snaptrap's plans, he finds this, and thinks it's in code.
The One Who Wears Shoes: Kitty and Keswick.
One-Word Vocabulary: Bird Brain's henchmen Owl and Bat only say "Who?" and "Where?", respectively. This infuriates him repeatedly.
Only Sane Man: Arguably Kitty is the only one with any sense.

Ollie would also be this for DOOM.
Bird Brain when you compare him to Verminious Snaptrap and the Chameleon.

Overly Long Scream: In " 'Til Doom Do Us Part", the Chief tells Dudley and Kitty they'll get married. They start screaming, the show goes to commercial,when the show comes back they're still doing it. The Chief claims they've been screaming for 30 straight minutes.
Overly Long Tongue: The Chameleon, naturally.
Pantsless Males, Fully-Dressed Females: Played straight with Dudley and Kitty. All other males are fully clothed.
Panty Shot:

Kitty's pink underwear in Snappy Campers: Here, Keswick said he had sewed Kitty and Dudley's name in their underwears. So, Dudley and Kitty pulled out their own underwear to confirm it.

Paper-Thin Disguise: The Chameleon - not visually, because he can copy appearance perfectly, but in acting. He's an incredibly bad actor (except when he's not), and his idea of sounding convincingly anything is to litter his talking with random phrases related to the person he's impersonating (when he acts French he inserts French foods into his sentences for no reason, same with impersonating a general with military talk). Surprisingly, this never fails to fool anyone.
Parental Bonus: The Affectionate Parody of The Brady Bunch in the episode "Share-a-Lair".
Perky Female Minion: Zippy, Birdbrain's overly cheerful assistant.
Pluto Is Expendable: In "Lucky Duck", Chameleon threatened to blow up Pluto.

Then at the end, he decided to blow up the sun

.
Pointy-Haired Boss: Verminious Snaptrap
Poke the Poodle: This was F.L.O.P.P's shtick, at least until they threatened to unravel space and time.
Pretend We're Dead: In a Halloween Episode, Dudley pretended to be a zombie to follow real ones towards the place where Snaptrap, Birdbrain and Chameleon were hiding all candy and all the toilet paper. He befriended two zombies who told him where the bad guys were hidden.
Pun-Based Title: Most of the episodes' names are puns. Examples: Mom-A-Geddon, Chilly Dog, Forget Me Mutt, Law and Odor, Mutts and Bolts, and so on.
Punny Name: Everyone in F.L.O.P.P. is named/based around a pun - the Escape-Goat (an incompetent escape artist), the Missing Lynx (who never shows up), the Bluffalo (who bluffs a lot), etc. Their leader is The Meerkat, which doesn't seem like a pun until he reminds everyone that he is "no mere kat."
Puppy-Dog Eyes: Dudley.

The Chameleon disguised as

Dudley uses these to get back into Kitty's apartment after being thrown out in "Doom-Mates".

Puppy Non Grata: After ruining a Chinese parade in one episode, Dudley is never allowed back in Chinatown.
Rapid-Fire Comedy: Well, it IS a Butch Hartman show.
Recycled IN SPACE!: Get Smart

WITH ANIMALS!

Repetitive Name: Kitty Katswell.
Reptiles Are Abhorrent: Francisco the crocodile of D.O.O.M. and The Chameleon.
Retired Bad Ass: The Chief was once T.U.F.F.'s top agent and an amazing fighter. In one episode, he comes out of retirement to help Dudley deal with the Chameleon. While things don't work out well at first, Dudley manages to give him a pep talk and he shows he's still got it by beating up the Chameleon.
Revenge: Chameleon's motivation almost always comes down to this in most of his appearances.

Quacky the Duck also wants this after his show is canceled

.

Rodents of Unusual Size: Verminious Snaptrap.
Romance Novels: The Chief secretly reads these.
Running Gag: Snaptrap throwing Larry into the shark tank.

Chameleon trying to wear glasses.
Hell, there is at least one running gag per-episode! Some examples are Kitty putting people to sleep with her talk about proper health in 'Bored of Education' and Dudley ending every description of how bad the Stinkbug smells with "in Atlantic City!" in 'Law and Odor'.

Scooby-Dooby Doors: Used in "Hide And Ghost Seek".
Scrabble Babble: Snaptrap plays "Schmoodled". When challenged, he zaps the appointment. "There, I schmoodled Larry."

It became a Running Gag for the episode that whenever stuff blew up, they used "schmoodled"

Screw This, I'm Outta Here!: Chameleon started dating Dudley's mother Peggy in "Snap Dad", but instantly broke it off and ran for it when he found out she had kids (though it may have been who her son was).
Sdrawkcab Name: In the episode "Dog House", Dudley's roommate is named "Partpans". It's really Snaptrap, even though he swears his name isn't Snaptrap backwards.
Senior Sleep Cycle: To prove a point that the Chief was old, a Running Gag in "Internal Affairs" was him falling asleep.
Sesquipedalian Loquaciousness: Kitty is affected by this after her uncle gives her a word-a-day calendar.
Serious Business: As seen in "Watch-Dog", getting the only chocolate donut in the breakroom is such for Dudley and Kitty.

Everyone, everyone is obsessed with the Quacky the Duck show. The army even lets Dudley and Kitty walk out of an military base with a missile and a tank simply because Quacky asked for it. Even Kitty is just as into it as everyone else (the only reason she stops is because Quacky "fired" her favorite character).

Shapeshifting: The Chameleon, but only because of his suit.
Shark Pool: Snaptrap has one in his lair, and he throws Larry to the sharks in most episodes.
Ship Sinking:

In "Dog Tired", when Dudley was in danger of falling asleep forever, the Chief made him dream about marrying Kitty, which Dudley considered a nightmare. That scene could pretty well crush the hopes of Dudley/Kitty fans

.

"Love Bird" contains Dudley falling for a bank teller. Let's just say it wasn't received very well by the Kudley fanbase.

"Till Doom Do Us Part" seemed to have been made to solely sink the Dudley/Kitty ship.

"Girlfriend or Foe" features another love interest for Dudley, named Daisy.

Shout-Out: The Petropolis Aquarium has a giant fishbowl on the top of it, which resembles Cosmo and Wanda's fishbowl in T.U.F.F. Puppy's sister series, The Fairly OddParents.

In "Mom-a-Geddon", Agent Nuts shoots his reflection in a mirror after shouting, "I know it was you, Fredo!"
In "Share a Lair", Keswick is working on a not-so-giant version of The Iron Giant
In "Dog Daze," Chief is wearing an apron that says "Top Chief." This apron's font is in the same style as the television show Top Chef, complete with a knife between the two words.
In the first Chameleon episode, at one point he turns into an anthropomorphic Model T Ford from Cars.
Snaptrap's cabin in "Back To Nature" has an hockey mask on the wall & the Necronomicon Ex-Mortis laying around.
In "Candy Cane-ine", The Chameleon has a candy store named the "Caramel Caramel Caramel Caramel Caramel Chameleon" in reference to the chorus of Culture Club's song "Karma Chameleon".
At the end of "Flower Power", when Keswick becomes muscular, he takes a sword and rides on the back of a tiger, like He-Man from the Masters of the Universe franchise.
"Rat Trap" has Snaptrap and Dudley engage in scenes from Rocky, Raiders of the Lost Ark, and Star Wars.

Sickeningly Sweethearts: "Vermie" and "Peggy-poo" in "Snap Dad." Dudley vomited at least once.
Slapstick Knows No Gender: In full effect. Not only is Kitty the Chew Toy , but even Innocent Bystander women often suffer Amusing Injuries. At one point Dudley, having been tricked into believing she is the shape-shifting Chameleon, beats the living crap out the winner of the Miss Petropolis pageant, and even this is played for laughs, flattened a couple times throughout episodes, eaten by a killer whale in one episode, caught in explosions, complete with her showing up later in a bodycast.
Smelly Skunk: One of D.O.O.M's members is a skunk, but so far no comment has been made of his smell.
Solar-Powered Magnifying Glass: In "Hot Dog", the Chameleon puts up a giant magnifying glass to fry the city of Petropolis.
Species Surname: Dudley Puppy and Peg Puppy.

Inverted and played straight with Kitty Katswell.

Speech-Impaired Animal: Birdbrain's henchmen, an owl who only says "Who?" and a blind bat that only says "Where?".
Speech Impediment: Keswick stutters, and Snaptrap has a lisp.
Spoiler Opening: The Episode Title Card will always have a picture of the episode's main bad guy. Usually it's the last picture.

This can be a bad thing with several episodes, such as "The Wrong Stuff" and "Toast of T.U.F.F".

Spot of Tea: One of Snaptrap's henchmen, Ollie, is rarely seen without a teacup.
Spy Catsuit: Kitty's usual outfit. Bonus points since she's, y'know, a cat.
Strange Minds Think Alike: Maybe "schmoodled" is a real word.

Honestly, its one of the most used jokes in the show. The only real difference between the thought processes of T.U.F.F and D.O.O.M is that one thinks for good and the other thinks for evil.

Suck E. Cheese's: Peet-za Possum's.

Quacky the Duck also creates one in "Quacky Birthday" as a plan to destroy Dudley, and calls it "Quack E. Cheese's".

Sure, Let's Go with That: In "Snap Dad", Snaptrap starts dating Dudley's mother and says they met at the laundromat.

Dudley's Mom: No grown man should be walking around with ketchup on his shirt.

Snaptrap: Yes...that's what it was, ketchup. Lots and lots of ketchup.

Surprise Slide Staircase: Used in "Hide And Ghost Seek".
Suspiciously Specific Denial: Many, many times. An example from "Puppy Love":

Kitty: Just between us, my partner, Dudley, has a crush on you.

The Chameleon, disguised as Fifi: (grimaces) Well, that doesn't creep me out at all.

Sweet Polly Oliver: The episode "Chilly Dog," when Dudley dresses up as a girl to go with Kitty's boy. Boys fall in love with Dudley as a girl. Subverted in that they never actually figure out that Dudley is a male dog.
The Power of Friendship: Dudley was able to convince Kyle R (really Kill-R) not to destroy T.U.F.F thanks to this.
"The Reason You Suck" Speech: The Chameleon gives out on to Kitty while disguised as her mother in "Diary of a Mad Cat".

The Chameleon: Now, when are you going to get married? Why don't you ever call me on my birthday? Why can't you be more like your sister?

Kitty: My sister's in jail!

The Chameleon: Yes, but she used her one phone call to call me on my birthday!

Kitty: STOP COMPARING ME TO HER! I'M PRETTY, TOO!!

The Chameleon: Actually, your shoulders are a little large, and we all know why you always wear gloves.

Time Skip: Played for Laughs in "Doom and Gloom" where D.O.O.M. gets arrested and released 3-5 years later.

In a later episode, Dudley doesn't come to work for a year.

Title Drop: In the episode "Toast of Tuff", Keswick referred to R.I.T.A as such.

The end of the very first episode has Kitty refer to Dudley as this.

Title Theme Tune:

"He's a T.U.F.F. Puppy, T.U.F.F. Puppy, he's a T.U.F.F. Puppy. [...] He's a T.U.F.F. Puppy, T.U.F.F. Puppy, he's a T.U.F.F. Puppy!"

Toilet-Drinking Dog Gag: The intro shows Dudley drinking from the toilet.
Toilet Humour: Dudley is a dog after all.
Toilet Paper Trail: In "The Curse of King Mutt'', Snaptrap trails toilet paper, then trips and wraps himself in it, looking like a mummy. The Chameleon and Bird Brain think he wrapped himself in toilet paper to disguise himself as King Mutt's mummy and scare Dudley into finding King Mutt's bone for them, and Snaptrap nervously tells them they're right before telling them what really happened through Suspiciously Specific Denial.
Top-Heavy Guy: Dudley.
Tricking The Shape Shifter: Dudley does this to the Chameleon by pretending to believe the Chameleon can't pose as a realistic mouse. Chameleon proves him wrong, but unfortunately, the elephant agent was in front of him.
Tron Lines: The Chameleon's suit has these.
True Companions: The ending of "Toast of T.U.F.F." showed this between the main protagonists. And it was ADORABLE.

Keswick pretty much confirms this in "Snapnapped", calling T.U.F.F his family.
"Snap Dad" hints that D.O.O.M. might be a very dysfunctional version of this (or, alternatively, only one from Snaptrap's point-of-view). Snaptrap even said that Francisco and Ollie were like family to him (though he had no problem blasting Larry).

Uncomfortable Elevator Moment: Happens in "Dog Tired", when Dudley and company must take the T.U.F.F. elevator, they meet Ida Bromstein, whom Keskick tied and pushed into the elevator a while before. He remarks that's weird.

In "TUFF Sell", this happens when Keswick is waiting for the T.U.F.F. elevator just after he resigned from working there.

The Un-Favourite: Kitty's mother wishes she was more like her sister, even though said sister is a criminal.
Verbal Backpedaling: In "Puppy Love", right in front of The Chief and T.U.F.F.'s two best agents, no less:

The Chameleon, disguised as Fifi: I look forward to destroying you, I mean working with you!

Verbal Tic: Keswick stutters a lot.
Vile Villain, Saccharine Show: R.I.T.A. is the only villain who is completely devoid of comedy.
Villains Out Shopping: When they were being interviewed by a cameraman, they tried to take down the Chameleon, thinking he's doing evil, when he is really shopping.
Villain Team-Up: In "The Curse of King Mutt", Snaptrap, Chameleon, and Bird Brain work together to steal King Mutt's jewel-encrusted bone. Naturally, given their personalities, Hilarity Ensues.
The Walls Are Closing In: In "Snapnapped", complete with Spikes of Doom. The ironic part is that it wasn't in a bad guy's trap, but happened in their own HQ!
Welcome Episode: Unlike many of Hartman's works where the show's pilot takes place after the events of the Expository Theme Tune, the first episode of T.U.F.F Puppy explains how Dudley became a secret agent.
Who's on First?: Bird Brain's two henchmen, an owl that only says "Hoo" & a blind bat that only says "Where", tend to cause this much to the booby's annoyance.

Then he gets two more henchmen: a female sheep (or ewe) and a Duck! named Skip.
Followed by Holey Cow.

Bird Brain: Remind me to hire a henchman named "Everyone Jump Into The Woodchipper"!

Why We Can't Have Nice Things: Keswick says the trope name almost word-for-word where after Dudley's messing around with his cloning machine results in the Chief ordering to get rid of it.
Wimp Fight: Dudley and Kitty's occasional fights with each other.
Wire Dilemma: 'Quacky Duck', the Show Within a Show, aparently had an episode where he taught kids how to disarm a nuclear missile!

Cut the blue wire, not the brown

Or you'll blow up the whole darn town

Cut the red wire, make your mama proud

Or you'll end up in a mushroom cloud

World of Ham: Name pretty much any evil character on this show (Snaptrap, Chameleon, Bird Brain) and they'll fall under Large Ham. Dudley himself also qualifies.

Kitty even shows large ham tendencies in episodes like "Super Duper Crime Busters".

Would Hit a Girl: Dudley doesn't have any problem hitting Kitty, even kicking her in the very same episode, also being seen giving her slaps, bites and, what could be, punches. She doesn't hesitate to do the same to him, though.

The Chameleon, hurting Kitty too.
Doom Agents

The Sharing Moose, being seen hitting Kitty on the head with a metal pipe, and even smiling while doing that

"YEAH!" Shot: Almost every episode ends with one of these, possibly definitely parodically.
You and What Army?: Said by Birdbrain when Dudley and Kitty announce they're taking back the stolen candy in "Happy Howl-o-ween".
You Dirty Rat!: Verminous Snaptrap.
You Have Outlived Your Usefulness: In "Bored of Education", a group of kids from Petropolis Elementary decide to join the Chameleon in raiding a bunch of stores; but the second they play with all the stuff they raided, he sees them as deceiving him since all the stuff is only for him, thus he denounces them as his friends and decides to eat them.
Younger Than They Look: Bird Brain, according to "A Doomed Christmas" is 23, though that doesn't stop everyone else from thinking otherwise.
Your Size May Vary: The Chief

In "Barking Tall", Kitty is almost as tall as a ship while giant Dudley and giant Bird Brain are fighting.

Your Brain Won't Be Much of a Meal:In the Halloween Episode, Keswick reanimated some corpses to have zombies for the holiday. He said the zombies would be harmless as long as there were candies for them to eat. Otherwise they'd eat brains. When Keswick commented Dudley would be safe, Dudley proved the pointing by claiming he didn't understand it.
---