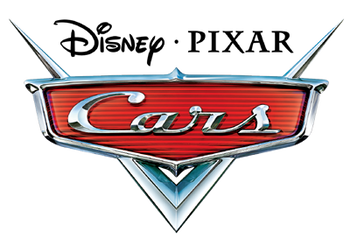 A series of computer-animated films from
Pixar
and initially directed by
John Lasseter
, who also directed
Toy Story
,
Toy Story 2
, and
A Bug's Life
.
True to the title, the stories take place in a world entirely populated by anthropomorphic cars and other vehicles — aside from plants, there are no organic life-forms of any sort. Just about everything else is reinterpreted into automotive counterparts, such as insects becoming Volkswagen Beetles and rock formations in the shape of car bodies.
---
Films:
<!—index—>
TV series:
Books:
Cars chapter book series:

Cars: The Junior Novelization (April 2006) A novelization of the first movie.
Cars 2: The Junior Novelization (May 2011) A novelization of the second movie.
Cars 3: The Junior Novelization (May 2017) A novelization of the third movie.

Cars Origins chapter book series:

Cars Origins: Struck By Lightning (May 2017)
Cars Origins: Storm Chasing (July 2017)
Video Games:
Spin-offs:
Shorts:
<!—/index—>
Cars Toons: Produced for Toon Disney, Disney Channel, and ABC Family.

Mater's Tall Tales:

Rescue Squad Mater — Mater tells a story about how he was a firetruck. Oh, and he was a doctor too.
Mater The Greater — Mater claims to have been an Evel-Knievel-style daredevil in a previous life.
El Materdor — Mater is now a bullfighter. The bulls in question are bulldozers.
Tokyo Mater (played before Bolt) — The first Pixar short to play before a non-Pixar film, and their first theatrical short to be based on a previous movie, Tokyo Mater centers around a story Mater tells about him getting involved in a drift race in Tokyo.
Unidentified Flying Mater — Mater makes friends with a small flying saucer spaceship that speaks in a strange robotic voice. The UFM (called "Mator") teaches Mater how to fly, but gets taken away to Parking Area 51.
Monster Truck Mater — Mater becomes a monster truck wrestler and fights various other monster trucks (such as Ice Screamer, Captain Collision, Rastacarian, Dr. Feelbad, and Paddy O'Concrete) until he qualifies to the championship round against Dr. Frankenwagon and his monster.
Heavy Metal Mater — During a night of karaoke at Flo's, Mater recounts how he used to be a big rock star in a heavy metal band.
Moon Mater — Mater is inducted into the NASCA space program. His mission: Rescue Impala XIII, who has broken down on the moon.
Mater Private Eye — Private investigator Mater must solve a case about counterfeit tyres and track down the whereabouts of Tia's sister, Mia, who's been car-napped.
Air Mater — Mater goes to a town inhabited by planes and learns to fly. It was released on the Cars 2 DVD and acts as a set up for Planes.
Time Travel Mater — Mater accidentally travels back in time to when Stanley first discovered the original Radiator Springs and with Lightning, ensures that history remains on course. Premiered at Disney California Adventure and features locations introduced in the Cars Land expansion of the park where Stanley set up the beginnings of the town as a rest stop for traveling cars.

Tales from Radiator Springs:

Hiccups: Lightning McQueen gets hiccups from drinking his breakfast of champions: oil. Many of the Radiator Springs residents give him advice on how to cure the "annoyingness", but none of the ideas work—until Sally Carrera, Lightning McQueen's girlfriend, kisses him on the cheek... and his hiccups disappear.
Bugged: Red's peaceful morning routine is interrupted by a pesky visitor.
Spinning: Guido discovers he has a hidden talent as a street corner sign spinner.
The Radiator Springs 500½: Radiator Springs celebrates a Founders Day honoring the late Stanley when a gang of Baja racers descend on the town and challenge Lightning McQueen to a race.
---
The Cars films and shorts contain examples of the following tropes:
---