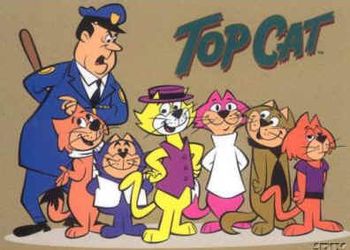 Top Cat!
The most effectual Top Cat!
Who's intellectual
Close friends get to call him T.C.
Providing it's with dignity!
Top Cat!
The indisputable leader of the gang!
He's the boss, he's the pip, he's the championship!
He's the most tip-top, Top Cat!
Yes he's the chief, he's the king, but above everything...
He's the most tip top, Top Cat!
Top Cat!
— Theme song
Hanna-Barbera produced this Animated Series for ABC in 1961. Unlike the studio's earlier series, Top Cat was set in the midst of New York City. Even before the first episode was broadcast, Bill Hanna knew that Top Cat was going to be popular.
Top Cat is a Lovable Rogue who leads his gang of alley cats through one Zany Scheme after another, keeping the cats ahead of Officer Charlie Dibble, the local beat cop. The series took a page from The Phil Silvers Show, with "T.C." (as his gang called him) based on Phil Silvers' Sgt. Ernie Bilko. Maurice Gosfield, who played Pvt. Doberman on The Phil Silvers Show, provided the voice of Benny the Ball.
In the late 1980s, Arnold Stang reprised his Top Cat role in the syndicated series Yogi's Treasure Hunt and the Made-for-TV Movie Top Cat and the Beverly Hills Cats (part of the "Hanna-Barbera Superstars 10" series). In 1990, T.C. and Choo-Choo had an entry in the Fender Bender 500 segment of Wake Rattle And Roll. Top Cat and his gang have also appeared on Harvey Birdman, Attorney at Law.
A Flash animated Top Cat movie with CGI backgrounds has been released
in 2011 in Mexico, where the show has been especially popular in the past decades where it's known as Don Gato y Su Pandilla (Don Gato and His Gang). A sequel was made which uses CGI entirely and released in 2015. The cast also appears as recurring characters on the 2021 HBO Max animated series Jellystone!.
---
This series provides examples of:
---