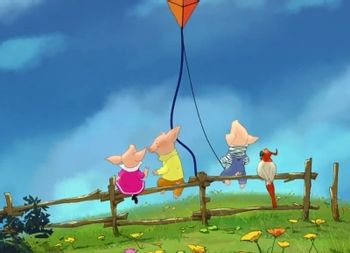 "A boomerang flies... but always returns... home where it belongs!"
—Toot and Puddle, before Toot leaves on an adventure
Toot & Puddle is both an animated television series and a series of picture books by Holly Hobbie. The series is focused on two anthropomorphic pigs, Toot and Puddle. The two live together in Woodcock Pocket (also known as Pocket Hollow), but Toot loves to travel around the world, while Puddle more often likes to stay at home. Every once in a while, however, they do like to travel together. When at home, they are often joined in adventures by their Cousin Opal, a young girl of about 5 years in ageNote According to the book Charming Opal, she is Puddle's cousin, though this is never specified on the TV show., as well as their many neighbors. There is also a bird named Tulip who more-or-less lives at their home, though she is often out flying.
The original Toot & Puddle picture book was first released in 1997. Since there, there have been a number of others, as well as adaptation books of stories from the television series. The animated adventures of the two began in 2006 with the release of the 45-minute Christmas Special I'll Be Home for Christmas by National Geographic Kids. This was followed nearly two years later with the release of the television series, also by National Geographic Kids, in partnership with the Canadian animation studio Mercury Filmworks and the Canadian preschool channel Treehouse TV.
In the United States, the show aired on Noggin. The entire television series has been made available on YouTube by National Geographic Kids. A subscription is required, but those who have never watched it before are allowed a free two weeks, if you have an account setup with Google for subscription purposes. Also, the DVD special I'll Be Home for Christmas is apparently out of print now, but you can still get it on Ebay or Amazon for a new or used copy.
Toot & Puddle includes examples of the following:
---
"We saw great sights! We made new friends! Now we're heading home, as our journey ends!"
---