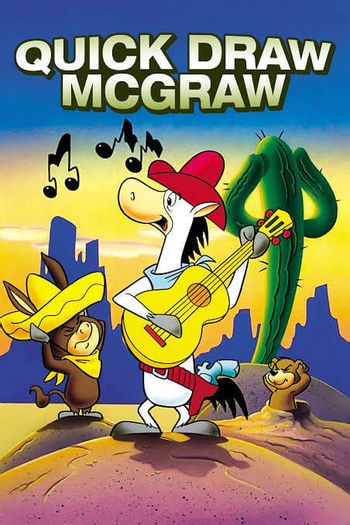 "Why
did
Quick-Draw McGraw hang around with that freaky little mule?"
Yet another Funny Animal omnibus series from Hanna-Barbera, Quick Draw McGraw followed the adventures of the equine sheriff with an exaggerated southern drawl, who upheld law and order in The Wild West with the aid of Baba Looey, a Mexican burro with a Spanish accent, and Snuffles, a biscuit-mooching dog. Whenever Baba Looey questioned his partner's motives, Quick Draw uttered his Catchphrase: "Hold on thar, Baba Looey! I'll do the thin'in' around here, and dooon't you for-git it!" Upon which hilarity ensued.
The cartoon, almost entirely written by former Looney Tunes writer Michael Maltese, spoofed nearly every Western trope known. Sometimes, Quick Draw assumed the heroic identity of the swashbuckling El Kabong, bashing outlaws with his guitar. There were two supporting segments: Augie Doggie and Doggie Daddy and Snooper and Blabber.
Compare with Ricochet Rabbit and Droop-a-Long Coyote, Hanna-Barbera's other Western Series starring Funny Animals.
---
Hoooold on, thar! This series provides examples of:
---