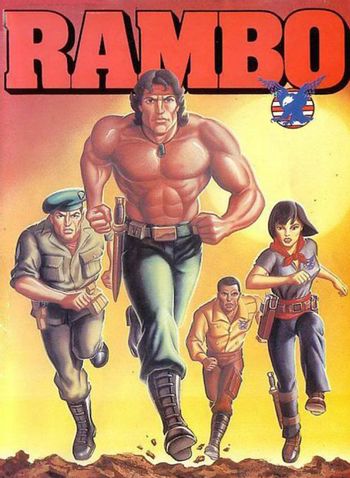 "Rambo!
Anywhere and everywhere the S.A.V.A.G.E. forces of General Warhawk threaten the peace-loving people of the world, there's only one man to call.
[Colonel Trautman: "Get me Rambo!"]
From the canyons of skyscrapers, to the canyons of remote mountain peaks, liberty's champion is unstoppable. Rambo! Helped by the mechanical genius know as Turbo and the master of disguises named Kat, the honor bound protectors of the innocent! Rambo, the Force of Freedom!"
Rambo: The Force of Freedom was a syndicated 65-Episode Cartoon produced by Ruby-Spears in 1986. The cartoon was (loosely) based on the character of John Rambo, from David Morrell's book First Blood, and the subsequent films First Blood and Rambo: First Blood Part II.
In the cartoon, John Rambo (Neil Ross) was the leader of a G.I. Joe-like team called The Force of Freedom. They went on missions around the world battling against a paramilitary terrorist organization named S.A.V.A.G.E.note short for Specialist-Administrators of Vengeance, Anarchy and Global Extortion — although in a toy advertisement included on a VHS tape of episodes from the series, it's said to mean the Secret Army of Vengeance And Global Evil), which was led by a maniacal military man named General Warhawk (Michael Ansara). Fictional countries and back-stories would frequently be featured, some of them echoing historical or current events.
The cartoon was filled with hand-to-hand combat and gunfire, with accurately-illustrated guns; yet unlike the original R-rated films, there was never any sensational violence, blood or gore, since this series was intended for family viewing. Moreover, no one ever died or got (seriously) hurt. The only real injury on the show happened when Rambo broke his arm in a survival episode. Rambo (who was seldom called by his first name, even by Trautman) used violence as a last resort and relied on his resources and guile to outwit his opponents — a trait less than characteristic of the later films (although Rambo does avoid deliberately killing anyone in the first movie). Additionally, there were no references to The Vietnam War, POWs, or Post-Traumatic Stress Disorder.note Rambo was originally a shell shocked Vietnam veteran who suffered from PTSD after being tortured in a POW camp by the Viet Cong.
---
Rambo: The Tropes of Freedom:
---