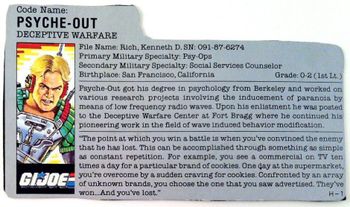 An Action Figure File Card is a brief description of a particular character included on or inside its toy packaging.
The Ur-Example is G.I. Joe: A Real American Hero. When Hasbro was preparing to revive the G.I. Joe franchise in the early 1980s, Larry Hama was hired to write a comic book based on the figures. According to this interview
with Hama, he created these "dossiers" to keep track of the toy line's Loads and Loads of Characters: "When the guys at Hasbro saw these first dossiers, they said, 'These would be cool on the back of the blister pack!'"
The file cards started simply, featuring basic information on each Joe or Cobra member's Backstory, personality, and abilities, usually accompanied with a quote by or about the character. As the line continued, Hama's writing became increasingly clever and elaborate; he often added humor to the file cards (as this article
shows). Hasbro added file cards to many of their other lines, and several competitors (most notably Playmates Toys) followed their example, making this a popular trope for action figure packaging.
Typically, a file card appears on the back of the figure's blister card, although sometimes a trading card-like insert is used instead, especially if the figure comes with a large vehicle. Many of Playmates' Star Trek figures take both options to provide a double dose of data, as does their Mysticons line.
Action figure lines with file cards, organized by toy company:
open/close all folders
Coleco
ERTL
Galoob
Hasbro
Kenner
Star Wars: When the line was revived in 1995, the earliest figures included detailed file cards, although this was eventually dropped.
The Super Powers Collection (DC Comics characters)
Lionel
Playmates Toys
Also, some Playmates figures (Antz, Chicken Run, Coneheads) have character descriptions, but not in the form of file cards.
Tonka
Spiral Zone had these in the form of pamphlets packaged with the figures.
Other
Cartoon Action Hour, being based on toyetic cartoons, uses this concept for the players' character sheets.
---