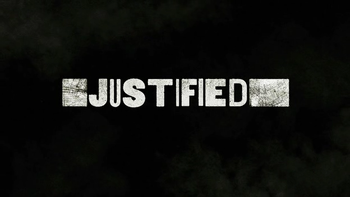 On this lonely road, trying to make it home
Doing it by my lonesome, pissed off, who wants some?
I see them long hard times to come
— Gangstagrass, Long Hard Times To Come
Justified is a 2010 FX Network series which ran six seasons; a modern western, based upon the character of Deputy US Marshal Raylan Givens, a recurring character in the works of pulp fiction writer Elmore Leonard.
The series stars Timothy Olyphant (Deadwood, Damages), as Deputy United States Marshal Raylan Givens, a Cowboy Cop in pretty much every sense of the phrase. In the pilot episode, Marshal Givens gives an ultimatum to a Miami gun runner he was investigating for a savage murder: leave town in twenty-four hours or be killed. A broad daylight western-style showdown — where the gun runner pulls his weapon first and makes Raylan's shooting "justified" — quickly follows and leaves Givens in deep trouble with his superiors over the publicity said shooting receives in the media.
To "reward" Raylan for stopping the arms dealer, the Marshal is reassigned to Lexington, Kentucky. Now back in his native Harlan County, the place where he grew up, Raylan must deal with his duties as Marshal (protecting witnesses, tracking fugitives, and arresting bad guys) while dealing with his ex-wife, his estranged criminal of a father, and the dysfunctional and criminal Crowder family, including former coal mining buddy Boyd Crowder (played by The Shield star Walton Goggins), and Boyd's sister-in-law turned girlfriend Ava. That's without mentioning the murderous Bennett clan (headed by the charming but evil Mags Bennett), the alligator-poaching, sugar-smuggling Crowes, and the various agents of the Dixie Mafia and the Detroit Mob.
The series is a mixture of stand-alone episodes and Story Arc; most notably being Raylan's attempt to reconcile with his adulterous ex-wife Winona, Boyd's attempt at redemption after nearly being killed at Raylan's hands (and the subsequent love triangle between him, Raylan, and Ava), the scheming between Boyd and Raylan's respective fathers (both part of the leadership caste of Harlan's criminal underworld), the attempts by a Miami drug cartel to get revenge on Raylan for killing the gun-runner from the pilot, the machinations of the Bennett clan (a group of pot sellers in a long-standing feud with the Givens family) who are trying to exploit the fact that a mining company seeks to set up shop in Harlan, and the attempts by the "Dixie Mafia", the Detroit Mob, and the Crowes to expand their criminal operations into Harlan County.
The series has gotten much acclaim for its successful emulation of the writing style of Elmore Leonard, unlike some previous attempts to adapt his works for TV and movies.
Also, the hat. Good lord, the hat.
Not to be confused with the tropes.
See also Harlan County U.S.A., a 1976 documentary about a strike in the Real Life Harlan County.
---
Justified contains examples of:
Absentee Actor: Rachel and Tim both make sporadic appearances in season one and two due to the actors only being signed for certain number of episodes.
Absurdly Sharp Blade: Limehouse' meat cleaver, which he uses to

chop off Quarles' left arm in "Slaughterhouse"

.
Abusive Parents: Both Raylan and Boyd have abusive fathers, though they go about it in different ways.

Tim half-jokingly states that he regrets that his father died while he was in basic training, since it robbed him of his chance to come back and shoot him.
Mags

takes a ballpeen hammer to her son Coover's hand when he displeases her.

Quarles'

father pimped him out as a child to get money for heroin

.

Accomplice by Inaction: To Hunter Mosley, the whole

Crowder family

.
Actor Allusion: In "Save My Love," Judge Reardon has a red Swingline stapler on his desk.

In an otherwise serious conversation with Winona, Raylan points to a ancient photograph of Wild-West era Marshalls hanging over his desk:

Raylan:

You see these old timers right here? Well I don't think a week goes by I don't look at them and wonder...

Should I grow a moustache?

Ethan Picker is of Greek ancestry like his actor John Kapelos.
William Mapother's character Delroy was raised in a 'commune'...much like his character on Lost.
Mickey Jones' charatcer Hot-Rod mentions having been a musician. Jones is a musician who has played with the likes of Bob Dylan.
Producer Allusion: In "Hole in the Wall" Constable Bob gets to Stab The Hostage. Executive producer Graham Yost was the screenwriter for Speed

Adult Fear:

In "Slaughterhouse", Quarles' taking hostage of the woman and her two sons. While he later lets the woman go, it's not by her choice. Her terror for her sons is palpable.

Affably Evil:

Mags Bennett.
Doyle doesn't come across as particularly evil compared to his brothers. He is a dirty cop to start with, but after the death of Coover, he just wants to protect his family.
Depending on the episode, Limehouse is either this or just an Anti-Hero (though by the end of Season 3, he swings towards the latter).
Quarles...at first. He's polite, charming, and it's clear he is a loving father, who also happens to work for the Detroit Mafia and enjoy torturing male prostitutes to death. As things get worse… the affability starts to crack.

Amateur Sleuth: When two drug dealers under his protection are murdered, Boyd cannot call the police, so he investigates their deaths himself. He tries to be methodical about it and even considers the forensics of the scene. Luckily for him, there was a witness who can identify the killer.
Ambiguously Gay: Tim Gutterson.

"You try flirtin'?"

Also Wynn Duffy, though he could be bisexual depending on the nature of his interest in women's tennis.

An Arm and a Leg:

Quarles has his arm cut off by Limehouse during the climatic battle of the season finale, and ends up bleeding on the slaughterhouse floor.

And That's Terrible: Boyd's apology to Ava. "For years I lusted after you, and I was far from subtle. Well, that was wrong."
Animal Assassin: In "Hammer", the first attempt to kill the judge involves putting a cottonmouth in his bed.
Anti-Hero/Anti-Villain: Trying to figure out just where Boyd stands is bound to give you a headache.

Mags Bennett is more clearly an Anti-Villain, though how much sympathy you have for her varies.

Anyone Can Die: Seriously. Although it's partially subverted in that the show never killed off a main cast member. (Word of God is Tim was meant to be killed by Boyd towards the end of the season, but it was decided that it would be too brutal and cruel to the fans.)

Goodbye,

Bo. Should have kept a tighter leash on Boyd

.
Goodbye,

Coover. You shouldn't have let your jealousy get the better of you

.
Goodbye,

Aunt Helen. You didn't think marrying a man like Arlo would work out, did you

?
Goodbye,

Doyle. You were wrong about which bullet was coming

.
Goodbye,

Mags. You never should have killed Walt

.
Goodbye,

Devil. Try not to double-cross Boyd in your next life

.
Goodbye,

Gary. You should have left the country like Raylan told you to

.
Goodbye,

Barkley. You shouldn't have tried to shake down Augustine

.
Goodbye,

Arlo. Hope you felt preserving Drew Thompson's identity was worth sacrificing your life

.
Goodbye,

Yolo. Shouldn't have underestimated Constable Bob

.
Goodbye,

Colt. Probably should've quit before today

.
Goodbye,

Augustine. Don't underestimate Sammy

.
Goodbye,

Sammy. You shouldn't have trusted a man like Picker

.
Goodbye,

Messer. Shouldn't have ripped off Daryl

.
Goodbye,

Paxton. You should have backed down when Boyd botched the first murder attempt

.
Goodbye,

Mooney. Being a opportunist didn't pay off in the end

.
Goodbye,

Jean-Baptiste. Too bad Danny's such an idiot

.
Goodbye,

Johnny. You ought to have learned from Devil's example

.
Goodbye,

Hot-Rod. You shouldn't have gone into business with Johnny

.
Goodbye,

Danny. You should have watched where you were running

.
Goodbye,

Mr. Picker. You shouldn't have pushed Boyd. Or accepted his offer of a cigarette

.
Goodbye,

Jimmy. Your loyalty to Boyd was commendable, even if it cost you your life

.
Goodbye,

Alberto Ruiz. You just ain't that good a shot compared to Tim

.
Goodbye,

Daryl Crowe, Jr. What you did for your family, your family repaid thrice over

.
Goodbye,

Dewey Crowe. Some guys just peak too early

.
Goodbye,

Choo-Choo. It's too bad Tigerhawk was all you had

.
Goodbye,

Walker. Let's hope whatever you served Markham for that wasn't money was worth it

.
Goodbye,

Seabass. Don't try to extort two powerful criminals in your next life

.
Goodbye,

Carl. Loyalty is a tricky thing

.
Goodbye, Mikey. Wait, no. Michael.
Goodbye,

Katherine. You should have left the dirty work to the goons.

Goodbye,

Zachariah. Sadly, we won't find out if the third time's the charm

.
Goodbye,

Avery Markham. For all your talk, you're just another dead carpet-bagger who didn't get it

.
Goodbye,

Boon. You really should have just let Raylan leave Harlan alive

.

Arc Words: "We dug coal together."
Archnemesis Dad: Raylan and Boyd's respective fathers qualify as well.
Armor-Piercing Response: Winona delivers one to Raylan at the end of the series' first episode, after Raylan tells her that he's never thought of himself as an angry man.

Olyphant seems suited to such characters as this is basically the same as Bulloch in Deadwood, a very angry lawman who's good at hiding it.

Winona: You do a good job of hiding it, and suppose most folks don't see it, but honestly, you're the angriest man I've ever known.

Arson, Murder, and Jaywalking: episode 2

"Now let me get this straight; he took your gun, your badge, your car… and your hat."

Artistic License – Geography: Early on, the writers tend to forget that it's a three-hour drive from Lexington to Harlan.
Artistic License – Military:

Tim presents his military ID to the doorman at the VFW lodge to gain entry. The doorman immediately acknowledges him not only as a soldier, but as a Ranger. A military ID would not indicate this.
Colton Rhodes:

He claims to have been demoted from the rank of Master Sergeant down to Sergeant for assaulting an officer, then forcibly discharged for (non-fatally) shooting said officer. The punishment in the former case is far too severe to be plausible; demoting a senior NCO at all is extremely difficult, and to be demoted by three ranks is extraordinary. In the latter case, the punishment is far too lenient; Colt would have served jail time for that.
When he first appears in the show, he's a relatively recently discharged soldier with shoulder length hair. For it to reach that length in the time frame indicated, it would have had to be much longer than Army regulations permit while he was still enlisted.
Colton also claims that heroin use is widespread amongst soldiers in Kandahar Airfield, due to the drug's prevalence in Afghanistan. Most soldiers stationed at KAF never leave the base while in country, and would have no means of procuring heroin. Further, the living conditions on a deployment, even as comfortable as KAF, would make heroin use almost impossible to hide. Drug use is, to say the least, frowned upon in the US military. Especially in a war-zone.
He carries a Colt 1911, which he claims was his service weapon. The 1911 was discontinued as the standard sidearm of the US Army in 1985, and while some personnel still carry them, enlisted MP's are not among them. In a similar vein, Boyd claims the Beretta 92 he usually carries is the same one he carried in Desert Storm. While this isn't entirely impossible, it would be extremely difficult as a soldier's weapon is very closely tracked, and would also be highly illegal.

Asshole Victim: Gary. He did try to get Winona murdered, after all.
Badass Family: The Givens and to a lesser extent, the Crowders.
Bad Cop/Incompetent Cop: Outside of the Marshals Service and State Trooper Tom Bergen, essentially every law enforcement officer is corrupt and ineffectual.
Bar Brawl: These are fairly common.
BFG: Boyd seems to have a certain fondness for these,

I always say, if you're gonna be a bear, you might as well be a grizzly. But this my friends is a Ko-di-ak!

Bathroom Break-Out: In "The Life Inside", Jamie Berglund attempts to escape from her captors by climbing out the bathroom window. Being eight months pregnant, she doesn't get far.
Batter Up!:

Raylan gave Dickie Bennett his signature limp with a baseball bat in their younger days. Dickie tries to return the favour in "Bloody Harlan".
"Lord of War And Thunder" is a chance for both Arlo and Raylan to demonstrate their skills with a baseball bat.

Bavarian Fire Drill: Dewey, of all people, manages to pull one off when he robs two criminals who previously ripped off an illegal drug shipment. When a clothing store does not have any ski-masks, he buys a cheap suit and a cowboy hat and tricks the criminals into thinking that he is 'Raylan Givens, US Marshal'.
Beleaguered Boss: Chief Deputy Marshall Art Mullen spends much of his time all but muttering 'What now?' as he tries to keep his deputy marshalls in line and out of trouble. When a social climbing Deputy Marshall comes around hinting that it might be time for Art to retire so he can take over Art's job, Art gives an epic description of what he's dealing with:

Art Mullen:

You came here about the job, right? You need to hear about this. I got a young kid here, decorated sniper in Iraq War, Army Ranger, I don't know how many kills he had. Always lookin' to kill somebody else.

Probably got PTSD.

Probably an

alcoholic

. Not a matter

if

that powder keg is gonna blow but

when

. I got a lady marshall here. Brought in two of the top fifteen fugitives to this office, but she's always tryin' to prove herself. I thought she was gonna be the one that would take this office over when I got ready to retire, but now she's left her husband so it's gonna be fun to monitor her emotional state over the next year, see if she can keep it together. Then I got a

local boy

, born in Harlan county, been investigated so many times internal affairs has got him on speed dial.

Father's in prison

for murderin' two people, including a

state trooper

, and his daddy killed somebody else last night in prison and

I

get to be the one to tell him about it!

Big Bad: Bo Crowder and Gio Reyes in Season 1, Mags Bennett in Season 2, Robert Quarles in Season 3. Season 4 has Theo Tonin as an offscreen Big Bad with Nicky Augustine as his Dragon-in-Chief. Season 5 has a Big Bad Ensemble, with Daryl Crowe Jr. emerging as the Final Boss near the end. Season 6 has a Big Bad Ensemble between Katherine Hale and Avery Markham. And of course, Boyd (and now Wynn Duffy) serves as the default Big Bad whenever there isn't another option around.
Big Damn Heroes:

Art and the SWAT team in the Season 2 finale.

Bitch in Sheep's Clothing:

Mags Bennett. She starts off seeming like a kindly but mischievous pot-seller, but turns out to be one of the most ruthless criminals in the entire state.
The nice looking friendly nurse who flirts with Raylan

sells human organs on the black market and is a stone-cold killer

.

Bittersweet Ending:

Boyd is alive but back in prison for a very long stretch. Most of his family has died. Raylan manages to keep his job but he's been assigned to a new office so he causes less trouble. He lies to Boyd about Ava being dead so Boyd won't chase her down. Ava must spend the rest of her life in hiding.

Black-and-Grey Morality: Ruthless criminality notwithstanding, Boyd and Limehouse are loyal to their communities and have some notion of honor, in contrast to Quarles or Augustine. And of course, Raylan's no saint himself.
Book-Ends: The main events in the second season starts and ends with a glass of Apple Pie.

Season 1, 2, 4, and 5 also end with the same piece of music, "You'll Never Leave Harlan Alive" by Darrell Scott. (Albeit covered by different artists each time.)

Boom, Headshot!:

How

Doyle Bennett

meets his end.
Quarles likes to shoot people in the head when he is using his sleeve gun. The gun probably is not very powerful and he is close enough to his victims to get an easy headshot.

FBI agent Jeremy Barkley, moments after the reveal that he's Theo Tonin's mole.

Boon explains to Loretta that he always aims for the head when drawing on someone else. He admits that gives him less margin for error and makes it easier for something to go wrong. And sure enough,

he manages to draw with Raylan on more or less equal terms, but he shoots through Raylan's hat, while Raylan gets him dead in the chest

.

Born in the Wrong Century: From the start, the series has shown how Raylan would have been perfect as a U.S. Marshal in the Old West but that mentality doesn't quite work as well in the 21st century. Witness the first scene of the pilot where Raylan gives a mobster 24 hours to get out of Miami or he'll shoot him. The mobster is amused… until Raylan shows up 24 hours later.

Miami Marshal Chief: You realize the U.S. Marshals don't just shoot people and haven't for, oh, a hundred and fifty years?

Bound and Gagged:

Quarles likes to bind and torture male hustlers. In "The Man Behind the Curtain," Sammy Tonin mentions the rentboy back in Detroit whom Quarles left in a coma, an incident that played a role in Quarles' exile to Kentucky. Several episodes show Brady gagged, nearly naked, and bound to a bed in Quarles house before Quarles presumably kills him. At the end of "Guy Walks into a Bar," Donovan is shown bound and gagged in a bathroom as a naked Quarles approaches.
In "For Blood or Money", Clinton leaves both the manager of his halfway house and his mother-in-law bound and gagged in the string of crimes he commits while attempting to get to his son's 12th birthday.

Bullying a Dragon: Two guys are upset that they lost money betting on a MMA-style backyard fight, so they decide to extort money from the winner of that fight. They just saw the guy defeat another professional fighter and they believe that a 2-1 advantage is enough for them to intimidate a guy like that.
California Doubling: Pennsylvania is used for the Appalachian shots but it is very obvious to anyone from southeast Kentucky that it is in fact not Kentucky, the mountains are different and any scene in Lexington is almost laughable because the geography is so different.
Calling the Old Man Out: An utterly magnificent example of this trope as Boyd Crowder goes all Badass Preacher on Bo during church service, in a way that gets the crowd roaring their approval.

Raylan gets his own turn, too. It involves bullets.

Canada, Eh?: In season five, we are introduced to The Canadians, two Canadian mobsters, who are the main suppliers of heroin to the Detroit Mob. They briefly discuss the merits of Tim Horton's donuts and one comments on the fact that Tim Horton played professional hockey for 20 years but is now mostly known because of the donut shop chain he founded. When Boyd comments that he thought that Canadians were supposed to be polite, they tell him that that they are not that type of Canadians. The characters are played by two Canadian comedians but are presented as someone not to be trifled with if you value your life.

They notably are much more well spoken than most of the other criminals who show up on the show

Can't Get Away with Nuthin': When

Winona

steals some money from the evidence locker and goes to the bank to test if it's real, the bank is promptly robbed. When the money is recovered, it is scanned into the Secret Service database where it raises red flags and causes an investigation.
Cast Herd: For the first several episodes of the fourth season, Raylan and Boyd and their respective supporting casts have entirely independent arcs and the two men don't interact.
Casting Gag:

James LeGros interacting with Timothy Olyphant is a big one, why? James played the character of Raylan Givens years before Tim in a direct-for-TV adaptation of the novel Pronto.
Timothy Olyphant's former Deadwood co-stars keep finding their way onto the show as well (Ray McKinnon, Jim Beaver, W. Earl Brown, Gerald McRaney, Sean Bridgers, Pruitt Taylor Vance, Brent Sexton, Stephen Tobolowsky, and Garret Dillahunt at last count).

Catchphrase:

When Boyd says, "Fire in the hole!", you'd better start running…
Also, the frequently used, "This is Deputy US Marshal Raylan Givens. I'm gonna need an ambulance… and a coroner."

Celebrity Paradox: In Season Four, Raylan recommends The Big Lebowski to Rachel. Sam Elliott, who played the Narrator in that film, portrays Avery Markham in Season Six.
"Could Have Avoided This!" Plot: In season 4,

Shelby's real identity as Drew Thompson is only revealed because 30 years ago he trusted Arlo to burn the diplomatic bag with Waldo Truth's ID instead of burning it himself, as Arlo just hid it within the walls of his house, therefore instigating the whole season's plot

.
Chained to a Bed: Poor Brady.

Also, Quarles at the end of "Measures".

The Charmer: Raylan is really popular with women. To the point where in Season 3, Art suggests using the bartender as a witness against Quarles for threatening Raylan until Raylan tells him the bartender's a woman and Art immediately groans because he knows Raylan has slept with her.

Rachel says in Season 4 that she can deal with his aloofness because he get the job done and he's easy on the eyes.
Wendy Crowe says to the social worker that he's the most judgemental asshole she ever hope to meet, but she will allow he's easy to look at.

Chekhov's Gun:

Walt McCready's watch, introduced in "The Moonshine War", becomes a major plot point eight episodes later.
Limehouse's meat cleaver in season three also served this role.
Subverted with Quarles' sleeve-gun; multiple characters note that if its rail mechanism were to jam, he'd lose the advantage it gives him, implying that this will eventually be his undoing; in the end, the gun wouldn't have done him any good regardless, since he gets his arm hacked off.

The Chessmaster:

Boyd becomes this after the events of season one. He stops being reckless and starts to carefully consider his actions and the resources at his disposal. Being one of the few criminals in the area with working brain cells kind of helps, but he can give a master of deceit like Mags Bennett a run for her money. If he feels that he cannot win, he changes the game to one where he has the advantage.
Limehouse is portrayed as one in Season 3. His community has survived for more than a century by always knowing where all the dangerous pieces are located and maneuvering around them.

The Chew Toy: Name one episode that has left Dewey Crowe better off than when it started.
Christianity Is Catholic: Averted. This is the Bible Belt, and therefore Evangelical Christianity of the Pentecostal variety. Season 4 features a snake-handler. Ellen May needs Shelby to confirm that Catholicism is, in fact, a form of Christianity.

While getting of knowing each other, Ellen May found a Saint Christopher medal. Most of Protestantism consider interssecion of the saints a form of idolatry, but is a central dogma in Catolicism.

Chronic Backstabbing Disorder:

The Crowders have a tendency to back stab people and each other. Johnny and Boyd hijack a truck of drug making supplies belonging to Bo and Boyd betrays Johnny soon after. When Bo finds out that Johnny betrayed him he

shoots him and makes it look like Johnny went after Ava

.
When some criminals try to betray Boyd during a robbery, he turns the tables on them and

they end up blowing themselves up with a bomb meant to kill Boyd

. The beautiful part is that Boyd saw it coming the second they shanghaied him into the robbery.
When hired by the mining company to buy up land for them, Boyd

figures out why the land is valuable and makes a deal with Arlo and Mags Bennett to sell the land to the company for a small fortune

.
The only people Boyd seems unwilling to backstab are Raylan and Ava. When he fights Raylan, he does so face to face.
Arlo betrays Bo Crowder to the Marshals and then turns around and betrays them to Bo. Then he betrays Raylan to Bo and

gets shot in the leg for it

.
And then to finish off Season 3,

Johnny Crowder indirectly betrays Boyd to the Marshals (he holds Boyd responsible for getting him in his wheelchair) by telling Limehouse about Devil's murder. It backfires, however, when Arlo takes the blame for the murder instead

.

Church Militant: Boyd becomes one after his near death experience, though

his father murdering his fellow converts causes him to realize that he only became one to fill the void in his life after renouncing white supremacy and has since toned down his beliefs in order to avoid getting more people killed because of his fanaticism

.
Da Chief: Art Mullen.
Clean Food, Poisoned Fork: Happens in the first episode of season 2, when Mags Bennett shares a jar of her "apple pie" (i.e. moonshine) with

Loretta's

dad and reveals that while the apple pie wasn't poisoned, one of the glasses was. In the last episode,

this happens again only to Mags herself

.
Clear My Name: Raylan is accused of Gary's murder. The whole matter is dropped, however, after Lexington can't find the murder weapon, and the FBI won't reveal who told them that Raylan is a Dirty Cop.
Cold Sniper: Tim Gutterson.

Art: Hell of a shot. Did you consider what might have happened if you missed?
Tim: I can't carry a tune, I don't know how to shoot a basketball, and my handwriting is barely legible, but I don't miss.

Comically Missing the Point: When Dewey Crowe seemingly has his kidneys harvested and held for ransom, Raylan suspects they haven't actually been removed; he persuades Dewey to try to urinate, which Dewey successfully does. Raylan tells him this wouldn't be possible without two kidneys.

Dewey: So that means... I got four kidneys?

Continuity Nod:

Raylan refers to the story of their capture of the fugitive Tiny when trying to talk Ava out of staying with Boyd.
In season 4, upon seeing an FBI badge, Raylan and Tim question whether it's real, using the same line a fugitive's family used on them a few episodes prior.

Corrupt Hick: Almost everyone in the series not part of the Marshalls office.
Costume Copycat: In "The I of the Storm", Dewey Crowe poses as Raylan, including wearing a trademark hat, when ripping off a pair of drug dealers.
Cowboy Cop: The premise, with a hat to match. The show manages to both reconstruct and deconstruct it. Raylan's antics obviously pay off, since he has a great clearance rate and the Marshal's Office has enough pull not to make a fuss about them, but he's often unable to judge his chances and the consequences of his actions, since he's so strict about fulfilling the trope. When he's forced to interrogate Wynn Duffy politely, he's absolutely furious, since he previously promised to kick his ass next time they meet. Or when his unusual way of intimidating crooks finally makes him

a suspect in a murder case

.
Crapsack World: Harlan County represents this big time. It's a major motivation for Raylan leaving town like he did when he was young and the motivation of several one-off characters, as far as the need to escape from the town, either professionally or through crime drives their actions.
Crazy-Prepared: Constable Bob tries to be this, wearing a knife to use on someone who tries to go for his gun, and keeping a "go-bag" in his squad car that includes, among other things, an assault rifle.
Crocodile Tears: When Donovan threatens to shoot Quarles for killing Brady, Quarles tears up, confessing that his own father forced him into prostitution as a child. Quarles tears were probably not genuine, but rather a means of getting Donovan to let his guard down.
Crouching Moron, Hidden Badass: Constable Bob seems friendly, harmless, and his attempts to be Crazy-Prepared come across as more goofy than anything. He also endures an absolutely brutal beating at the hands of a thug, refusing to give up Raylan the entire time, before getting his knife and killing his attacker while not even being able to stand. As Raylan puts it, "People underestimate Bob at their peril".
Dangerous Workplace: Wynn Duffy's office-trailer. Raylan has already roughed him up and threatened him there, and

Donovan showed up one night with a gun, looking for Quarles

.
A Date with Rosie Palms: Dewey is kicked out of Boyd's camp for being an 'onanist'.

Good thing, too, as it ends up saving his life!

A Day in the Limelight: Rachel in "For Blood or Money".
Death by Falling Over:

Danny Crowe.

Death Wail: Boyd when he discovers the dead bodies of

his "church"

. Mags when

Coover dies

.
Decoy Convoy: In season 4, the Marshals are trying to escort Drew Thompson out of Harlan County and into federal custody. However, they are deeply outnumbered by henchmen for the Tonin Crime Family who want Thompson dead so that he can't turn State's Evidence against mob boss Theo Tonin. Every road out of town is being patrolled by heavily armed men who are not afraid to shoot at the law. The Marshals break into two teams, one a decoy convoy and the other an escort team for Thompson. The decoy convoy, using the flashy, trademark Fed SUVS, ends up in a tense, psychological battle of IEDs and Army snipers while the other team sneakily and successfully escorts Thompson onto a train hauling coal out of town.
Deep South: The U.S. Census Bureau considers Kentucky part of the South (though not everyone does), and Harlan displays all the usual characteristics. It should be noted, however, that Justified gives a rather more nuanced version of the South than usual, as not everyone is a dumb-as-bricks racist redneck, and even some of the more redneck characters are quite intelligent. Those characters who are dumb rednecks are usually stupid because they're drug abusers rather than because of their Southern accents.
Deadpan Snarker: Da Chief is fluent in snark, and Raylan has at least a conversational grasp of the language. Raylan's fluency greatly increases in the third season.

Raylan: (after a thug pulls a knife, Raylan puts his hand on his piece) Shit. I forgot my knife.

Dirty Business: Season 4 reveals that several villains struggle with guilt over their villainy. For example, Boyd clearly does not enjoy

goading Billy St. Cyr into picking up the poisonous snake that eventually bites him

. Ava feels troubled when she arranges for Colt to

kill Ellen May

. Despite being a ruthless thug, Colt is extremely hesitant to

shoot Ellen May

and has to snort drugs to steady his nerves.
Dirty Coward: Dickie Bennett. SO MUCH.
Dirty Cop: Harlan County is brimming with them, which can make it even more challenging for the Marshals to perform their duties:

Hunter Mosley, the sheriff of Harlan County in the first season

is working for the drug cartel that wants Raylan dead

.
Doyle Bennett is corrupt in all matters pertaining to his family, though he is implied to be a decent chief of police otherwise. He probably would have been worse, but Mags likes to keep a low profile and has her family stay out of criminal activity not related to their marijuana growing operations.
The new sheriff of Harlan County, Tillman Napier, is in Quarles' pocket. He additionally tries to get frame his competition for the office for possession of narcotics and attempted murder.
Nick Mooney holds the distinction of first being a corrupt cop under Doyle Bennett, then being a corrupt deputy under sheriffs Napier and Shelby.
Out with the old, in with the new. Harlan's third onscreen sheriff tips off a criminal of an upcoming arrest on his first day in office, and only got the position in the first place due to Boyd's shady tactics. He later distances himself from the criminal element and appears to do his best to be a good law enforcement officer, despite being a federal fugitive in league with the first sheriff.
Corrupt Prison Guard: The majority of prison guards we see on-screen are corrupt. Season 5 shows many of the guards in the women's county jail and state prison secretly working for criminals, bringing in drugs, sexually abusing inmates, and generally failing to uphold order.
Agent Jeremy Barkley of the FBI, who goes on a vendetta against Raylan believing him to be dirty. Ironically, Barkley is himself aiding the Detroit mafia.

Disney Villain Death:

Coover

when he chases Loretta to the mine shaft, leading to

Raylan having to shoot him, letting him fall down the pit

in Brother's Keeper.
Disposable Sex Worker:

Quarles has a history of torturing and killing male prostitutes.
The prostitutes at Audrey's. Their pimp Delroy has them rob a bank for him; when one of them is killed in the botched attempt, he then attempts to kill the other two that can link him to the crime. After Ava takes over Audrey's, she moves from being protective of the prostitutes to physically assaulting at least one, and attempting to have another one killed who can tie her to a murder.

Dissimile: A fantastic one by Wynn Duffy in "Collateral":

Duffy: Raylan Givens, Boyd Crowder and Avery Markham are soon to converge...like the aligning of the planets, if those planets carried guns and hated my guts.

Dissonant Laughter:

In season three, when Duffy reports to Quarles that Raylan went after their Oxy clinic, Quarles just laughs. Duffy is quite perplexed.
In "Slaughterhouse," Quarles emits wheezing laughter

as he lies on the slaughterhouse floor bleeding, telling Raylan that it was actually Arlo who killed the trooper

.

Distaff Counterpart: Jackie Nevada to Raylan. They are a prime example of Strange Minds Dress Alike.
Distressed Damsel: Ava tends towards this.

Raylan: You do seem to have a penchant for getting abducted.

In "Ghosts", Winona is taken hostage.

The trope is ultimately subverted in that while she's clearly terrified, she manages to assist in her own rescue by getting her hands on a pistol and shooting the guy holding a gun to her belly in the groin and chest.

Domestic Abuse:

Ava's husband. At least, until she shot him in the heart with a hunting rifle while he was eating supper.
Arlo beat Raylan's mother, which is another reason why Raylan despises him so.
According to Boyd, his father Bo beat his mother. Every time Bo beat her, he reminded her of her wedding vows to obey him.
The black community of Noble's Holler has always acted as a safe refuge for white women who fled their abusive husbands and boyfriends. As a side-effect, Limehouse now has a network of informants throughout the area who are grateful for the kindness they and/or their mothers were shown.

Don't Split Us Up:

In season 5, Allison tells Raylan about the angry, desperate reactions of abusive parents when she and police take their children away.
In "Over the Mountain",

Daryl and Danny are shocked, then furious when Raylan takes Kendal into protective custody

.

Don't Tell Mama: Doyle pulls this on Coover and Dickie when he finds out a particularly stupid crime they've commited. They're immediately horrified, not out of fear of upsetting their mother, but OF their mother.
Driven to Suicide:

Mags Bennett

at the end of Season Two. Getting shot by the teenage girl she genuinely liked, and finding out that all her boys except Dickie are dead forces her to break out that special drinking jar of hers... the one laced with poison. The fact that

she

would be facing arrest for admitting to

Walt MacReady's

murder probably factored into it as well.
Drowning My Sorrows: Just about everyone gets a turn or two at this, though Raylan and Ava are particularly prone.

The first couple of episodes of season two showed Boyd do this in order to cope with life as a law abiding civilian as well as the guilt from his various past crimes.

Due to the Dead:

After Boyd kills Devil in self-defense, he insists on giving Devil's body a decent burial. He even says a prayer after Devil has been buried, much to Arlo's annoyance.
Averted with Delroy. After Krystal dies, Ellen May is horrified when Delroy disposes of her body in a slurry pond to cover his tracks.
Also averted with the Bennetts. After Mags poisons Walt, Coover and Dickie drop his body down a mine shaft instead of performing a burial.

Dysfunction Junction: Invoked by Art when he describes the mess that the Lexington Marshal's office has become, to another marshal angling to take over his job. In short order: Tim is a tad too eager to kill people, may have PTSD and may be an alcoholic. Rachel is always trying to prove herself, recently engaged in a (off-camera) whirlwind marriage that ended in an even quicker divorce, which has led to her acting out, both in appearance and allowing her emotions to drive her actions. Raylan has been investigated numerous times for misconduct and his father is a career criminal who killed a state trooper and just killed another man in prison. This does not even touch on the slew of other problems the audience knows the characters have.
End of an Age: The end of the "glory days" of crime, old family dynasties, and the prosperous coal mining industry in Harlan County is an important theme throughout the show's run.

By the end of the series, the Crowders, the Bennetts, and the Givens are all either dead, imprisoned, or have left Harlan county forever. Poor Dewey Crowe invokes this trope before Boyd executes him; his last thoughts were of the better days of Harlan county.

Even Bad Men Love Their Mamas: Tanner Dodd.
Even Evil Has Loved Ones: As much of a Jerkass that Danny is, it's pretty surprising to see him break down sobbing after

he buries his dog Chelsea

.
Even Evil Has Standards:

One second season episode has a pregnant inmate escaping from her pregnancy checkup with the help of two men hired by the baby's father. She thinks they're going to hand the baby off to the father, although it turns out that

the father's plan was selling the baby and killing her

. One of the two, a former EMT, was unaware of the second part, and when the other guy

tries to get him to cut the baby out

, he goes after his compatriot with a scalpel.

Theo Tonin was so angered when he learned that Quarles' father was pimping him out that he arranged for 14 year-old Quarles to kill his father.

Duffy is clearly disgusted with Quarles' proclivity for torturing male prostitutes. In "Slaughterhouse,"

Duffy admits to Raylan that he was behind the tip on Brady's murder, although YMMV as to whether it was motivated by altruism. Duffy may have merely wanted Quarles arrested.

In "A Murder of Crowes", The Canadians might be ruthless mobsters and heroin smugglers but they do not want to be in business with someone who uses a chainsaw to torture and kill people.

Scott Fenton: The idea behind organized crime is that it is supposed to be organized. When people start using chainsaws, that's a sign. And it is not a good sign.

Every Car Is a Pinto: Played with. An abandoned car by the side of the road does not explode when Tim shoots the gas tank. When he throws a Molotov cocktail at the pool of gas, which leads back to the explosives loaded in the vehicle? Yeah, then it explodes.
Evil Cripple: Dickie Bennet. Of course, he's crippled because he's evil. Raylan gave him his signature limp in self-defense when they were both teenagers.
Evil Matriarch: If Mags Bennett didn't qualify as one before,

crippling her son Coover's hand with a ball peen hammer

should remove all doubt.
Expy: Some fans consider Raylan to be one of Olyphant's Deadwood character.

Assistant Deputy Goodall is an expy of Karen Sisco, another character from Elmore Leonard novels who got a (short-lived) TV series, and was played by the same actress, Carla Gugino. In fact, as mentioned in "Cut Ties," Goodall is her married name, with no mention of her maiden name (thus potentially making it a Lawyer-Friendly Cameo). She even has a scene using the baton that Karen Sisco used in the film.
Judge Reardon is a basically a non-racist version of Judge Bob Gibbs from the Elmore Leonard novel Maximum Bob.

Failed a Spot Check:

Wynn Duffy in regards to Quarles, he should have searched under his sleeves....
Tanner Dodd fails to spot

that the step stool he is about to step on is rigged with a land mine

The Family That Slays Together: The series features several crime families, including the Crowders, Bennetts, Tonins, Reyes, and Truths.
Fearless Fool: Raylan really likes to get way over his head sometimes — he gets the shit beaten out of him twice in the series after he provokes fistfights (first with two grown men when he's drunk, the second time with Coover).

He does it again in season 3, this time

pulling a gun on Limehouse at Noble's Holler

. It doesn't take a genius to figure out this can end with a dozen shotguns pointed at you. It's probably the only time in the series so far Raylan is afraid.
Art pretty much expects that Raylan will get himself killed because of this.

Feuding Families: The Bennett-Givens feud started during Prohibition when a Bennett thought a Givens had sold him out to the cops and killed him in revenge. Almost a century later, there are suspiciously few Bennetts and Givens left in Harlan County. Helen Givens and Mags Bennet, the respective matriarchs of the two families, had kept a truce going for the last fifteen years, but over the course of the second season it begins to heat up again. The renewed conflict ends with every member of each family

dead except Raylan, Raylan's infant daughter, Doyle's two young unseen children, and Dickie

, and the latter is in prison. In the second season's final five minutes, Raylan and Mags end the feud "as it should have ended years ago," by shaking hands over glasses of Mag's home-made moonshine with Raylan unaware that

Mags has poisoned her own glass.

Fingore: In "Cottonmouth", Mags Bennett breaks her son Coover's fingers with a ballpeen hammer after his idiocy attracts the attention of the law.
Five-Man Band: Boyd's group becomes one in Season 4, before swiftly falling apart. Boyd is the Big Bad, Colton Rhodes The Dragon, Johnny the Evil Genius, Jimmy The Brute, and Ava The Dark Chick. By the end of the season Colt

is dead

, Ava is

in jail

, and Boyd is in the market for new henchmen.
Foreshadowing: Shelby shows Ellen May a medal of St. Christoper, who he explains is the patron saint of bachelors, travelers, sailors, and

pilots

.
Freudian Excuse: Raylan and his relationship with his crime boss father has been implied as one of the main reasons why Raylan is as tightly wound as he is.

Quarles' father

pimped him out as a child to get money for heroin. As an adult, Quarles tortures male hustlers in a twisted attempt to process the abuse.

Friendly Enemy:

Raylan and Boyd dug coal together when they were 19. Which would make them Enemy Miners.

Which would be an apt description of their situation in "Bulletville."

Mags and Raylan are always incredibly friendly (or failing that, respectful at least) towards each other, even at their worst. The final scene of Season Two is them sharing a drink.

Raylan is unaware that Mag's has laced her own glass — and only her own glass — with poison.

Full-Frontal Assault: Quarles strips naked before

torturing Donovan, whom he is holding captive in his bathroom. Also, while Boyd's prisoner at Audrey's, Quarles opens his robe to annoy Jimmy. After Jimmy leaves the trailer, Quarles wraps a chain around Minerva's neck and threatens to strangle her, while his robe is still open.

Gambit Pileup: Season 3 seems to be rapidly turning into one between Boyd, Quarles, and Limehouse all running their own agendas.
Generation Xerox:

Like his father, Quarles is a drug addict and a man with no qualms about depravity.

Genre Roulette: Well, subgenre roulette. Season 1 is a procedural with elements of crime drama in the serialized stuff, season 2 is a tragedy, season 3 is a bit of a gangster story and season 4 is a mystery.
Ghost Extras: The Marshal's office is padded out with around a half-dozen marshals. Art will occasionally throw around a surname when delegating tasks. But only Raylan, Tim and Rachel get the real cases.
Girl-on-Girl Is Hot: In "The I of the Storm", Dewey Crowe celebrates a score by hiring two hookers and having them make out with each other as a prelude for the main event. He calls it the hottest thing he's ever seen.
Good Ol' Boy: A lot of the residents of Harlan County.
Groin Attack: When a not-that-reformed-criminal attacks Raylan with a taser, Raylan turns things around and tases him in the nuts.
The Gun Fighter Wannabe: A few wannabe gunfighters want to test themselves against Raylan but it does not go well for them.

In season 3 Fletcher likes to test himself against men known for their gun skills. He places a gun on the table, has a third party count down from 10 and the person who can grab the gun the fastest gets to shoot the other guy.

Fletcher cheats.

Guns Akimbo: Both Raylan and Quarles end up dual wielding pistols but do not actually get to fire. They do it because they have to cover multiple people and have no one to watch their back.

As does Rachel in the pilot, for the same reasons.
In Season 4, while waiting for an assault from Detroit thugs, Constable Bob watches the door to the room he and Raylan are holed up in, wielding two pistols. He never has to fire them either.

Guns Do Not Work That Way: In the season 6 finale, Boyd attempts to pull the trigger of his Beretta 92, only to hear a click and discover it is now empty. Thing is, the Beretta's slide should have locked back upon firing the last round, a very visible indicator that the weapon is empty. Never mind why his handgun with a capacity of sixteen rounds only had about four or five in it.
The Gunslinger: Raylan is a Type D, Gutterson is a Type A.

Raylan: You ever hear of The Apricot?

Half-Arc Season: Each season thus far has established the overall arc within the first few episodes, followed by multiple case-of-the-week episodes with the pieces being moved around in the background, with the focus back on the main arc by the final episodes.
Hanging Judge: Judge Reardon, in an, erm, Justified example. He's famous for giving extreme sentences. He privately tells Raylan the reason is due to one of his first cases on the bench, where he gave an obviously dangerous man a light sentence due to sympathy: that man killed a six-year-old child shortly after, something that haunts Reardon still.
Heel–Faith Turn: Deconstructed: while Boyd becomes a born again Christian after his near death experience, the show has taken great pains to leave viewers guessing whether or not Boyd's redemption is legit or just him channeling his evil into less destructive outlets.
Hero of Another Story It's easy to see Eric Roberts' Deadpan Snarker flask carrying DEA agent Alex Miller in season 5 as the star of his own story with Hotrod Dunham as his Boyd Crowder.
Hilarious Outtakes: Some for Season 2 here.
Hoist by His Own Petard:

"Ice Pick" Fletcher from "The Gunfighter" loves to play a game with his victims. He places a gun in front of them, orders a third person to count to ten,

and stabs his victim in the hand when he goes for the gun.

When he tries this against Raylan,

he yanks the tablecloth, Fletcher gets his icepick stuck in the table, and Raylan shoots him full of holes.

Danny Crowe

dies because he tripped and stabbed himself in the neck with his own knife while trying to kill Raylan with it.

Hookers and Blow: The local brothel has become a prime location to buy illegal drugs.

When Boyd captures

Quarles

he chains him up in a trailer and to keep him docile he provides him with a supply of pills and two hookers to keep him company

Ho Yay: In addition to the listings on the YMMV page, it's invoked in "Save My Love," after Raylan describes his trust/hate relationship with Boyd.

Raylan: While he has tried to kill me, and I have shot him, and imprisoned him, and I wouldn't be surprised if our paths again cross in such a manner, he has had my back on two occasions: once was the last day I was in the mine, and the other not so long ago.
Carol: My. Sounds like a love story.

Hypocrite: Ava. Throughout the series, Ava has struck back against abusive men, killing her abusive husband Bowman as well as

Delroy

. However, as a madame, she has no qualms about inflicting violence against other women. For instance, she slapped around Ellen May when she erroneously thought Ellen May betrayed her, then minimized the incident in season 4.
I Am Not My Father: An important theme for Raylan, he saying the line at least a couple times.
I Am Spartacus: Invoked:

Miami Gun Thug:

All we want is Raylan Givens!

Raylan:

I'm Raylan Givens!

Boyd:

No, I'm Raylan Givens!

Raylan:

Are you trying to be funny?

Boyd: A little.

I Lied: Raylan's response to Helen after she returns the money Arlo took from the Marshals on the condition that Raylan leave Harlan and avoid the Bennets.
I Never Said It Was Poison: When the marshals yank a pair of suspects out of a car in "Save My Love", one of them immediately says she doesn't know anything about a bomb threat and doesn't even have a cell phone. Gutterson's response is that no one mentioned a bomb threat.
Inadequate Inheritor: Both Quarles and Nicky Augustine feel this way about Sammy Tonin, both seeing themselves as better heirs to the organization. Once Sammy does inherit the organization, he runs it into the ground in a couple of months.
I Take Offense to That Last One!: As Raylan and Wynn Duffy are discussing Wynn's new role under Quarles:

Raylan: He's got the ice-cold, remorseless, bottle-blond, shit-bag killer doing scut work.

Duffy: Deputy, are you accusing me of being a fake blond?

Iconic Outfit: Boots, slim fit jeans, hip holster, designer shirts, skinny tie, blazer, and not-quite-white hat make Raylan Given's look immediately recognizable and iconic. So much so that in one episode Dewey collects the above items and attempts to impersonate Raylan. It works ... until the real Raylan finds him.
Idiot Ball:

Winona

really should have know that any money stored in the evidence locker would have its serial numbers recorded specifically to catch anyone who might try to steal it.
Let's not even get started on

Gary dealing with the Dixie Mafia not once, but twice. It was stupid enough to borrow money from a shady loanshark in the first place but at least he tried to work out a deal with the loanshark and it was Wynn Duffy who escalated things. However, dealing with Wynn Duffy AGAIN and trying to get him to kill the very man who saved your sorry butt the last time you got in trouble takes idiocy to a whole new level.

Arlo has a lifetime of criminal experience and knows all the players in the Harlan County criminal community really well. There is no excuse for him failing to realize that Dickie Bennett would recognize that it was Arlo who helped Boyd

rob Dickie's big drug deal

. Given the bloody history between the families he put himself and his wife in mortal danger.
However, in the scene afterward, Arlo points this out, stating that he is nervous that Dickie made him. He still does not do anything about it until it is too late.
Boyd did a good job capturing Quarles. Unfortunately, he had a couple of Oxycontin addicts guard him, and left a nice bottle in the room. Not to mention putting him on a "chain" long enough to strangle them with — while standing.
Dewey Crowe is an Idiot Ball All-Star, but gets special consideration for his plot to rip off the criminals who robbed the Oxy bus by pretending to be Raylan — predictably, this allows Raylan to get involved and figure out his involvement within hours.

Impersonating an Officer:

Stupid crook Dewey Crowe decides to rob two toughs who stole a large amount of drugs from the Dixie Mafia. When the local clothing store does not have any ski masks in stock, he instead buys a suit and a cowboy hat. He then proceeds to impersonate US Marshal Raylan Givens and successfully pulls off the robbery. When Raylan finds out about it, he is quite pissed and tracks Dewey down. It does not help matters that the two toughs have also tracked Dewey down and when Raylan identifies himself, they open fire on him since they will not be fooled by the same trick twice.
In season four, a Detroit hitman is tasked with killing Drew Thompson but no one knows what identity Drew is currently using. The hitman disguises himself as a sheriff's deputy and goes to the houses of men who could be Drew and shoots them dead. He is exposed when he tries to arrest Boyd Crowder and Raylan is present. Raylan just spoke to the sheriff and the sheriff would have mentioned if he sent someone to arrest Boyd. Before Raylan can check in with the sheriff, the hitman panics, draws his gun and is shot dead by Raylan.

I'm Standing Right Here: In "For Blood or Money", Art is talking to Raylan and describes Rachel as the best marshal under his command:

Raylan: You do know I sitting right here?
(Art eyes Raylan up and down)
Art: I do.

The Informant: Arnold Pinter, a bookie who regularly provides information to the Marshals Service. To his own benefit, of course.
Informed Attractiveness: Happens constantly with Ava in the first season, less so in the second one.
Informed Ability:

A lot is made of Coover being a "genius" pot grower whenever he's off-screen, but on-screen he never seems to do anything with it except smoke it.
Tim is supposed to be a trained sniper, and is frequently seen carrying and firing a scoped rifle, but he's never actually required to take a shot that would require anything more than rudimentary experience with firearms.
Colton explains that he can detect heroin users by "the hitch in their step." This does not exist, in-universe or otherwise.

Insistent Terminology: Raylan always corrects someone who calls him a cop: He's a Deputy Marshal. He similarly corrects some people who call him "Marshal".note
Instant Sedation:

Averted when Dewey is injected with a tranquilizer in prison. The tranquilizer is injected by a trained doctor directly into a blood vessel in the neck and Dewey is still able to get up an trash around the room for a while before losing consciousness.
Subverted again in the following episode; Raylan falls to the ground immediately after being injected and seems to be knocked out, but is either still conscious and faking or comes to pretty quick.
Played straight when Raylan is interrogating an injured suspect by denying him morphine, then applying pressure to his wound. When a nurse comes in, Raylan quickly releases full dose which instantly incapacitates the suspect to the point where he can't tell the nurse what was going on.

Internal Affairs: After Raylan for the Miami shooting, though they quiet down after the first season.
Interrogation by Vandalism: In "Hammer" Raylan questions the clerk in a smoke shop. He keeps picking and dropping bongs till the man tells him what he wants to know (he does pay for what he broke before her leaves the store).
In the Blood:

This is a major concern for both Raylan and Boyd since they both rebel against the life of crime their families have been leading for generations. Neither wants to Turn Out Like His Father. Raylan is more successful in this than Boyd.
In "Debts and Accounts" Raylan finds some peace because he realizes that he

broke the law

because he is in love with Winona and not because he is an outlaw like his father. Boyd has the opposite realization and

starts to rebuild the Crowder gang

. He even tells

Johnny

:

Boyd: It's in your blood.

Mags seems to have genuine concern over this for her sons. She realizes Coover and Dickie are both irresponsible, irredeemable criminals, and Doyle is

a corrupt cop

, but she says she has hope to build a legitimate future for Doyle's children and, later, for Loretta.

Invulnerable Knuckles: Averted with Delroy. After Delroy beats up Ellen May, Ava notices that his knuckles are scuffed up.
Ironic Echo:

"It was in the glass, not in the jar..."

Mags

repeats this line twice: once when she poisons

Loretta's father

, and once when she poisons

herself

.
When Constable Bob Sweeney says it it's played for laughs, but as Raylan later admits, "Folks underestimate Bob at their peril".

Jerkass: Mags Bennett's kids, Coover in particular.
Jurisdiction Friction: The Marshals have very specific jurisdiction when it comes to criminal matters and Raylan tends to stretch it or just go outside it. Usually the other law enforcement agencies are fine with it since they still get credit for closing the case but in season 3 Raylan ends up in the middle of a major FBI investigation and has to lie through his teeth to justify his actions.
Kissing Cousins: When Raylan and Tim question an escaped convict's ex-wife and her cousin, Tim immediately realizes they're sleeping together. Later when the ex-husband arrives:

Coop: Y'all sleeping together?
Shirley: We're cousins!
Coop: Well, from all the lotions, condoms and devices I saw sitting on your nightstand it's clear you're sleeping with somebody.
Dupree: ...Well it's not like we're first cousins or anything.

Lame Pun Reaction:

In "Thick as Mud" Raylan and Rachel are pursuing a hospital nurse who is

probably taking out kidneys from victims

. Raylan calls him "Lawrence Nightingale". Rachel isn't amused by the slightest.
Raylan reacts poorly to an after-action report that says he

"disarmed" Quarles.

Last of His Kind: An interesting take in the series finale.

At the end, Raylan and Boyd are the last living members of the main, Kentucky-based Givens and Crowder families. While they have children, Raylan only shares custody of Willa, as he never manages to get back with Winona; and Boyd fathered a son, but he will never know that, as Raylan helps keep that information a secret. Both children were also born and will be raised far way from Kentucky.

Lawyer-Friendly Cameo: Carla Gugino appeared in season 3 as a character who is clearly supposed to be Karen Sisco, the Elmore Leonard character she played in a short-lived TV series — but due to licensing issues, the name is never mentioned (she's referred to as "Assistant Deputy Goodall," which is a married name).
Light Is Not Good: The fair-complexioned Quarles is a ruthless villain. Raylan once referred to him as a "big-toothed albino-looking son of a bitch." When Quarles and Duffy walked into the bar where Raylar was bouncing, the bartender said Quarles looked like an "albino deer."
A Lighter Shade of Black: Boyd is this compared to some of the other show's villains. He and Mags maybe be roughly on the same moral level, but Boyd compared to Dickie? His Daddy Bo? Or Quarles? Boys tends to come out the lesser evil. Of course, being a Villain Protagonist helps.
Literal Disarming: A running Chekhov's Gun is that villain Robert Quarles has a secret gun rail hidden in the sleeve of his jacket. Any time he extends his arm, his opponent is in danger of being shot and killed. In the season finale, Quarles extends his arm to shoot the protagonist, Raylan Givens, only to have his arm cleaved off at the shoulder by Limehouse, the butcher Quarles had threatened earlier in the scene.
Low-Speed Chase: "Blaze of Glory" ends on one of these, between a U.S. Marshal with a bum knee and an old man dying of emphysema. The latter has taken off his oxygen tank, both because it's slowing him down and he's entertaining death as an option, and the Marshal is trying to get it back to him.
Mad Bomber:

Boyd is an explosives expert and he really enjoys himself when he gets to blow up stuff.
Lemuel Becket might seem like a harmless grandfather but he sells black market rocket launchers and builds bombs for his customers. He even

rigged his workshop with land mines

in case one of his customers tries to rob him.

Meaningful Name: "Shot All To Hell" more than lives up to its title. With

five

people gunned down by episodes end.
Missing Mom:

Raylan's mother is dead, and buried in the front yard of his childhood home. Her grave is next to ready-and-waiting plots and already-carved headstones for him and his father. For some reason, this used to creep him out as a child.
In "Slaughterhouse", Quarles tells the two boys that he never got to know his mother, since she died when he was very young.
Although Bo was a prominent character in the first season, Boyd's mother is almost never mentioned.

Mistaken for an Imposter: After

Dewey Crowe dresses up as Raylan to rob some criminals

in "The I of the Storm":

Raylan: Deputy Marshal Raylan Givens. I'm gonna need you to stop right there, hands where I can see 'em.
Cutter: I ain't falling for that shit again! *opens fire*

Mob War:

With both Dickie Bennett and Boyd Crowder trying to gain control of the criminal underground in Harlan County things quickly descend into violent conflict.
The Dixie Mafia has a passing interest in the area and when Quarles takes charge they move in full force. This puts them into conflict with Boyd's new gang and things quickly turn violent.

Molotov Cocktail:

Boyd uses one to torch a meth lab in "Hammer".
In "Decoy" Tim and Art use one to

torch a car they suspect has a remotely controlled bomb in it

.

Mood Whiplash: Danny Crowe goes from telling a surpisingly touching story about how he came to adopt the recently deceased Chelsea to dying in a hilariously anticlimactic way.
Mook Horror Show: In "Measures," Quarles goes into the house of two drug dealers under Boyd's protection to steal their drugs. He shoots one with his sleeve gun and subdues the other after a struggle. Quarles then proceeds to mercilessly punch the mook and slash his face and throat with a katana. The encounter ends with Quarles spattered with blood.
The Most Wanted: Despite being a lawman himself, Raylan finds himself in this position in the season 3 episode "Watching the Detectives." After the criminals he's pursuing turn the tables and make it look like Raylan murdered his ex-wife's new husband, Raylan finds himself benched by the US Marshals Office of Internal Affairs, wanted by the FBI for corruption charges, being investigated by the US District Attorney for possible unjustified shootings in the line of duty, wanted for questioning about the murder by the local police, and also targeted by the very criminals he was pursuing when this whole thing kicked off. This is all while he's trying to clear his name despite orders to stay out of it.
Mr. Fanservice:

Between the hat and the accent and the long, long legs. . . I'll be in my bunk.
Quarles also qualifies. Neal McDonough has a brief nude scene in "Guy Walks Into a Bar," and a shirtless scene in "Coalition."

Mutual Kill:

Raylan almost convinced two criminals to drop their guns and surrender to him when they realize that only one of them will be able to make a deal for immunity and the other will go to prison for a long time. They turn on each other and before Raylan can stop them, they shoot each other. One dies instantly and the other sustains a fatal wound.

Rodney "Hot Rod" Dunham

kills a former associate with a pencil to the neck; the latter is able to mortally wound the former before bleeding out.

Mythology Gag: A minor one, but Raylan acts as a father figure for Loretta after her own is killed. In the books it's mentioned that "Loretta" was one of the names Winona wanted for a girl.
Naked Nutter: A very serious example in Season 3, where Quarles strips down before taking a huge amount of drugs and torturing Donovan.
Never Bring A Knife To A Gunfight:

Inverted to spectacular effect in the third season finale.

Quarles loses his sleeve gun — and the arm it's attached to — to Limehouse's gigantic butcher knife.

Discussed with Knife Nut Danny Crowe, who's obsessed with the 21 Foot Rule. This is the theory that a combatant with a knife actually has an advantage on a combatant with a (holstered) firearm at ranges of 21 feet or less, because he can close the distance and attack before his opponent can draw, aim, and fire a gun.
Played for laughs when a thug pulls a knife on Raylan and he simply pulls back his jacket to reveal his gun.

Raylan: [puts his hand on his gun] Shit. I forgot my knife.

Never Mess with Granny:

Raylan's aunt/stepmother, Helen, is regularly seen with her shotgun, and there is no doubt she'd be happy to use it.
Mags Bennet, the second season villain, is a grandmother, and one of the most dangerous people on the show.
Dewey Crowe attempts to steal gas from the car of an old woman, who initially seems sympathetic but is really just buying time to get her shotgun.

Never Speak Ill of the Dead: Boyd. Despite Bo's countless evil actions in life, Boyd speaks of his late father respectfully. Also, Boyd spoke of the late Devil as a friend, even though he was forced to kill Devil in self-defense.
Nice Hat: A simply marvelous hat. The episode he loses it is even called "Hatless."
No Accounting for Taste: Helen and Arlo Givens seem to hate each other, insulting each other at every opportunity. However Helen is fiercely protective of Arlo, even given his first wife was Helen's physically-abused sister. Arlo doesn't get his Aw, Look! They Really Do Love Each Other moment until

after Helen's death.

No-Holds-Barred Beatdown:

Boyd is on the receiving end of one in Bulletville.

Noodle Incident: Duffy asks Quarles where he got the track for his fancy sleeve gun. Quarles begins to relate a story ("It's funny you should ask that...") about Christmas shopping, but he's interrupted mid-sentence.
No-Paper Future: Dewey gets a glimpse of this when he has to raise a lot of money real fast and quickly realizes that the places he is capable of robbing don't carry much cash anymore. Even a strip club does not have much cash on hand at ten in the morning.
No Smoking: Generally played straight though a few instances of smoking are used for dramatic purposes. This is lampshaded by Art in "Decoy" when Tim needs a lighter or some matches and it turns out that none of the Marshals and State Troopers present smoke. Art comments that he did not expect this to happen in Kentucky of all places.
Nothing Up My Sleeve: Quarles.
Not His Blood: In season 5, Chief Deputy Art Mullin is escorting Raylan's girlfriend to protective custody. Darryl Crowe, Jr., assumes that Raylan, himself, would be escorting his own girlfriend and sees this as a perfect opportunity to kill Raylan. However, instead of getting a bead on Raylan to be sure, he fires wildly sending Art and Allison scrambling. In the aftermath, they check for injuries.

Art (Stands up from covering Allison): Oh, you're bleeding!
Allison (Looks at her shirt and then at Art): It's not my blood...

Not So Different: A major theme with Raylan and Boyd.

Boon think this about Raylan and himself about being quick pistol drawers.

In fact is the only one in the entire series who was up to the game, almost killed Raylan if he wasn't so obsessed to aim to the head instead the heart, as Raylan always did. Previous in an earlier season, Tim can do that but only because he's a excellent marksman and he already has his pistol drawn

.

Not-So-Harmless Villain

The series likes to show that even Stupid Crooks can be incredibly dangerous.
Played with in "Murder of Crowes". The Canadians are played by two well known comedians so the audience instinctively starts to think of them as comic relief. Then one realizes that the other characters treat them extremely seriously and it becomes clear that beyond some simple Canada, Eh? banter there is nothing really comedic about the two Canadian mobsters. In fact, they are serious players who have no problem

having Sammy Tonin killed

and who would not tolerate someone like Boyd jerking them around.

An Offer You Can't Refuse: When Raylan asks as an impromptu mediator between Markham and

Loretta

, he refers to the trope by name when he explains that bad things happen to people who refuse Markham's offer to buy their land for the second time.
Offing the Offspring: Arlo's tried this, twice.
Offstage Villainy: Wynn Duffy is occasionally mentioned to be totally Ax-Crazy in a cut-your-face-off kind of way, but we never actually see him do anything worse than kill someone.
Once a Season: Each season finale ends with a different rendition of the folk song You'll Never Leave Harlan Alive.
The One Who Made It Out:

A major theme of the series. Many characters dream of leaving and starting a better life somewhere else, but few follow through with it.
Faced with either working in the coal mine for the rest of his life or becoming a criminal like his father, Raylan Givens manages to escape Harlan and become a U.S. marshal, and is understandably irked when assigned to the Kentucky office at the beginning of the series.
Bowman and Ava Crowder wanted to get out of Harlan and vainly hoped that as a local football star Bowman would get a college scholarship and ultimately play professionally. After Ava kills Bowman she has a chance to leave Kentucky but decides to stay.
Mags Bennet's main motivation is providing her grandchildren with the opportunity to go to college and get away from the criminal life she and her sons are living. Even she later gives up on the latter.

Only a Flesh Wound: Generally averted though some Made of Iron characters should take more damage.

Arlo gets shot in the leg in each season and takes some time to recover from each wound
Boyd survives being shot in the pilot episode but is in the hospital for a long time. While Raylan might not have actually wanted to kill him, he still shot for the center of mass and did not try any fancy shoulder or hand shots. Boyd is simply lucky to have survived.
This is played straight at the end of "Bloody Harlan" only to be then subverted in the following episode. After being shot, Raylan should be on his way to a hospital rather than walking and talking to people. However, three weeks later he is shown to be still in a lot of pain from the wound, restricted to desk duty and unable to perform his usual Quick Draw and Improbable Aiming Skills feats.
Completely averted with Johnny Crowder. Shot in the midsection in season 1, he spends all of seasons 2-3 confined to a wheelchair. In season 4 he can walk, but only leaning heavily on a cane. By season 5 he can finally walk unassisted, but still has a noticeable limp.

Organ Theft: In season 3 a group of criminals sell organs on the black market. However, they primarily harvest the organs from the recent corpses of convicts who died in prison rather than then by stealing them from living people. They have access to the prisoner's medical records and use people trained in this type of operation. The one time they operate on a live person

it is a ruse to make the victim think that they took his kidneys so he steal for them. All they did was make a couple cuts and sutured them up

Outlaw Town: Harlan County is a Wretched Hive, but the township of Bennett is a true Outlaw Town, ruled by marijuana kingpin Mags Bennett. With her son Doyle acting as Chief of Police, and her other sons, Dickie and Coover, controlling the town's drug-trade, Mags is the uncrowned Feudal Overlord of the town, using it as a front for her drug operations, which expend throughout Harlan County, Kentucky, and beyond.
Outside-Context Problem: Quarles initially appears as this with his big plans and the ability to turn people like

Wynn Duffy and Devil

to be his accomplices. However, both Raylan and Boyd quickly figure out what type of villain he is and invert the trope on him revealing him to be too Wrong Genre Savvy to understand how they are beating him.
Perfect Poison: The unidentified poison that Mags puts in her "special" cider glass, which kills in a few minutes or less. Even the Medical Examiner is unable to identify its presence in a man killed by it, although the corpse in question has had time to decompose.
Post Coital Collapse: "Where's Waldo?" begins with Raylan and Lindsey collapsing in bed after a vigorous coupling and she comments that he's getting good at that and they proceed to have a Talking in Bed scene about her job. Lindsey has a Modesty Bedsheet on while the camera simply stays above Raylan waist.
Power of Friendship: One of the underlying arcs of the series. All of the overlapping gambits between allies and enemies alike, it all boils down to how you love your friends no matter what. Even when you shoot them.

"Raylan and Boyd dug coal together."

Pregnant Hostage: Jamie Berglund in "The Life Inside". When Raylan and Tim storm the hideout, he holds a gun to her belly and threatens to shoot.
Prematurely Marked Grave: One of the many abusive things Arlo Givens did to his son Raylan was to put up a grave marker with Raylan's name next to their house. When Raylan's mother died, Arlo decided to bury her in the plot next to the house and he got such a great deal on the gravestone that he decided to save money and ordered gravestones pre-made for himself and Raylan. Arlo was not deliberately malicious in this instance but he still insisted on putting up the markers to 'reserve' the spots rather than storing them in the shed or basement. So poor Raylan spent a large part of his childhood being greeted by the sight of his own gravestone every time he left his house.
Promotion to Opening Titles:

Since Boyd had to be hastily written into the show, Walton Goggins didn't appear for a few episodes in the first season until his storyline could pick up. He doesn't get his Main Title credit until the opening of season 2.
Jere Burns (Wynn Duffy) gets promoted in Season 5.

Pulled from Your Day Off: Played for Drama. Givens is taking the day off to go house hunting with his pregnant ex-wife/girlfriend Winnona when he gets a call about a problem in Harlan County. Raylan is the only one who can properly resolve it so he apologizes to Winnona and leaves. Winnona seems to be fine with this but it is actually the final confirmation for her that Raylan has not changed and will not prioritize her and their child over his job. Soon after she breaks off the relationship and leaves.
Put Down Your Gun and Step Away: Beautifully subverted in "The Life Inside" where a criminal holds a pregnant woman hostage and tells this trope to the two Marshals with guns on him. One of whom is a trained sniper who happens to be an expert in head shots. The criminal doesn't believe he can pull a headshot with a han-
Pretty Little Headshots: Played straight Season 2 Ep 2, and horribly subverted in Season 2 Ep 3.
Quick Draw:

Raylan combines this with Improbable Aiming Skills. Subverted in the beginning of season 3 when

his injuries wound make it impossible for him to quickly draw his gun.

Quarles uses a spring-loaded sleeve gun device to quickly get his gun and shoot people before they realize what is happening.

Rape as Backstory:

Quarles' father pimped him out as a child to get money for heroin. Quarles also has a history of violence against male hustlers which has strong sexual overtones.

Rape as Drama: Heavily implied with Quarles but not shown on screen. Several episodes in season three either show or make reference to Brady, naked and bound to a bed in Quarles' house.

In "Guy Walks into a Bar," Quarles strips naked and walks into a bathroom where Donovan is bound and gagged, strongly suggesting that Quarles has sexual violence in mind.

In "Slaughterhouse," Duffy tells Raylan that Quarles has a thing for young boys, again strongly suggesting that Quarles sexually abuses his captives.
"The Reason You Suck" Speech: Raylan delivers an amazing one to Dickie Bennett

before shooting him and hauling him back to jail for breaking into Loretta's place to find Mags's money banked with Limehouse.

Redemption Failure: Boyd Crowder tries to go straight but circumstances keep pointing him back toward a life of crime.
Red Herring:

Quarles' wrist-gun. It's built up as an obvious counterpoint to Raylan's quick draw ability, but

Quarles gets his arm chopped off before he can do anything.

Danny Crowe, a Knife Nut, is obsessed with the 21 Foot Rulenote , seemingly to set up a final confrontation with Raylan. Although the situation is set up three times, the confrontations are never played out to their conclusion

(the first time Danny backs down; the second time both combatants are hit by a truck before they can begin; the third time, vs. Raylan, Danny falls into a hole halfway through his attack and impales himself on his own knife).

Refuge in Audacity: Raylan falls into it with his stunts. Once, a bullet with his fingerprints on is found at a crime scene — he explains that the likely perpetrator could leave the bullet there, since during their previous meeting, Raylan had dropped it onto him and said that the next one would be coming a lot faster. Even the pretty hostile investigator on the case calls it the most awesome thing he ever heard.
Revisiting the Cold Case: Mob boss Theo Tonin killed a FBI informant but the murder could not be tied to him because the only witness, drug smuggler Drew Thompson, died when he jumped out of a plane and his parachute failed. Twenty years later, the US Marshals discover that Drew faked his own death and the dead body belonged to someone Drew killed. The Marshals reopen the case and try to track down Drew. They run into major problems since they have no photos of Drew and only a vague description based on two decade old memories.
Rousing Speech:

Boyd gives one against the sheriff in Quarles' employ during a town hall meeting and it's quite effective. People in Harlan have very long memories when it comes to their struggle against the coal mines and Boyd knows perfectly how to tap into that sentiment.
Mags gives one in a town hall meeting against Black Pike mining. It causes the entire town to rally behind her cause. in fact it's all a ruse to get the town to sell her their land so SHE can sell it to Black Pike for three times their original offer for it, pocketing the money for herself.

Russian Roulette:

The episode appropriately named "Harlan Roulette." Glen Fogle plays this game with one of his oxycotin-addicted flunkies, forcing him to play it in return for a single pill. The flunkie does it. Twice. And then gets so frustrated he aims the gun at Fogle and fires.

It wasn't loaded after all. But the gun Fogle fires at the man is.

Raylan of all people plays this game with Wynn Duffy to get him to talk. Duffy is not amused.

Sadistic Choice: If you work for Limehouse and you fail him, you either risk losing the flesh in your hand, or walk away promising to never fail him again, or else....
Salt and Pepper: Though a subversion, this occurs whenever Raylan and Rachel work together, especially seen in "Long in the Tooth" where they discuss their differences outright. Raylan tends to be the laidback one while Rachel is more strict.
Scary Black Man:

Limehouse might not look particularly scary but his methods and the way he talks are terrifying.
Invoked in an episode where one of Gary's friends, a former NFL player, offers to play this role in a business meeting to intimidate Gary's creditors into backing off. While he is big and imposing, Wynn Duffy is not impressed.

Seen-It-All Suicide / Driven to Suicide:

Surprisingly, Mags.

Self-Made Orphan: When

Theo

learned that young

Quarles

was being pimped out by his own father, he arranged for the father's death at the son's hands. Afterwards,

Theo

adopted

Quarles

as his own.
The Seven Western Plots: A marshal story set in the modern day, dealing with U.S. Marshal Raylan Givens dealing with his duties as a marshal, his ex-wife, his criminal father, and criminal clans like the Crowder family and the Bennett clan.
Sharp-Dressed Man: Quarles, contrasting heavily with the more simple dressed criminals from Harlan.
Shell-Shocked Veteran: Tim.

Tim :"Either that, or I'm having a full blown PTSD episode."
Art: "...those happen often?"
Tim
: "Only when I'm handling firearms in public"
---
We dug coal together.