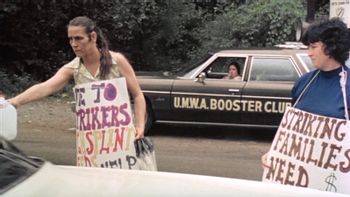 Harlan County U.S.A. is a 1976 documentary film produced and directed by Barbara Kopple.
The film, done in "cinéma vérité" style, documents a violent year-long coal miners' strike in 1972-1973. Workers at the Brookside Mine in Harlan County, Kentucky went on strike in June 1972 after the Eastover Coal Company, and its owner the Duke Power conglomerate, refused to recognize the miners' union contract affiliating them with the United Mine Workers of America (UMWA). Eastover and Duke Power insisted on a no-strike clause in the contract, which the workers at the Brookside Mine refused to agree to, fearing a loss of leverage in the future.
The result was a violent, traumatic year-long strike, in Harlan County, a place that was already called "Bloody Harlan" after a violent, traumatic miners' strike in 1931. In the film, workers earning poverty-level wages and no benefits, living in dilapidated trailers with no running water, strike for better working conditions and benefits. Duke Power responds by getting the local police to keep the road to the mine open so scabs (strikebreakers) can enter, and hiring gun-toting thugs to intimidate strikeworkers. In one scene Kopple, then 26 years old, and her cameraman are shot at and the cameraman is assaulted by a Duke Power thug. Workers respond to these intimidation tactics by protesting at Duke Power shareholders' meetings and picketing outside of the New York Stock Exchange. Finally, after a striking miner is shot and killed, leaving his 16-year-old wife and newborn child widowed and orphaned respectively, Duke Power folds and agrees to the contract.
Won the Academy Award for Best Documentary Feature. A decade later, Kopple followed this film up with American Dream, another Academy Award-winning documentary about a labor strike.
See also Justified, the well-known fictional TV series set in Harlan County.
---
Tropes: