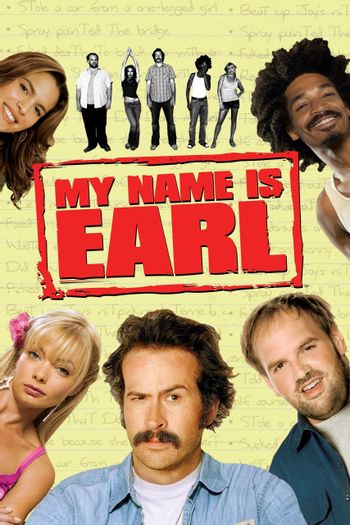 Earl: Do good things and good things happen to you. Do bad things, they'll come back to haunt you.
Randy: That's deep, Earl, so why don't you stop hogging those Vicodins they gave you and we can all chat about that for a while?
An NBC sitcom created by Greg Garcia and starring Jason Lee as Earl Hickey, a petty criminal, drunken vandal and all-around piece of obnoxious white trash.
The show's story begins after Earl has a revelation one fateful day. He wins $100,000 from a Scratch 'n' Win lottery ticket only to get hit by a car during his celebration dance, losing the ticket to the wind and putting him in traction. While he's high on painkillers, his promiscuous wife Joy hands over divorce papers so she can run off with Earl Jr.'s real daddy, Darnell. While watching TV, he sees Carson Daly explain the concept of karma.
It occurs to Earl that the reason his life sucks is because he's done nothing but bad things to a lot of people, and that maybe he would have better luck if he made up for them. To that end, he prepares a list of all of the bad things he can remember doing, and starts finding a way to make up for them, one by one. Starting on his first item of picking up litter (because he used to litter a lot), he walks to the trash and comes across his missing lotto ticket. This is evidence to him that karma really does work, and he sets out to scratch every item off the list. The Lotto money allows him to focus all his attention on his list.
Most episodes show how Earl deals with one entry on his list, helped (and sometimes hindered) by his friends, most often his simple brother Randy, a new friend Catalina and sometimes even Joy and Darnell. Any given item on his list is likely to be more complicated than a simple "stole 10 dollars" where it causes additional problems for the person involved and Earl goes to extremes to repair the damage he caused. He initially starts out of karmic fear, but he finds that dedicating himself to the list and doing good things changes him. It causes a similar ripple effect through Camden.
The show falls well down the ideal side of the Sliding Scale of Idealism Versus Cynicism; the concepts of karma and inherent goodness are integral to the premise, and indeed, to most of the episode plots. Despite this, it does not shy away from many ideas and topics that other shows on that end do. It also adheres more strictly to the concept of karma than straight idealism, meaning it's a little more realistic and/or cynical than the usual idealistic fare. Many bad things happen to the characters, but they almost always provide character development, and serve an ultimately good purpose.
The show ran from 2005 to 2009 before it was cancelled after four seasons. Several rival networks expressed interest in picking up the show after its cancellation, though this would have resulted in near-universal pay cuts, and so the show ended with no real resolution and several unresolved plot devices.
---
This show provides examples of:
open/close all folders
A-F
Coming-Out Story: The pilot episode centers around Earl helping Kenny to come out of the closet, to make up for bullying him during their childhood.
Commune: Earl recalls that he once robbed a stoner of all his possessions during a Heat Wave a few summers back. He tracks the guy (Christian Slater) down, and finds that he's living in a hippie commune outside of Camden, and thus doesn't want his air-conditioner or other items back. He teaches Earl about climate change...but also that it's going to be small changes that help prevent an Apocalypse How.
Continuity Nod: Countless instances of references, varying in subtlety

Season 1: "This is the sweetest, most justified kidnapping I've ever seen" - "How many have you seen?" - "Five or so"

Season 2: "This is the cruelest, most unjustified kidnapping I've ever seen" - "How many have you seen?" - "Six or so"
Eskimos Aren't Real: During one episode Randy tries to make a list of famous rich people he and his brother could borrow from, like The Beverly Hillbillies. Earl points out that they're fictional TV characters, "just like Richie Rich and Donald Trump".
Everything Sounds Sexier in French: The only reason Pierre wanted to travel back to America aside from hitting Earl was to do lots of American women, which he found extremely easy because of his accent.
Evil Counterpart: The Mexican versions of Earl and Randy in "South of the Border Part Uno". Mexican Earl even has his own list, except it has bad things he wants to do instead of make up for. The ones we see directly mirror items on Earl's list, like stealing a donkey from a one-legged woman (Earl stole a one-legged woman's car) and killing an old woman by forcing her to smoke (Earl saved an old woman by forcing her to quit smoking).
G-L
M-R
S-Y
---