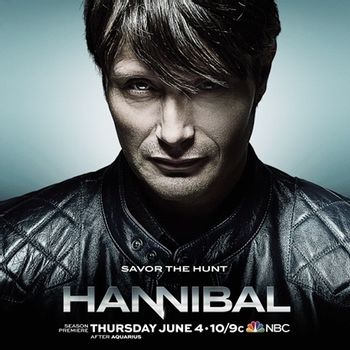 Hannibal Lecter: God forbid we become friendly.
Will Graham: I don't find you that interesting.
Hannibal Lecter: You will.
Hannibal is a psychological horror thriller series created by Bryan Fuller, based on the title character of the Hannibal Lecter franchise.
A peculiar genre mash-up of Forensic Drama and Gothic Horror, the series follows FBI profiler Will Graham (Hugh Dancy) as he investigates difficult serial killer cases for Special Agent Jack Crawford (Laurence Fishburne). Requiring further assistance, psychiatrist Dr. Alana Bloom (Caroline Dhavernas) recommends they enlist the help of the world-renowned psychiatrist Hannibal Lecter (Mads Mikkelsen), to both consult on cases and keep Will from becoming too caught up in the horrors of his job.
Wait, did we mention Hannibal Lecter is secretly a cannibal and serial killer?
Set before Red Dragon, the novel that started the Thomas Harris books and led to the award-winning film series, the show frequently leans on Hannibal's double life and his "friendship" with Will and co. as they solve grisly murders. Not only is the show notable for its writing, it also built on an infamous cocktail of Scenery Gorn and Food Porn — expect beautifully constructed meals made with Mystery Meat, and corpses mutilated in some unique and artistic ways.
Premiering on NBC on April 4th, 2013, the show was later renewed for a second season in 2014, and a third in 2015. The show quickly gained popularity by drawing Fuller and Harris fans together, and for spawning an enthusiastic fan base that has been skillfully and gleefully mirrored by the official blog (MAJOR UNMARKED SPOILERS)
. As to the full arc, Fuller announced an ultimate six-season plan for the show: after the two original seasons, the third-through-fifth were to be a re-ordered, re-imagined version of the book seriesnote The books in release order: Red Dragon, The Silence of the Lambs, Hannibal, and Hannibal Rising before the show closed on an original ending come Season 6.
Unfortunately, NBC cancelled the show in June 2015 (and only a few episodes into Season 3) due to poor ratings, adding it to the pile of Fuller shows cancelled just a few seasons in. Fuller and Martha de Laurentiis initially expressed some optimism about finding a new home for a fourth season, but nothing developed. Netflix picked up the streaming rights in 2020, and Hannibal quickly became one of the platform's most popular shows. That success raised hopes for a potential revival, though that remains purely speculative.
SPOILER WARNING: Following the show's conclusion, spoilers can (and will) be unmarked for the first two seasons to prevent the page being whited out.
---
This show provides examples of:
open/close all folders
A-C
D-G
H-O
Halfway Plot Switch: The first half of the third season revolves around the hunt for Hannibal in Italy (based upon the novel Hannibal). The second half jumps ahead a few years to the investigation of the Tooth Fairy (based on Red Dragon).

Also an example in the second season. The first half revolves around Will's attempt to be freed from prison and expose Hannibal, while the latter half focuses on both the Verger siblings, and Will's continued attempts to have Hannibal's crimes discovered.

Hallucinations:

Will suffers from them very often, such as in "Coquilles" when he has a conversation with the "Angel Maker", even though the man's just killed himself.
In "Sorbet", Jack has one of Will on a morgue table, looking like a corpse, complete with autopsy scar, and missing the same arm cut from Miriam Lass's body.
In "Fromage", Will repeatedly hallucinates hearing trapped or hurt animals, and in "Trou Normand" we see him lecturing to his class until Alana comes in and asks if he's rehearsing. He then realizes the room is empty.
Following this point, the hallucinations grow so frequent that there's no point listing individual examples.

Harassing Phone Call: Jack gets some in "Entrée". But instead of a voice being on the other line, it's a recording of Miriam Lass.
Has Two Mommies:

Alana

and

Margot

's son.

Invoked with Abigail throughout the series. Will and Hannibal both think of themselves as her substitute father, and they're first framed as her parents jointly when Hannibal says they "are her fathers now" in season 1. Hannibal's escape plan in season 2 largely revolves around the project of running away together as a family; Will indulges in this same fantasy when he finds out. Later on in season 3, in opposition to Molly giving Will a (step-) son, Hannibal claims he "gave Will a child" first.

Hate Sink: In Season 1, Freddie Lounds. In Season 2,

Mason Verger

.
He Knows Too Much:

Chilton, Bedelia, Will, Beverly, and Miriam

.
Headache of Doom: Crippling headaches are one of the first signs that Will Graham is stricken with encephalitis. Other symptoms (time loss, hallucinations, etc.) quickly follow.
Held Gaze: Happens often between Hannibal and Will during moments of connection between them. Given Will's distaste for eye contact and his inability to do this with any other character, it's done to symbolize their unique, pure understanding of the other.
Heroic Dog: Winston follows Will and tries to nudge him awake when he starts sleep walking. The second time, the dogs' barking wakes him before he sleepwalks off his own roof. In a later episode, the dogs' worried grizzling wakes Will up and alerts him to the fact that Georgia Madchen is under his bed.
Hilarious Outtakes: Yup. An extended Gag Reel is on the Season 1 DVD for those who wish to enjoy Mads Mikkelsen repeatedly failing to catch a potato.
Hired to Hunt Yourself: At one point Jack asks Hannibal if he would "Help (us) catch the Ripper," not knowing, of course, that Hannibal himself is the Chesapeake Ripper. Hannibal's response: "How could I refuse?"
Hope Spot:

In "Entrée", Jack describes hearing Miriam Lass' voice, which turns out to be a recording, as being this for him, since for a moment he honestly believed she was still alive.
In Season 2's "Futamono", the above is subverted, where it is revealed that Miriam is alive.
In the first season finale, Alana discovers that Will is suffering from a neurological disorder he isn't aware of. It seems ripe for a Pulling the Thread story line that will prove Will's innocence and perhaps expose Hannibal's malfeasance... but no, Hannibal effortlessly spins it to avoid all blame and reinforce the Frame-Up.

How We Got Here: The first episode of Season 2, "Kaiseki", opens with

Jack and Hannibal fighting, with Hannibal wounding Jack

before it flashes back twelve weeks to the ending of the previous season.
Human Resources: Hannibal and other murderers are shown eating people beyond just carving them up, such as one killer who places victims in diabetic comas so to grow mushrooms on their decaying bodies. Heavily implied too when Hannibal is shown serving mushroom tea and beer, which is presumably made the same way.
Hypocritical Humor: Meta-example. Jack states that he first met Will at the opening of the "Evil Minds Research Museum". He says that Will didn't like the name because he felt "the title mythologized banal and cruel men who didn't deserve to be thought of as super-villains", even though Hannibal and many other killers on this show are portrayed exactly as that, as they are far more competent and dangerous than most Real Life serial killers and their murders are much more elaborate and even artistic.
I Ate WHAT?!: Abigail's reaction when she remembers that her father let nothing from his hunts go to waste... so he would have fed his family meat from his victims.

Will has a rather restrained (but still horrifying) case in "Takiawase", when he realizes just what Hannibal's been doing with the trophies from his kills, flashing back to the "protein scramble" of homemade sausage and eggs that Hannibal served him back in the pilot.

Idiosyncratic Episode Naming: Reflecting Hannibal's liking for fine food (and the rude), every episode title is based upon foods and culinary terms:

The first season episodes were French terms, listing out the various courses of an Haute-Cuisine dinner in order: "Apéritif" (the pilot), "Potage", "Œuf", "Entrée", etc.
The second season uses Japanese terms for its episode titles, such as "Kaiseki" (first episode, named after a formal, multicourse Japanese meal), and the rest of the season's episodes form a list of the 12 courses of a winter Kaiseki dinner: "Takiawase", "Yakimono", etc...
The third season uses the courses of a formal

Italian

dinner, based on where most of the season was set. The second half of the season is named after the four Great Red Dragon paintings by William Blake.

I'm a Humanitarian: Dr. Hannibal Lecter, obviously. Also, the Minnesota Shrike, who displays Hannibal-like tendencies when he guts and removes the liver from one victim... then sews it back in when he notices it's cancerous because, as Will realizes through his gift, "There was something wrong with the meat."

Everyone who eats or drinks something that Hannibal puts in front of them — which is most of the cast by this point (even Will's dogs, who just love the doctor's homemade sausage).

Impersonating an Officer:

Dolarhyde steals a police car, which enables him to approach the convoy transporting Hannibal without attracting attention. He then kills the officers and FBI agents escorting the prison van by shooting them through the cruiser's window

.
Impossibly Delicious Food: Everyone who tastes Hannibal's cooking seems to love it, despite (or because of) the fact that his meals are — unbeknownst to them, of course — nearly always human flesh.
Improvised Weapon: Hannibal is a great fighter, and uses whatever is at hand, including the refrigerator door and his cooking apron.
Intercontinuity Crossover: One of the Gardener's would-be victims in "Amuse-Bouche" is Gretchen Speck (she dropped the Horowitz in the divorce). She's even played by the same actress.

And in true Bryan Fuller fashion, Celebrity Paradox kicks in here, as Caroline Dhavernas is in both. As different people.
Ellen Muth shows up as a "Mulholland Drive type reinterpretation" of George from Dead Like Me. Her character, Georgia Madchen, last name translates roughly to "Lass", and she has Cotard's syndrome, believing she is dead but still existing in some form, like Georgia Lass in Dead Like Me.

George and Reggie's last name on Dead Like Me was Lass. A "Miriam Lass" shows up as one of Jack's proteges.

In Love with the Mark: What prevents Will from wanting Hannibal dead or captured at the end of Season 2, and Hannibal from killing Will after his betrayal in the same episode. Although at the time of the events the romance was still purely subtextual, by the time

it becomes textual at the end of Season 3, it's been made abundantly clear

that this was the reason.

The same happens again

at the end of Season 3 when neither Hannibal nor Will

are capable of killing the other despite the fact that by doing so the killer might survive. Because they cannot do this, they end up in a scenario where they will likely both die when

Will pushes them over the cliff together and Hannibal does nothing to stop him

.

Internal Reveal: Unless someone had been completely isolated from popular entertainment for twenty years, it's no secret what Hannibal Lecter really is, and even if that were the case his special diet is revealed to the audience in the very first episode. Part of the drama is waiting to see how/when Will will discover it.
Ironic Echo:

Will echoes his "I don't find you interesting" speech to Hannibal in Season 2:

Will

:

I don't want to kill you anymore, Dr. Lecter. Not now that I finally find you interesting.

On returning to the Hobbs residence in "Savoureux", Will asks Hannibal if they're going to re-enact the crime, echoing Abigail's question from "Potage". Events indeed unfold like a re-enactment — the scene ends with Will fetched up in the corner of the kitchen, bleeding from a bullet wound, whispering Garrett Jacob Hobbs' haunting refrain: "See? See?"
Season 1's "Rôti" features Will's desperate, pleading "Please don't lie to me" to Hannibal, begging his friend to bring him back to reality as he slips into a seizure. Later, in Season 2's "Su-zakana",

Will confronts Hannibal with "Don't. Lie. To. Me." in the midst of a therapy session, informing Hannibal that he won't put up with his continuing dishonesty.

I Want You to Meet an Old Friend of Mine:

Hugh Dancy and Mads Mikkelsen were both in King Arthur (2004), with Dancy as Galahad and Mikkelsen as Tristan. It was actually Dancy who recommended Mikkelsen for the part of Lecter, as the two had grown to be close friends during the film's production.
Nina Arianda, who co-starred with Hugh Dancy in a Broadway production of Venus In Fur, plays Will's wife Molly in Season 3.

Jumping Off the Slippery Slope: Will goes from doing some morally ambiguous, but still understandable things, (such as trying to have Hannibal killed) to something unambiguously evil in the episode "Naka-Choko". He takes that much further during the course of Season 3 until

in the end he gives fully into his murderous side: he brutally kills Dolarhyde side by side with Hannibal and he enjoys it, telling Hannibal what they just did is "beautiful".

Jury Duty: Beverly tries and fails to get out of it off-screen. During "Relevés", it causes her to be away during a major turn in the Chesapeake Ripper case, at a time when Will could really have used the support, before Jack finally gets her out of it.
Karma Houdini:

Freddie Lounds

spends significant time harassing members of the FBI team (especially Will), interfering with witnesses, perjuring herself and even goes so far as to tamper with a crime-scene that diverts attention away from the real Chesapeake Ripper. Although put into jeopardy and forced to witness some horrible things happening to other people, she receives no direct repercussions for any of her actions.

After the first episode of series 3,

Hannibal himself

appears to have escaped to Italy and is enjoying a new life as a curator and art critic among high society.

Killed Offscreen:

Abigail Hobbs

in Season 1's "Relevés",

then subverted

, followed by

Beverly Katz

in Season 2's "Takiawase".
Kill the Lights: When

Beverly

finds Hannibal's Torture Cellar and realizes the truth about him, Hannibal quickly turns the lights off before lunging for the kill. It's a tactical decision, since

Beverly

has a gun but Hannibal knows the room's layout, and

it lets him kill her

.
Kink Meme: Found here.
Laser-Guided Karma: Season 2 introduces

Mason Verger, who has spent a lifetime abusing his sister Margot, who depends on him for her money, up to and including forcing a hysterectomy on her and ensuring that the doctors leave a big scar to brand her

. Hannibal arranges for him to suffer a comparable level of harm, leaving him

facially disfigured, paralyzed below the neck, and dependent on Margot.

Leitmotif: The Goldberg Variations Aria by Bach, recognizable as the classical music playing after Lecter attacks his guards in Silence of the Lambs. It appears normally as one of Lecter's themes as well as in a slowed, softer variation for Will Graham (such as when he first rescues and bathes Winston in the pilot). This then later returns for the penultimate episode of season two (albeit slowed significantly and then composed over), and for season three it expands on that by having the low tempo version reappear as a softer choir version for

a dual motif for whenever Lecter and Graham cross paths

.
Lonely Together: A huge basis for Hannibal and Will's odd but (eventually) mutual relationship. The former is distanced by his intelligence and removal from the rest of humanity, while the latter is so overcome with his intense empathy disorder that he actively avoids other people. Turns out Hannibal adores Will's extraordinary senses and the challenges he presents, while Will is drawn in with Hannibal's charisma, intelligence and later his unwavering romantic attention.

Love Informant: Bedelia acts as this to Will when she confirms that

Hannibal is in love with him

.
Love Theme: "Love Crime" is the official love theme for

Will and Hannibal

. It's played in their final scene together. An instrumental tune that sounds like part of that song can also be heard at other crucial points in season three, for example at the end of "Antipasto" when

the heart sculpture for Will

is first displayed in the church, or at the end of "The Great Red Dragon" when

Hannibal and Will meet again

for the first time after three years.
Love Triangle: A few throughout the seasons.
Love Will Lead You Back: Will is very clear in "Digestivo" that he doesn't want to think about Hannibal anymore or know where he is or what he is doing. Hannibal makes it so Will knows exactly where he is, hoping this will happen. Despite all of Will's claims to the contrary, this is de facto what happens.
Mad Artist: The show is brimming with them. Hannibal carries out his copycat murders in a very artistic fashion. Another serial killer arranges human body parts into a totem pole, while another installs the bodies of his victims in an eye-shaped "mural".
Magic Realism: It's subtle, but quite possible to read the series this way, especially given Bryan Fuller's past works. Hannibal could be a fallen angel who finds humankind both intriguing and delicious. Will's empathic gift could be some type of second sight. The proliferation of gruesomely beautiful crimes around the setting could be due to some sort of dark influence drawing and aggravating those tendencies in people who are already murderous (possible Hannibal himself, if you run with the Satan parallels). There will never be explicit confirmation of any of these things, but the series can be readily viewed through that lens if you want.
Manipulative Bastard:

Hannibal Lecter in spades. It seems obvious, but the premiere of Season 2 has made it even more so. Hannibal wants Will to act on his darkest urges (or, as he calls them, "inspirations") to manipulate and kill. Will knows that Hannibal was the copycat killer, but is imprisoned for those crimes. Therefore, Hannibal has effectively put Will in a position where he has to perform some dark deeds in order to get revenge on Hannibal.

Intersecting with his Psycho Psychologist and Morally Ambiguous Doctorate tags it's begun to be suggested that while acting as a therapist Hannibal "treats" patients by helping them to realize and act upon desires that would, in general society, be deemed as destructive. This is evidenced in his treatments of Will,

Margot

, and Randall Tier.
Subverted towards Will. While Hannibal initially tries to manipulate Will, and will keep trying to influence him throughout the series, Bedelia points out that Will since getting out of jail is well aware of this, and she's right. In fact, while Will is definitely subject to the pull Hannibal has on him, the kind of manipulation that Hannibal used on a lot of his former patients doesn't work on him, and in the second half of Season 2 he gradually eliminates the power imbalance.

Will. Although it might not look like it, Will can be as apt as Hannibal at manipulation. He had a plan to make Hannibal kill Mason so he'd be caught in the act, and he succeeded at making Hannibal turn himself in by rejecting him — which he claims he did on purpose to get that result. Another example is putting the hand on Chilton in the picture, imagining this move would make the Dragon go for Chilton and get Chilton karmic punishment for what he wrote on Hannibal, as he later admits to Bedelia. This is not a direct manipulation of Dolarhyde, but it's a manipulation of events and of unsuspecting people (Chilton) so that Will's likely to obtain a wanted result.

The Marvelous Stag: Except that the stag in the show is more haunting than magical.
Mathematician's Answer

Hannibal: Am I your psychiatrist, or are we simply having conversations?

Will: 'Yes', I think, is the answer to that.

Maybe Magic, Maybe Mundane: Will's empathy occasionally seems to go beyond a simple combination of savantism and neurodiversity into outright psychic powers. There's also the Angel Maker, whose targets were all sadistic criminals, but we never found out how he knew that, only that he perceived them as having flaming, demonic skulls for heads, seemingly from the first time he set eyes on them.
Meaningful Echo: Season 2's second arc combines a significant example this with foreshadowing for "Mizumono".

Specifically, Hannibal compares the effect of Abigail's death to the shattering of a teacup. Mentioning how he wishes he could reverse time to fix it, the grand finalé has Hannibal effectively do so; following Will's betrayal, however, Hannibal mentions smashing the teacup again, and slashes Abigail's throat in front of Will, again severely damaging Will in a seemingly irreparable way.

Meaningful Name:

Abigail Hobbs shares her name with a fourteen-year-old girl who, along with her father William, was accused of witchcraft in the Salem witch trials.
Bedelia Du Maurier doubles as this and a Shout-Out; Daphne Du Maurier specialized in stories of psychological manipulation.
Franklyn Froidevaux, being a Benjamin Raspail Expy, got his first name from "Benjamin Franklin," and his last name is a street that runs parallel to Raspail in Paris.
The killer from the first two episodes of Season 2

whose victims form a flesh-tone color palette

is named James Gray, while his last victim is named Roland Umber.
Matthew 27:3-10 describes the suicide by hanging of Judas Iscariot. After subduing and accusing him of betraying Will, Matthew Brown tortures, crucifies, and then hangs Hannibal.

Matthew

: Judas had the decency to hang himself in shame at his betrayal. But I thought you needed the help.

Speaking of Matthew Brown, he is an orderly whose name almost sounds like a reversed version of Barney Matthews, the orderly from The Silence of the Lambs. Seems fitting since he tries to

kill Hannibal

whereas Barney is civil to Hannibal.

The man who takes care of animals in "Su-zakana" is named Peter Bernardone. Saint Francis of Assisi, the patron saint of animals, was born Giovanni di Pietro di Bernardone.
In "Shiizakana", the killer is named Randall Tier, and is obsessed with animals. "Tier" is German for "animal."
As in the books, Mason Verger's name combines the name of a religious group associated with power and secrecy with a last name meaning a layperson assistant in church rites, reflecting the Verger family's power and secrecy, its association with the church (Southern Baptist, in this instance), and Mason's inferior but useful skills as a sadist and manipulator when he is drawn into the "game" between Will and Hannibal.
The man whose

identity Hannibal steals after choosing him as a murder victim for his rudeness

is called Dr. Fell. As in, "I do not like thee, Dr. Fell" (and, also, as in a Dean of Christchurch College, the person supposedly referenced in that rhyme).

Meme Acknowledgment: It got to the point where, by the third season, even Bryan Fuller himself was using the term "murder husbands" to describe Will and Hannibal's complex relationship.
Middle Child Syndrome: It's used as a plot point to identify the killers in "Œuf".
A Mind Is a Terrible Thing to Read: Will has a non-supernatural variation; Hannibal describes him as having "pure empathy," which allows him to understand and get inside the head of anyone, even people who disgust or terrify him. Naturally, as an FBI profiler, he encounters many such minds and suffers greatly for his "gift."
Mindlink Mates: a downplayed, non-magical version aided by Will's empathy and the exceptional intimacy between Will and Hannibal. While Hannibal and Will don't actually share a consciousness, they understand each other so deeply that they're able to reproduce the other faithfully in their respective Mind Palaces, making it "as if" the other were actually interacting with them. For example, Will uses this to have an effective conversation with his Mind Palace version of Hannibal in "Secondo" that helps him better understand the real Hannibal's childhood, and Hannibal points out that he and Will share certain chambers in the palace and he found a 'victorious' version of Will there in "Digestivo".
Monster of the Week: The serial killers are used as this, but it doesn't happen every episode.
The Mountains of Illinois: Wolf Trap, VA, where Will lives, is nowhere near as remote and spacious as the show portrays it. In fact, the county in which it resides (Fairfax) is the most populous county in Virginia and in the Baltimore-DC metropolitan area; it is most certainly not "the middle of nowhere" as Will describes it in "Naka-choko".
Mr. Exposition: In Season 1, Will alternates investigating serial killers with teaching about them at the FBI academy, and his lectures are a useful tool for giving the audience background information on crimes and killers that weren't shown on screen.
Multi-Part Episode:

"Apéritif/Amuse-Bouche/Potage": The Minnesota Shrike case and Abigail's coma.
"Sorbet/Fromage": Hannibal coming to grips with his desire for friendship, and just who he sees as a potential friend.
"Relevés/Savoureux": The final stages of Hannibal's plan to

break Will down completely

are set in motion.
"Kaiseki/Sakizuki": The beginning of

Will's incarceration

, the end of

Bedelia's professional and personal relationship with Hannibal

, and the hunt for the killer who preserves his victims' bodies in resin.
"Shiizakana/Naka-Choko/Ko no Mono/Tome-wan":

Will and Hannibal seem to become explicitly partners in crime, Will and Jack set to work in earnest trying to lure and catch Hannibal

, and the abusive relationship between Mason and Margot Verger is spotlighted.

Murder-Suicide: Arguably what Will tries to do in

"The Wrath of the Lamb"

as a last attempt to save himself/his and Hannibal's potential future victims knowing that he won't be able to stop, but so that he and Hannibal can still die in each other's arms. According to the cliffhanger and Word of God,

it fails. They survive and are now on the run together

.
Murder the Hypotenuse: Hannibal tries to do this to

Molly and Walter

by proxy through

Dolarhyde

, while it was likely Will's decision to

go after his former love rival Bedelia at the end of the series

.
Mushroom Samba:

In "Œuf", Hannibal uses psychotropic mushrooms in a tea as a means to treat Abigail.

She hallucinates that Hannibal and Alana are her father and mother.

An even darker example occurs in "Tome-wan" when a cocktail of very powerful drugs helps induce severe hallucinations, giddy euphoria, and

self-mutilation and auto-cannibalism

in

Mason Verger

.
In "Dolce" a

drugged-up Will hallucinates his and Hannibal's faces growing out of Wendigo horns, then blurring together like two puddles of ink.

Mystery of the Week: Subverted at least as often as used. There are some one-off killers, but it's also quite common for a killer to be significant for two episodes (often because the FBI has to deal with the complications of his death).
Mythology Gag:

During the development process of The Silence of the Lambs, the name Dr. Gideon Quinn was used for the character of Dr. Hannibal Lecter due to Dino DeLaurentiis owning the rights to the name. He later allowed the makers to use the real names for free. In the series, Eddie Izzard plays a serial killer named Dr. Gideon.
In "Buffet Froid", Hannibal reveals that he and Dr. Sutcliffe, a neurologist, went to study at Hopkins, either referencing the books or the relevant actor.
Much of the depiction of Will's house in Wolf Trap and his home life, and the descriptions of them given to other characters, comes from Thomas Harris' accounts of where and how he lived while writing Red Dragon (i.e. collecting stray dogs, going on long walks at night, the house looking like "a boat at sea").
Some scenes or chunks of dialogue are taken straight from the books — Will fantasizes about killing Hannibal the same way a Nazi dies in Hannibal Rising, Hannibal delivers the "fox hears a rabbit run" bit in the Season 2 finale, etc.

Nay-Theist: Hannibal, who appears to believe in a god much like himself — one that deeply enjoys killing people.
Never Found the Body:

In "Relevés",

not only is Abigail given a suspiciously off-screen "death" by Hannibal,

but the next episode "Savoureux" has

the only confirmed piece of Abigail found revealed as the ear Will vomits up. In the Season 2 finale, it's revealed that she had been alive and under Hannibal's control the whole time.

Hannibal and Will disappear into the ocean.

Justified since

they survived their fall and are now on the run.

Never Trust a Trailer: The promos for "Futamono" showed

Hannibal seducing Alana, and implied that he was only doing so as petty revenge against Will. In the actual episode, Hannibal does it to establish an alibi for himself

.

The season three/series finale Wrath Of The Lamb advertisements showed Hannibal's lines "Your wife, your child, they belong to me" alongside shots of Will and Molly, when really

he's speaking to Alana about Margot and their son, and Will had nothing to do with the scene at all

.

Next Sunday A.D.: After the Time Skip in Season 3, episode eight onward takes place in mid-2018.
Nice Job Breaking It, Hero: Currently Dramatic Irony, but there's going to come a point where Jack realizes how many lives he could have saved

by letting Matthew Brown hang Hannibal

instead of saving him.
The Nose Knows: Hannibal is well established as having an exceptional sense of smell; not only can he correctly guess the make of perfume or aftershave that people are wearing, he claims to be able to tell if they're ill from their scent: "I knew my teacher had stomach cancer before he was even diagnosed." This was used as foreshadowing for Bella Crawford's lung cancer diagnosis in "Coquilles", and to hint that Hannibal smelled Will's encephalitis months before his symptoms developed.

In Season 2, he uses his sophisticated sense of smell to solve crimes. For example, he detects the scent of a cornfield on a dead body, leading him to realize that the victim escaped from a corn farm before dying.
Also in Season 2, after

Bedelia claims that Hannibal is dangerous,

he shows up at her house

in his plastic murder suit

to find

Bedelia has emptied her house apart from some of the larger items (such as furniture).

Her

perfume bottle is left behind, left in plain sight so Hannibal knows that she knew he would come, and that he can't find her

with his senses.
Continuing with Season 2, Hannibal

realizes Will has betrayed him when Hannibal picks up traces of Freddie's scent on Will

.

Not Even Bothering with the Accent: Like in the books, Hannibal is said to be Lithuanian. Mads Mikkelsen just uses his natural Danish accent, however.
Nothing Is Scarier: "Takiawase" never shows us

what Beverly discovered in Hannibal's basement that scared her stiff

.

After the season finale, Bryan Fuller confirmed that

it was Abigail.

(But that may not have been all she saw.)

"Not So Different" Remark: In "Entrée", Freddie and Will snidely mention to each other that, in the list of professions psychopaths are disproportionately drawn to, journalism is number six and law enforcement is number seven.

Especially interesting is that chefs are number nine on the list, yet therapists are on the inverse as the third least common profession for psychopaths. Considering the mix, Hannibal is probably not a psychopath, but something worse.

Obfuscating Stupidity: Matthew Brown speaks with a lisp, walks with a slouch, and behaves like a twitchy, absent-minded orderly who's just trying to go about his job like any other normal person. In reality,

he is Will's secret admirer and an intelligent, well-built, calculating murderer whom nobody suspects, not even Hannibal.

Obvious Villain, Secret Villain: The show runs on this:

While the audience knows that Hannibal is a serial killer, none of the main characters do and they set about catching several other villains. Season 1 switches up between killers who are aware of Hannibal's existence and either awed by him or form uneasy alliances with him, and killers that don't know him at all.
This is also the dynamic between Garrett Jacob Hobbs and his daughter Abigail. Hobbs is immediately identified as the Minnesota Shrike in his first appearance, and is killed by Will shortly after he tries to kill Abigail. However, after much back and forth, Abigail admits about halfway through the season that she knew what her father was doing and helped him, but not of her own free will.

Offscreen Moment of Awesome:

Subverted. At the end of "Shiizakana",

Will's killing of Randall Tier

takes place off-screen, but the next episode goes back and shows it (albeit with

Will imagining the Wendigo/Hannibal in Randall's place

).
"Digestivo" avoids showing

Hannibal killing Cordell and rescuing Will

, for the sake of a Bait-and-Switch on the viewers.

Offscreen Villainy: Hannibal kills several people over the course of the first season, but we only ever see him helping out on cases... or cooking. All but a handful of killings are implied more than seen. Naturally, this makes him all the more creepy and his extremely rare violent moments all the more terrifying. Example; in "Buffet Froid", he serves a guest jamón ibérico ham - but can't help saying;

Hannibal

: Is the pig, once fattened and slaughtered and air-cured, really superior to any other pig, or is it simply a matter of reputation preceding product?

Sutcliffe

: It's irrelevant. If the meat-eater thinks it's superior, then belief determines value. (eats the hell out of what he chooses to believe is

hundred-dollar ham

)

The same exchange heavily implies that Hannibal force-fed a human being corn oak acorns for a year, then slaughtered them and hung the legs up to cure.

Oh, Crap!: Chilton has a pretty epic freak-out in "Yakimono",

when the true extent of Hannibal's frame-up is revealed and FBI agents are found butchered throughout his home.

One Dialogue, Two Conversations: Any time anyone speaks to Hannibal.
One True Love: As it progresses, the show revolves more and more around the idea that this is what Hannibal and Will are for each other. Both Will and Hannibal believe the other is this for them, as reluctant as Will is to face the consequences of that notion. Similarly, the narrative favors the idea that they cannot find another person whom they ultimately would want to be with more than each other, and that one could never stop being drawn to the other, because they accept each other unconditionally and understand each other so profoundly and uniquely. This is both their salvation and their damnation — whole new levels of it.
Only Barely Renewed: The show was given the 10 o'clock Thursday time slot, which is notorious at NBC for getting bad ratings that often lead to shows' untimely deaths (for context, the show Hannibal replaced was Do No Harm, which had the lowest premiere ratings in TV history). Predictably, despite good reviews, the show had below-average ratings and there was much speculation that it would either be cancelled or moved to a different network. However, thanks to large DVR numbers and an incredibly passionate social media fan base, NBC decided to renew it for a second season, and later even a third.
Only Known by Their Nickname: Bella Crawford's real name is actually Phyllis — but, as she says, Jack only calls her that when they're arguing. He gave her the nickname when they met in Italy; appropriate, as it's Italian for "beautiful".
O.O.C. Is Serious Business: In "Mukōzuke",

Freddie tells Jack not to enter a crime scene out of what appears to be genuine compassion.

Opposites Attract: Played with. Hannibal is incredibly fascinated with Will's empathy and it seems that Will's empathy is one of the reasons he's so deeply in love with him. It's suggested multiple times that it's because of the great potential for goodness and cruelty he sees in that empathy, rather than simply because it's something he doesn't have, but it's still worth noting that Will's empathy is diametrically opposite to the way Hannibal sees the world. Funnily enough, one of the other reasons Hannibal and Will love each other so much seems to be that they are so similar in being different from everybody else.
Organ Theft: Hannibal deliberately suggests that this is the modus operandi of the "killer" of "Sorbet", who was a trainee-doctor trying to make a quick buck taking non-vital organs from his patients to sell, but unfortunately lacked the training/skill to keep them alive afterwards. Conveniently, this allows the Chesapeake Ripper (Hannibal) to murder several people for their organs without the crimes being attributed to him.
Orgy of Evidence: In "Savoureux", Will deduces that he was being framed because while he might believe

he was capable of killing Abigail in his increasingly confused mental state

, there was no way he'd accept that he was also

responsible for the murders of the copycat killer

.
Otherkin: The killer in "Shiizakana" appears to be one, genuinely believing himself to be an animal and creating a suit with bear fangs/teeth attached which he can attack people with. Of course, most otherkin would not want to claim any kinship with him.
Outlaw Couple:

Hannibal and Will

would have become this if season four had come to fruition. Word of God has confirmed they would have spent the season pack hunting together, likely in Cuba.
P-Z
---
---