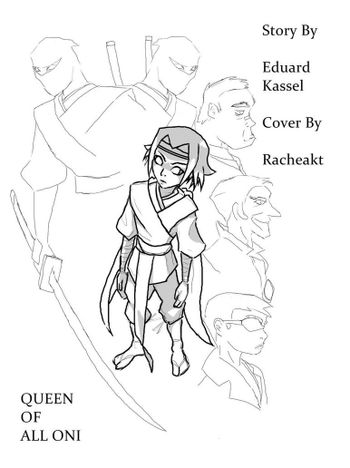 Queen of All Oni
is a Jackie Chan Adventures fanfiction by Eduard Kassel
, a part of Project Dark Jade, and is probably the most popular JCA fanfic ever written, being the top fic in follows and favorites.
The story is an Alternate Universe Fic story diverging from canon at the start of Season 4. The basic question is, What If?, instead of releasing Tarakudo, Daolon Wong's botched spell instead reawakened Jade's Superpowered Evil Side, the Queen of the Shadowkhan?
From there, the story follows as such: Jade, like Tarakudo in canon, seeks out the masks of the Oni Generals, while at the same time seeking to increase her own powers. Meanwhile, Jackie, Uncle and Tohru, with the help of their allies, seek to not only stop Jade, but ultimately save her from the darkness before it consumes her completely.
The story is highly praised by its reviewers, who enjoy the darker tone and the compelling plot, both of which are rare among JCA fics. It is now complete.
Now has a character page in need of work.
This story provides examples of:
---