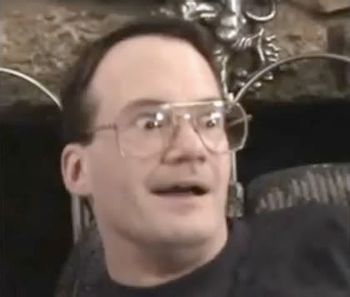 James Mark Cornettenote Usually referred to as James E. Cornette on TV, most likely because of how "Mark" is a bit of a dirty word in pro wrestling (born September 17, 1961) is one of the all time greatest and most colorful wrestling managers,note He won The Wrestling Observer Newsletter's "Manager of the Year" award for 12 out of the 14 years between 1983 and 1996 that they awarded it promoters and personalities of The '80s and '90s. A former ringside photographer who was offered a more active role in his profession in 1982 by Christine Jarrett and her son, Jerry; and supposedly funded by his mother's riches (who made her money selling wrestling merchandise), his instantly recognizable Southern accent and angry motormouth have entertained fans for over three decades.
With signature tennis racket in hand, JC has managed many great tag teams and wrestlers, most notably "Exotic" Adrian Street, The Midnight Express, Jeff Jarrett, Yokozuna and Vader. He has worked with or for nearly every major pro wrestling group in the United States, from the NWA to WCW to WWE to TNA to Ring of Honor to MLW, as well as running his own promotion Smoky Mountain Wrestling and spending several years in charge of WWE's developmental promotion Ohio Valley Wrestling.
Jim Cornette has become popular with many fans on the internet for his insightful and often acerbic profanity-filled commentaries on the Who's Slamming Who podcast, leading him to host two podcasts of his own, The Jim Cornette Experience and Jim Cornette's Drive-Thru. Known for having one of the largest wrestling memorabilia collections in the world, his long efforts to sell it off have incidentally helped younger fans learn some of the rich history of professional wrestling.
He's also known for his love of Wendy's triple cheeseburgers and seething hatred of Vince Russo, Kenny Omega, and Donald Trump.
---
Cornette's pro wrestling career and his podcasts provide examples of:
---
"Thank you. Fuck you. Bye!"
---