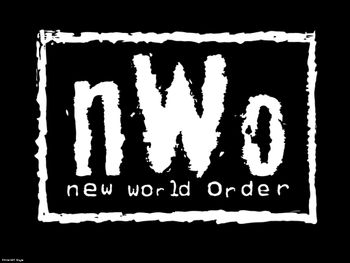 The following trope article has been paid for by the New World Order
Hey, yo!
(Cheers.)
(Boos.)
OR... did everybody here on TV Tropes come to read about the—!
(in unison) "n-W-o!"
Survey says: One more for da good guys!
The New World Order (nWo) was a professional wrestling Power Stable that formed at WCW's Bash at the Beach pay-per-view in 1996.
WWE and WCW were embroiled in a ratings war which would be nicknamed the "Monday Night Wars." Two of the biggest stars at the time were Razor Ramon (Scott Hall) and Diesel (Kevin Nash). Both jumped ship to WCW, lured with the promise of lucrative contracts for less work. Hall and Nash debuted in '96 under their real names and made it seem like they were not supposed to be there, even implying that they were moles sent by the WWF. The announcers dubbed them "The Outsiders."
The main event of Bash at the Beach pitted the duo against three opponents, since their "third man" had yet to arrive. Late in the match, Hulk Hogan (who had signed with WCW two years earlier) came down the ramp, set on rescuing the WCW mainstays. However, in one of the biggest swerves in wrestling history, Hogan delivered a leg drop to one of The Outsiders' opponents, a downed Randy Savage, revealing himself to be the "third man" and becoming the villainous "Hollywood" Hogan in one of professional wrestling's most infamous Face-Heel Turns.
Hogan risked a lot with that move: His image had been sullied enough as it was, thanks to the steroid case against Vince McMahon (in which Hogan was a star witness). But it added another dimension to his legacy, and jolted WCW to be #1 in the ratings. Nitro displaced Raw for 84 straight weeks, mainly on the strength of Hogan's heel turn. There was even a point where WWF was seriously looking at bankruptcy.
With the addition of Hogan, The Outsiders created the New World Order, and from 1996-97 it was one of the most dominant stables in wrestling history, if not the most. They grew to over 20 members, and became as synonymous with wrestling as Nitro almost did. There was good and bad about it: good in that it made Hogan a more effective heel by having an army of guys protecting him from reprisals. Bad in that it was done to placate a bunch of guys who would have otherwise looked elsewhere for employment. (Along with a ton of lower card wrestlers who thought it was the only way they could get some kind of a push.) What made the nWo such an albatross is that there wasn't really an end in sight. As James J. Dillon and others have said, even when they were selling out stadiums, you could see from the inside that WCW was falling apart.
The original run of the nWo ended in 1999. A reunion, nWo 2000, with Bret Hart as leader, was formed in December of that year; however, Hart left the group in January 2000 after suffering what ended up being a Career-Ending Injury, after which the new group slowly disbanded. In February 2002, almost a year after WCW closed down, the original trio resurfaced in WWE, but Hogan would turn face again at WrestleMania X8 and get kicked out of the group. A small shuffle of members ensued, during which Hall was fired and Nash would suffer a legitimate quadriceps tear that put him out of action for nearly a year, after which the group was officially disbanded in July. After Hogan returned to WWE in 2014, the original trio would make sporadic appearances (in a non-match capacity), and in December 2019, it was announced that the nWo would be inducted into the 2020 WWE Hall of Fame, with Hogan, Hall, Nash, and Sean Waltman as the inducted members.
The nWo should not be confused with the infamous conspiracy theory, the comic book Squadron Supreme: New World Order, or the music that plays in Danganronpa upon hearing an important revelation.
---
The nWo and its affiliates are examples of:
open/close all folders
#–D
E–M
N–R
S–Z
---
The preceding trope article has been paid for by the New World Order.
---